Men's formal shirts play an important role when dressing up in a suit, whether for business or dinner. Hugo Boss, the luxury German fashion brand, offers a large selection of high quality formal shirts for men. Knowing what types are available helps buyers choose the best ones to suit their tastes and requirements.
Type of Collar
The three types of collars commonly found in formal shirts are the "point" collar, the "spread" collar, and the "button-down" type. Hugo Boss offers shirts with variations of these collars. Shirts with Kent collars, including the Jenno and Jed models, have slightly broader collars that provide a modern look. These shirts are ideal choices for business attire and work with classic ties and simple tie knots. The "Shark" collar, such as the ones found in Hugo Boss Jaron shirts, has a broad outline and can be worn with or without a tie. This type of shirt is suitable for slim-fit suits and blazers. Button-down collars feature more prominently in casual Boss shirts.
Colours and Patterns
Traditionally, formal shirts have been limited to white, cream, or pale blue shades. However, other colours are accepted. Several Hugo Boss formal shirts come in solid colours. These include the slim fit "Jaron" and the regular fit "Enzo" models. Shirts with patterns, whether striped, chequered, or dotted, are also part of the Hugo Boss line-up. Enzo shirts also come with stripes, as do "Jenno" and "Jazer" ones. These are good options when wearing a solid coloured suit. Finally, chequered and plaid options, including the "Christo" and "Gordon" shirts, offer bolder patterns, but are also the least formal.
Fit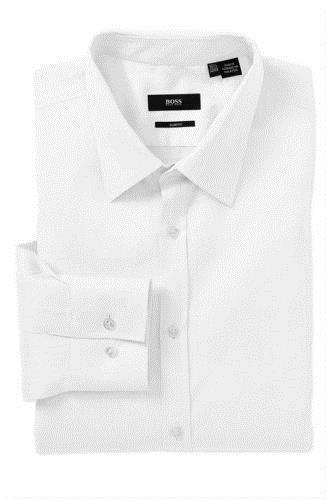 Hugo Boss shirts come in regular fit, slim fit, and extra slim fits. Slim fit formal shirts, such as the "Josh", suit modern tastes, and extra slim fit models, like the "Helge", are ideal for slender men. In general, formal shirts should allow two fingers in the collar when buttoned and have shoulder points that do not extend beyond the wearer's shoulders. The sleeves should be long enough to allow the wearer to raise their arms comfortably, but not so long that they have more than 3 cm of bunched fabric near the cuff when arms are down. Lastly, men's Hugo Boss formal shirts have neck sizes based on the measurement around the middle of the neck at the Adam's apple.
Material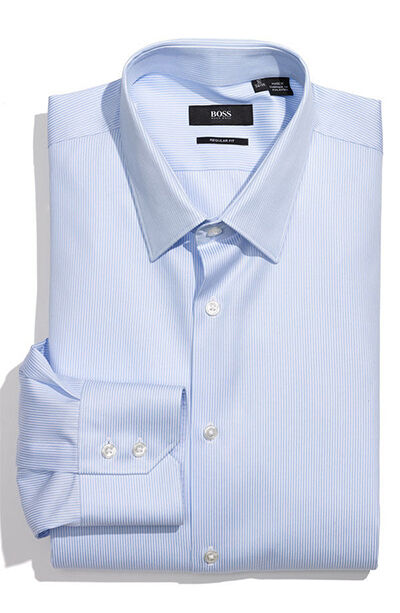 Most Boss shirts, like the majority of formal shirts, are pure cotton—a smooth, comfortable, and breathable fabric. Hugo Boss Jed, Enzo, and Jac models are good examples. Most Boss cotton shirts are also "easy-iron" types. A few models use a blend of fibres. For example, the Jenno uses cotton, polyamid, and elastane.