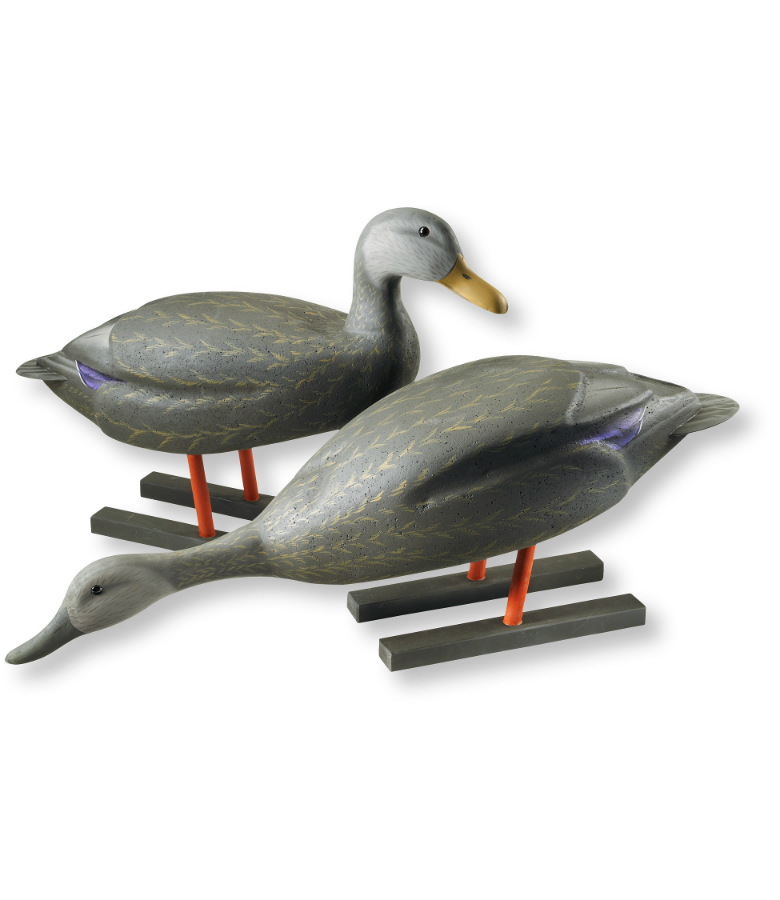 The decoy is a model or representation of a bird or animal that will, by its presence, attract quarry to a hunter.
They are most often used to bring in flocking birds to the shooter's hiding place.
Flocking birds include:
crows
geese
ducks
pigeons
In the past, decoys were carved wooden life size figures, often beautifully painted. Indeed some of these old decoys can achieve very high prices from collectors.
Modern decoys
The use of modern materials and technologies has now made the old wooden decoys redundant for two reasons.
| | |
| --- | --- |
| Decoy weight | If you are decoying pigeons or wildfowl there is a lot of equipment to carry. Carrying your shotgun and cartridges is one thing but often the shooter must walk a long way to the perfect place with a hide. With all the other equipment that will give the best chance of a shot, wooden decoys are just too cumbersome. |
| Realism | With modern materials, the actual colouring and shape of the decoy is now so much better. Crucially, they are now designed with a greater understanding of how birds see colour and not how humans see it. |
Types of decoying
One is to find a place where your quarry really wants to feed. Use a decoy to draw them into that with a display of similar birds.
The second is to offer the quarry a natural subject for ridicule. The best example of this is a decoy owl, which can draw in crows from many miles as they can't resist mocking it. The same applies to a fox decoy which will also attract crows.
Feeding grounds
Decoys are generally used for shooting over favourite feeding grounds. For pigeons it may be a field of wheat stubble, freshly cut.
Crows often feed hard on barley fields that have been laid flat by recent heavy rain. Geese are partial to freshly cut corn and ducks might be decoyed on the river estuary as they come into feed from the sea.
Positioning your decoys
You can never guarantee that your quarry will actually take any notice of your decoy. Often they will completely ignore decoys.
This is generally because beak can be just as effective and substantially lower cost.
In the US decoying has taken been to new levels in the last few years particularly with deer, turkey and wildfowl. Carry-Lite offers an enormous range of turkey decoys from the Pretty Boy Junior Semi-Strutting Jake to the Peep'n Tom Gobbler. They offer White tail Buck decoys and a wide range of setups for Canada Geese, doves and cranes. FUD Decoys offer a good range of wildfowling products.
There is a temptation to buy the latest gadget and whilst they can be very successful they are quite often too complicated. So be careful not to buy too much equipment. It all needs to be carried. The shooter needs to be flexible so that moving to a new position is easy and not too disruptive or tiring.
How many decoys do you need?
For pigeons and wildfowl any fewer than five decoys tends to feel a bit light and won't particularly bring much in unless the shooter is perfectly positioned.
The bigger decoys for geese mean that the pattern laid out does not need to be too numerous. Of all the birds, geese particularly have excellent eyesight and will come if the position is right.
Ideally ten or twelve pigeons or ducks makes for a tidy presentation. If practical, then the more decoys, the better.
Be careful not to overload the decoying area with decoys, spinners and gadgets. It can soon start to look too busy which will put birds off.
Conclusion
Take special care to make sure there are no shining bits of wrapping or scratching on the decoys. All birds spend their lives avoiding dangerous situations. If there is anything suspicious about a pattern, the birds will avoid it.
As with everything, buy the best affordable based on the best advice and keep it simple.
How to buy Hunting Decoys on eBay
Now that you've worked out which hunting decoys you want, find them quickly on eBay. While you shop, don't forget Gun Cases, Targets and Sights & Scopes. To start shopping, go to the Sports and Leisure category. Click the Sporting Goods portal and click hunting.
Categories: The Categories list on the left side of each page will help you narrow down your listings by item type. You'll find links for Accessories, Cartridge Bags, Catapults, Clay Pigeon Shooting, Clothing, DVDs, Falconry, Footwear, Gun Cabinets, Night Vision, Shooting Sticks and Other Hunting. As you refine your search you'll be able to narrow down your choice by subcategory.
Product Finder: Use the Hunting Decoys Finder to quickly narrow down item listings by brand, model and condition. (new or used)
Keyword search: Search eBay listing titles for specific words. For example, if you want to find new hunting decoys type the keywords "hunting decoys new" (without quotation marks) into the Search box. Click "Search title and description" to expand your results. Visit eBay's Search Tips page for more tips on searching with keywords.
If you can't find exactly what you want, try browsing eBay Stores or tell the eBay Community what you're looking for by creating a post on Want It Now, or save a search on My eBay and eBay will email you when a matching item becomes available.
Buy Hunting Decoys with Confidence
Make sure that you know exactly what you're buying and understand how eBay and PayPal protect you.
Know your item
Read the details in the item listing carefully.
Remember to add delivery costs to your final price. If you're buying a high value item, check that the seller will insure it until it is delivered to you.
If you want more information, click the "Ask seller a question" button on the seller's profile or the "Ask a question" link at the bottom of the item listing page.
Always complete your transaction on eBay (with a bid, Buy it Now or Best Offer) otherwise you will not be covered by eBay Buyer Protection.
Never pay for your eBay item using an instant cash wire transfer service like Western Union or MoneyGram. These are not safe ways of paying someone you do not know.
Know your seller
Research your seller so that you feel safe and positive about every transaction.
What is the seller's Feedback rating?
How many transactions have they completed?
How many positive responses do they have?
What do buyers say in their Feedback?
Are they positive about the seller?
Most top eBay sellers operate like retail shops and have a returns policy.
Do they offer a money-back guarantee?
What are their terms and conditions?
Buyer protection
In the very unlikely event that you do not receive your item or it is not as described, eBay Buyer Protection your purchase price plus original delivery cost.