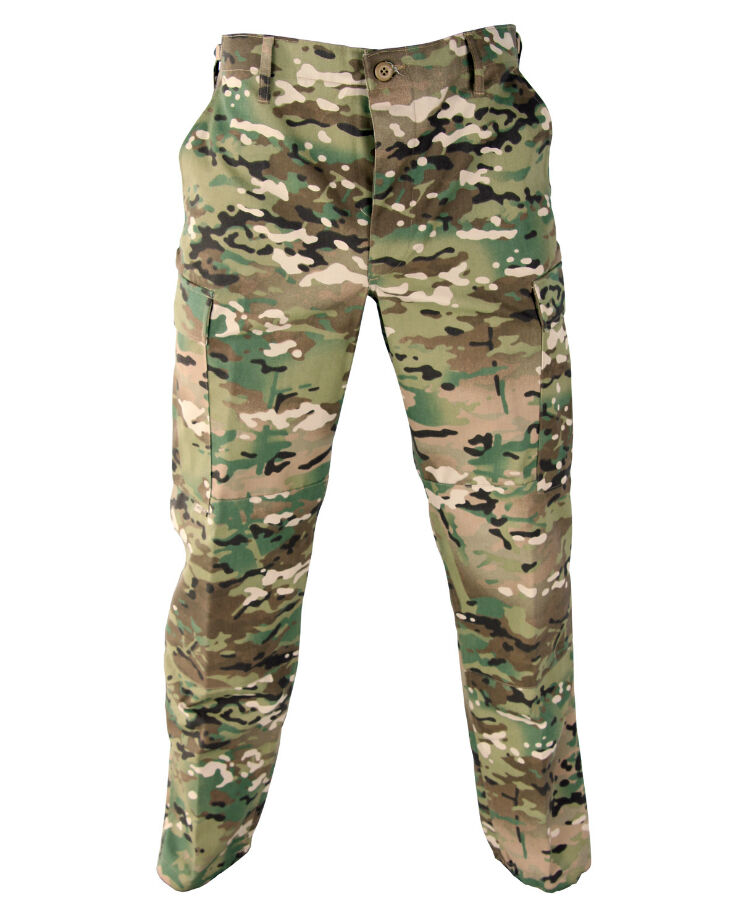 Hunting is a sport that requires a surprising amount of kit, even if hunting on horseback or using a dog. Buyers must consider everything that will affect their choice – from trouser material to the conditions in which they will be hunting. With this guide, buyers will be shown how to select on eBay, the site with the widest online market, the ideal hunting trousers in terms of type, size, colour and material.
Types of Trousers
Hunting trousers are an essential part of the whole sport, whether engaging in deep-forest stalking or a traditional shooting party. There are many different types of hunting trouser available, each designed to provide a different service, and the buyer should make sure to consider what would suit best. The types of hunting trouser available are:
Hunting Trouser
The 'normal' hunting trousers do not have any particular special additions like camouflage or adjustability, but they are a very good all-rounder – providing comfort, convenience and durability to their wearer, without any special attributes.
These trousers can be made in many materials, and the buyer is likely to encounter both the traditional tweed as well as newer variations like waxed fabric and the modern Gore-Tex. When searching for hunting trousers buyers should consider things like water-resistance and breathability alongside comfort and convenience.
Over Trouser
Over trousers are a good alternative to full hunting trousers if buyers prefer to wear their own trousers. Over trousers can be slipped on over the trousers the buyer is wearing and clipped onto the belt loops, providing up-to-thigh protection from adverse weather and environmental conditions. There are also full-length over trousers available, providing full protection from weather conditions.
Over trousers are very helpful as a quickly removable way of protecting the buyer from rain and brambles; however, they do not provide all-over protection from the weather.
Camouflage Trousers
Camouflage, or 'camo' trousers may be military in origin but have become favoured by the sporting population – particularly hunters – for the benefits they bring. As well as generally being waterproof and very durable, the camouflaged nature of these trousers makes them ideal for hunters in dense woodland who need to stalk whilst hunting.
There are several different kinds of camouflage trousers available in different colours and patterns, allowing the buyer to pick the kind of camouflage that will suit the environment in which they will be hunting.
Zip Off Trousers
Zip off trousers are worn by many kinds of outdoor sports enthusiasts, from walkers and hikers to hunters and climbers. These trousers are adjustable because of a zip than runs around the trouser leg at the knee, allowing the bottom half of the trousers to be removed.
These trousers are very versatile and therefore excellent for use on hot days and when weather and environmental conditions change frequently. Buyers can adjust the length of their trousers either to protect their legs or to cool off.
Material
There are different materials used for hunting trousers, and each has its own benefits and drawbacks. The main materials used for hunting trousers are:
Gore-Tex
Gore-Tex, although a specific brand name, is likely to be the most common material for hunting trousers, as it is frequently used for outdoor sports clothing.
Advantages:
Gore-Tex is primarily used for outdoor activity because it is a very water-resistant material, where water beads on the surface of the fabric rather than sinking in.
Gore-Tex is also a very breathable fabric, which prevents heat from being trapped inside the trousers, thus helping keep the wearer free from feeling uncomfortable and sweaty.
This material is very durable and hardwearing, and less likely to be damaged by scratches or scrapes than tweed or waxed cotton.
Disadvantages:
Gore-Tex trousers can be quite bulky and heavy.
These trousers will not feel as nice against the skin as other items.
Tweed
Tweed is a very traditional material with a long history of use in the countryside, particularly for sports like hunting.
Advantages:
Tweed is very tough and durable, and does not require much specialised care.
Providing the tweed is hung up and occasionally dry cleaned, tweed trousers can last for many years.
This is a very thick fabric, and therefore very capable of trapping heat and keeping the wearer warm.
Disadvantages:
Tweed is very heavy, particularly when wet.
Tweed clothing, particularly if of high quality such as that produced by a respected name like Harris Tweed, can be very costly.
Waxed Cotton
Waxed cotton is a very traditional way of waterproofing pieces of clothing, and it is still widely used due to its effectiveness.
Advantages:
The wax ensures that the trousers are very water-resistant, and wax can be reapplied to strengthen the protective layer.
Wax is not costly, and is easy to apply to clothing.
Disadvantages:
The wax must be constantly reapplied, as it can be scratched off or slowly washed away by being exposed to water.
This material will not be breathable due to the wax, and therefore the trousers can be hot and uncomfortable.
The ideal material for hunting trousers is purely a matter of choice by individual buyers depending upon the specific use they have in mind for the trousers. If the conditions are good or the hunting activity light, such as clay pigeon shooting for example, then a material like tweed might be ideal. However, if the buyer is going out in wet conditions or through a dense environment then a durable material that is also waterproof like Gore-Tex might suit the buyer better.
Size
It is very important for the buyer to consider the question of size. Though some trousers are adjustable, any surplus material may make the trousers too heavy. Most hunting trousers are listed by a general size rather than an actual numerical measurement – for example: S, M, L, and XL. Some listings however may also provide leg and waist measurements. If buyers are uncertain about what size would suit them they should make sure to ask the seller for details.
Things to Consider
Though the buyer has seen the basic factors to keep in mind whilst searching such as size, material and type, there are many more aspects of hunting trousers that must be also be considered, such as:
Convenience – this will often be the deciding factor for buyers, as their trousers must be adapted to match perfectly what is needed from them. Many hunting trousers feature large, deep pockets and others can be adjusted in length, but what the buyer will find most convenient will depend upon the kind of hunting in which they will be engaging.
Comfort – it is also important that the trousers be comfortable for buyers to wear, particularly if they are hunting for long periods of time. The trousers should not only be water-resistant, but also cool, kind to the skin and able to protect legs from scratches and cuts they might otherwise get from woodland or rocks.

Buyers should consider the weather and environment to which they will be exposed. In cooler places tweed may be ideal, but if in a hotter climate then a lighter, more breathable material like Gore-Tex may be better suited.
· Durability – depending on the material, some trousers will be more durable than others and the buyer should consider if longevity is an important factor. Items such as tweed trousers can have a long lifespan when treated well, but they will be more costly than items such as Gore-Tex that are durable but more likely to age badly. Trousers should also be able to resist everyday damage such as scratches, or like waxed cotton, be easily repaired when damaged..
Conclusion
Hunting is a very traditional pastime with a long history, but as time has moved on so have the traditional items and clothing associated with it. Gore-Tex, a new fabric, is just as favoured as the time-honoured tweed outfit. With this guide, buyers will be able not only to see the wide variety of types of trouser available, but also understand the various factors they must consider whilst searching, and how to go about purchasing hunting trousers on eBay.
When searching for hunting trousers, buyers should bear in mind the benefits of purchasing items using PayPal, eBay's recommended way to buy with additional eBay Buyer Protection.