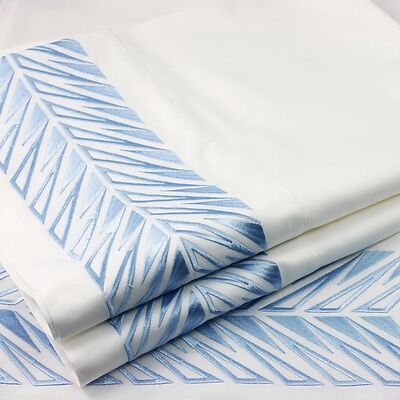 People spend about a third of their day, or sometimes more, in bed. While it is important for the bed to be comfortable, so should its sheets. There are various designs and sizes of bed sheets available for purchase. Usually, the sheets for double beds are available in queen size and king size, with king size being the biggest. King size beds are certainly comfortable, which is why they are very popular among people who have spacious bedrooms. King size sheets are an important element of the comfort factor of king size beds, and are usually as luxurious as the beds themselves.
Before purchasing king size sheets, the buyers can benefit from learning how to buy them by considering the correct measurements of the sheets, the types of fabrics they come in, and places that sell them. A section about buying king size sheets on eBay is also provided to aid the buyers in purchasing from one of the most convenient marketplaces around.
Dimensions of King Size Sheets
The measurements of king size sheets vary according to their type, but also according to the manufacturer. In general, there are three types of sheets, namely fitted sheets, flat sheets, and comforter sheets. For fitted sheets, the measurement for king size is 198 by 203 centimetres; for flat sheets, the measurement is 274 by 259 centimetres, while king size comforter sheets measure about 254 by 229 centimetres.
To provide further clarification, fitted sheets are sheets that have elastic sewn along the border or just in the corners so that they hug the mattress perfectly and stay in place. Flat sheets are simple sheets, with no elastic sewn in the corners, so their sides and edges need to be tucked in manually under the mattress. Comforter sheets (or duvet covers) are protective sheets for padded duvets. Sometimes duvet covers, bed sheets, and pillowcases come in a set; other times, only duvet covers and pillowcases come in a set, with bed sheets being available for sale separately.
Things to Look Out for When Buying King Size Sheets
When purchasing king size sheets, the buyer should consider several things. These include the material of the sheets, the thread count, the weave, and also the finish on the sheets. These aspects are important and are discussed in detail in the following subsections.
Material of King Size Sheets
There are many different materials that king size sheets are made of, including cotton, flannel, fleece, satin, and blends of these fabrics. The most widely available and popular type of material for bed sheets is cotton because it is easy to wash, is breathable, and absorbs moisture properly. Of course, there are various types of cotton, some of better quality than others. High-grade types of cotton include Egyptian cotton, cotton damask, and organic cotton.
Cotton blends with fleece and flannel are also quite popular among buyers who want sheets that can trap in heat and keep them warm at night. For buyers who want luxurious sheets, satin, silk, or cotton sateen are all good options, although silk sheets can be quite expensive. For buyers on a budget, though, cotton-polyester blend sheets and cotton flannel blend sheets are both good choices. However, the buyers should keep in mind that, although cotton-polyester sheets do not wrinkle easily, they do not absorb moisture as well as pure cotton does and they also stain easily. Buyers should also consider that cotton-flannel sheets are prone to pilling; however, they are warm and comfortable and absorb moisture well.
Thread Count of King Size Sheets
For non-clothing fabric items, thread count is often mentioned on the packaging. Thread count refers to the total number of threads in a square inch of fabric that run both vertically and horizontally. Generally, a higher thread count signifies better quality, as fabric with a higher thread count is usually softer, more durable, and has a tighter weave than a similar fabric with a lower thread count. The buyers should look out for sheets with a thread count of about 200 to 300 if they want comfortable yet cheap sheets.
If the sheets have a thread count of more than 1000, they are very soft and luxurious, but are not very durable since fine threads are used to achieve this high thread count. However, the quality of the sheets is not determined uniquely by the thread count. Other factors, such as the type of material and type of weave, are just as important as the thread count in determining the softness and quality of the sheets.
Weave of King Size Sheets
The weave of the fabric is important because it affects the texture and durability of the sheets. There are generally three types of weaves, namely the basic plain weave, the percale weave, and the sateen weave. The plain weave results in sheets that have an equally similar number of vertical and horizontal yarns. The percale weave is a better version of the plain weave, and gives durability and a crisp feel to the sheets. The sateen weave has more vertical yarns than horizontal and has more yarns on the surface of the fabric, giving it its glossy look and extreme softness.
Finish of King Size Sheets
A majority of bed sheets are treated with chemicals like formaldehyde, chlorine, and silicone which prevent them from wrinkling and shrinking. Some bed sheets with a glossy appearance are treated with alkalis to give them that sheen. For a buyer who has allergies or is sensitive to such chemicals, there are better options, though they tend to be harder to find and more pricey. These options include organic cotton sheets and pure-finish sheets, which are made of fabrics that have not been treated or have had all chemicals removed from them. The downside of these sheets is that they shrink and wrinkle easily. By considering the material, thread count, weave, and finish of the sheets, as well as their type, buyers should be able to purchase the perfect king size sheets for them.
Additional Tips for Purchasing King Size Sheets
There are also several other tips the buyer can follow when buying king size sheets. First of all, it may be cheaper at times to buy a bedding set rather than individual duvet sheets, bed sheets, and pillowcases. Not only will this save money, but aesthetically this would be better as well since the sheets and pillowcases will all have matching colours and fabrics. Buyers should also consider purchasing bedding sets that match the decor of their bedrooms.
Also, it is best to have at least three sets of sheets available at all times. This way, when one of the sets is in use, another can be stored in the closet, and the last can be laundered. This can help prevent the buyer from running out of sheets, and the sheets themselves will not succumb to wear and tear due to overuse. King size sheets can be purchased from department stores, major supermarkets, and from online retailers. A good online location to purchase king size sheets is eBay.
How to Buy King Size Sheets on eBay
eBay is one of the largest marketplaces in the world and an excellent location to purchase items of any kind, including king size sheets. The easiest way to search for the king sheets you are looking to buy is to use the search bar on any eBay page. You can just type in a search term, such as "king size sheets", to get to the product listings page, which has all items available for sale that match your search term. You can then look through the various king size sheets available until you find something you like. You can narrow down your search even further by using the relevant panel on the page that allows you to select other specific options that you want.
Once you see a product you like, click on it to get more information. You will then be brought to a page that shows the price, condition, seller details, and other features of the item. If you are satisfied with the details, then you can purchase or bid on the king size sheets that you have selected.
Conclusion
Buying the right sheets can transform any bed into a comfortable, stylish, or luxurious one. This is especially true for king size beds which are large in size and are grand-looking on their own. Before buying king size sheets, the buyers should decide upon the type of sheets they prefer, such as flat, fitted, or duvet covers, taking into account that buying sets of bed sheets that include pillowcases, duvet covers, and bed sheets, can be cheaper than buying separate items. Moreover, when bought in sets, the items match each other in style, colour, and fabric type.
Several other aspects that should be considered when shopping for king size sheets are the material, thread count, weave, and finish of the sheets. Additionally, the buyer should consider the colours and design of the sheets so that they can match the decor of the bedroom. eBay has a rich selection of king size sheets of various colours, types, brands, and prices, so anybody looking for the perfect sheets that fit not only their king size bed but also their budget is most likely to find them there.