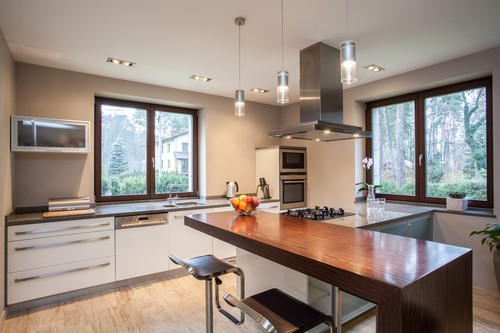 Updating the kitchen is a great way to improve the appearance, functionality, and resale value of a home. Although many homeowners immediately think of new appliances when they consider an update, there are several other ways to create a more inviting and functional room, as well. One way to improve the kitchen is to invest in quality furniture that allows for increased storage, seating, and cooking space.
There are many different furniture items appropriate for the kitchen. The most common are cupboards, tables, and dining chairs or stools. Since these items vary greatly in terms of quality, style, and price, buyers should understand the type of furniture they desire and know their budget limitations before starting a search. High-end furniture is very enticing, but investing large amounts of money in the kitchen might mean other rooms don't receive the attention they deserve. In order to make an informed purchase, buyers should learn about the different types of kitchen cupboards, tables, chairs, and stools on the market, consider the pros and cons of each option, and decide whether to invest in new or used furniture. The intent of this guide is to help buyers do all of those things, and to explain how and where to buy great used kitchen furniture at affordable prices.
Types of Cupboards
Cupboards are often categorised by their location in the kitchen. For example, base cupboards rest on the floor and are usually attached to the countertop; wall cupboards are integrated in the kitchen wall in some manner. Tall cupboards function like a closet, and are ideal for narrow spaces. While these categories are straightforward and easy to understand, buyers should also understand the differences between cupboards in different price ranges. The following chart outlines several types found at different price points, and discusses the pros and cons of each.
| Type of Cupboard | Description | Pros | Cons |
| --- | --- | --- | --- |
| Basic, or Stock Cupboards | Also known as off-the-shelf cupboards, they are ready to install on arrival and feature simple designs and frameless construction | Inexpensive and easy to use; often available the same day as purchase | Many styles are made from thinly veneered particleboard instead of plywood; limited amount of options in terms of style and accessories |
| Mid-level Cupboards | Also known as semi-custom cupboards, they are identified by their face-frame construction, which shows the solid wood frame behind the doors | They can be customised based on the size, style, materials, finish, and trim desired by the buyer; most models provide solid value for the price | Features and quality vary considerably; some models feature low quality materials instead of plywood; typically require longer lead time for delivery |
| Premium Cupboards | Size, style, and options vary depending on the needs of the buyer; typically feature visible detail, attractive face-frame construction, and well-crafted interiors | Generally made from plywood boxes and premium materials; width varies by 2.5 centimetres instead of 7.5 centimetres | Price can be as high as some custom models; typically require several weeks for delivery |
Once buyers understand the basic types of cupboards, the next step is to decide on a construction material. The three most common materials, in order of increasing quality and price, are particleboard, Micro Density Fibreboard, or MDF, and Plywood. Many buyers can find what they are looking for in MDF, which is an engineered material made from fine wood particles and glue. It is dense, durable, and has a smooth and attractive surface.
Types of Kitchen Tables
If the cupboards are the most essential storage items in the kitchen, the most important piece in terms of eating and socialising is the kitchen table. Before buyers begin a search for a new table, they should take several factors into consideration. First, the one factor that should drive decision-making more than any other is the available space in the kitchen. If the kitchen is large and spacious, buyers have many different sizes and shapes to choose from. However, smaller kitchens typically require small, round tables in order to maximise movement and flow. After space considerations, functionality and affordability should factor into the decision making, as well. For example, homeowners with the luxury of a formal dining room may not need a large table in their kitchen, even if the space allows for one. The following chart outlines the basic types of kitchen tables on the market.
Type

Description

Small tables that can be folded up and stored in a closet or large cupboard when not in use; ideal for very small kitchens, or for homeowners that want to make use of all available space

Typically have side panels hinged to the wall and can be folded and stored out of sight when not in use; seating is limited with these tables because they are connected directly to the wall

Freestanding drop leaf tables offer better seating and portability

Also known as vintage kitchen tables, they typically have rounded edges, simple designs, and often feature bright colours; ideal for the budget conscious buyer who desires a modern, stylish look

Tables with a glass top are practical, easy to clean, and stylish; they provide a chic and elegant look to the kitchen; they are also cheaper than solid wood tables

Glass tables are not as strong as solid wood tables and are much more susceptible to damage from everyday wear and tear

Expandable Kitchen Tables

Ideal for larger kitchens, they have leaves that can be inserted to accommodate larger dinner parties and gatherings

Depending on the materials, expandable kitchen tables can be expensive due to their versatility and size

Add counter space without providing a sit down eating area

Some include an optional tabletop fixture; additional features include drawers for extra storage; many kitchen islands sit on wheels and can be manoeuvred around the room
Kitchen Seats and Stools
Seating choices depend on the available space and the style and material of kitchen table. For example, oak dining chairs are only appropriate when paired with a high quality table made of oak, similar wood. Likewise, those with a smaller kitchen table or a drop leaf should invest in chairs that will maximise space.
Once the decision to purchase a certain type of chair or stool is made, there are several considerations to take into account. First, buyers should select a material that is relatively easy to clean. Drink and food are spilled on kitchen chairs constantly, especially if small children occupy the home. Second, measure the kitchen table and make sure that the height of the chairs or stools allows others to sit and eat comfortably. Third, determine the number of seats or stools that can comfortably fit in the available space. If there is a separate dining room, buyers should avoid purchasing more than two or three chairs. Those that utilise their kitchen for preparing and consuming food should count on buying one seat for every member of the home. Finally, decide on the features. These depend on the age and needs of the residents. For example, elderly residents often need more back support, while smaller children need a higher perch.
New vs. Used Furniture
Those looking to save money should consider investing in used kitchen furniture. However, special attention should be paid to the price and condition of the used item. The first step in the process should be to compare the price of the item against a brand new factory piece. Ask the seller for the item specifications, and cross-reference these against a local furniture store. Also, check out listings in the local newspaper or on online retailers such as eBay, and research the price tags on similar listings. Also, pay close attention to the condition of the item, as this is the most important determinant of price. In fact, used furniture in mint condition can actually cost more than factory pieces. Therefore, buyers should examine the piece closely and determine if there are repairs needed. If so, these should be factored in to the price and used during the negotiation.
Using eBay to Purchase Kitchen Furniture
Homeowners looking to furnish their kitchen should explore the expansive product listings on eBay. eBay has thousands of new and used furniture pieces, and the high volume of sellers and wide variety of products works to the buyer's advantage. Those that know how to search and filter results as well as research sellers can find what they are looking for at an affordable price. The sections below explain how to do each of these.
Search and Filter Results
eBay allows users to search using both general and targeted methods. Those looking to browse a wide variety of products can start by entering a broad phrase, such as "kitchen cupboards" into the search field. This particular phrase yields over 9,000 results, and buyers can then use the available category filters to sort listings by price, condition, and seller location. Those that have a more specific item in mind can use descriptors to narrow the initial search field. For example, entering "chrome kitchen breakfast stool" provides a more manageable list at the outset of the search.
Evaluating Sellers
Once you become familiar with the design and search features on eBay, the next step is to evaluate sellers. As with any purchase, buyers armed with information about the product and the merchant can feel more confident about their transaction. eBay helps facilitate this exploration process by assigning every merchant a rating based on their level of customer care and the Detailed Seller Ratings, or DSRs, of previous buyers. In addition to noting these ratings, you should take the time to read feedback left by previous buyers to see whether they felt their transaction went smoothly and the seller satisfied their needs. Finally, make sure to examine the product listing and identify the return policy. As a general rule, you should avoid purchasing products from sellers that do not accept returns.
Conclusion
Buyers in the market for new kitchen furniture have a wide array of options to choose from. Often, the most difficult part is choosing the right style and price point for the home. However, those that start with the three most common kitchen furniture items and then weigh the pros and cons of each available option can make an informed purchase. Such a decision can improve the appearance and function of one of the most important rooms in the house. Two important factors that go into selecting the right furniture are 1) size, and 2) budget. Homeowners must be conscious of the fact that the kitchen is a high traffic area, and not just a decorative area. Clogging up the kitchen with oversized furniture is a sure way to ruin the traffic flow of a home and decrease the amount of available workspace. Also, it is important to invest in furniture that fits the budget, as the kitchen can be a money pit for buyers who do not exercise discretion. An additional consideration is whether to buy new or used furniture. Used furniture can provide buyers with a nice return on their investment as long as they compare prices and inspect the product for defects. Those who understand their options and stay true to their vision and budget should be able to find the right pieces for their home and enjoy the benefits of their investments for years to come.