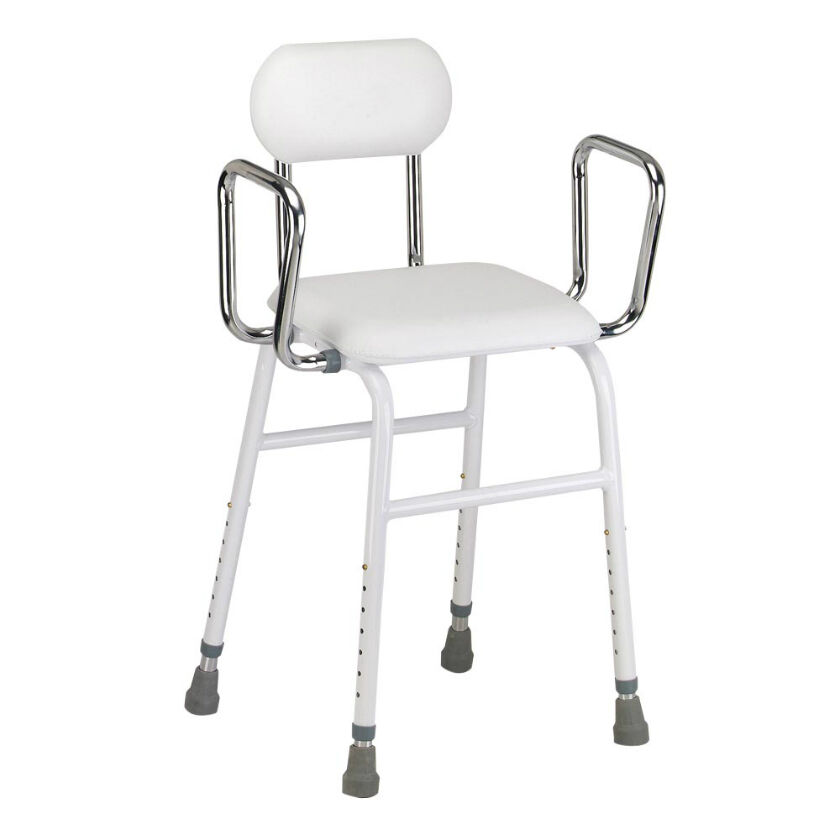 Early versions of the stool had only three legs. Often this type of stool was used to milk cows, or used in workshops and in offices. Stools were generally reserved for subordinates or those deemed to belong to the lower classes, with more comfortable chairs given to higher-ups. Over time, however, many people, rich and poor, use stools for a variety of purposes. A piece of furniture that has proven its worth in many ways, today there are bar stools, footstools, step stools, and kitchen stools.
When looking for a stool, one should first think about the purpose for which it will be used, then decide upon a preferred material of the legs and the seat. Kitchen stools are best made from wood, metal, or a combination of the two. Seat covering are yet another consideration. Would solid wood be better than a vinyl-covered cushion on a metal chair? What about using fabric covered cushions?
There are many styles of kitchen stools from which to choose, both from bricks and mortar stores and online sources such as eBay. Before buying, it is important to research and decide upon the styles available, how and where the stools will be used, ease of cleaning and maintenance.
History of Kitchen Stools
Stools unearthed from Egyptian tombs nave provided information on how people sat and what they sat upon, going as far back as the Egyptian Old Kingdom, 2680 BC. People thousands of years ago sat upon stools, with chairs historically having been reserved for those with higher social standing. Thrones, of course, were for kings and queens; however, other nobility used chairs as well, while commoners stood or sat on stools.
Today, chairs and stools are common, everyday pieces of furniture present in nearly every household. No longer the domain of the nobility or upper echelon of society, stools have a usefulness and appeal that crosses all strata of society.
Tips for Buying Kitchen Stools
The process of buying a kitchen stool can be quite challenging. It is important to measure the height correctly for the island, breakfast bar, or counter where the stools will be used, as well as the perfect style to complement the rest of the kitchen decor. If the kitchen is open to the living area, one must also consider the style of that room, choosing a style that complements the entire space, rather than just the kitchen.
A huge selection of kitchen stools is available on the market, so knowing what basic style and materials will best suit ones kitchen or other area of the home before deciding to buy will make the process speedier and less confusing. Be aware of the different manufacturers, styles, prices, colours, and materials before venturing forth to buy a kitchen stool.
Kitchen stools can be purchased locally from department stores or kitchen supply shops, as well as on the internet from reputable sources such as eBay. eBay offers a wide selection of all varieties of kitchen stools from which to choose, as well as convenience and peace of mind resulting from using safe, easy-to-use site.
Kitchen Design and Kitchen Stools
Though many kitchens have no place for a kitchen stool, kitchens with breakfast bars or overhanging counters can accommodate them. A counter with recessed cupboards or a breakfast bar with an overhanging counter top is also ideal for using kitchen stools.
Stools Suitable For Use in a Kitchen
Any style kitchen stool, as well as bar stools, can be used in a kitchen, but before rushing out to buy a set of kitchen stools, be sure to consider every aspect of where the stool will be used as well as the type of stool being bought. Many common stools have no side arms or back to rest against, and for a casual seating arrangement at a bar, that is fine. However, for eating any meal at the kitchen counter, breakfast bar, or high table, a kitchen stool with arms and back is highly preferable. But more importantly, standard armless and backless stools lack sophistication and style. Choose a kitchen stool that has both of those characteristics to grace ones kitchen. The following small selection of styles is an example of the styles, sizes, and materials of kitchen stools.
Type of Stool

Description

Centimetres From Seat to Countertop

Kitchen Counter Stool - with or without back

These counter height stools fit properly under typical kitchen counters, which usually runs 91.44 cm top to floor

20.32 cm

Swivel Counter Stool - with or without back

These kitchen stools can be used indoors or out, and may be constructed of aluminium, wood, or a combination of the two types

25.4 - 30.48 cm

Rolled-Back Leather Counter Stools

These kitchen stools are perfect for home bar or kitchen islands

25.4 - 30.48 cm

Saddle Seat Kitchen Counter Stool - with or without back

This classic wooden counter stool has a casual style that can go from kitchen to workroom to recreation room. Contoured seat for added comfort.

Optimally seats should be 10-12 inches below your table or countertop.

25.4 - 30.48 cm

Breakfast Kitchen Counter Stool With Back

This style of kitchen stool is available in wood or metal frames and features foam padding for comfort and support

25.4 - 30.48

Curved Kitchen Counter Chairs

Stools feature leather-upholstered curved seats and nailhead trim accents. Usually 60.96 cm from floor to seat. Seat heights may vary slightly by design

30.48
Some home bars are between 101.60 - 106.68 cm tall, which means that a kitchen counter stool will be too low for the bar making sitting and eating or drinking very awkward, as the chin would be very close to the countertop. Before ordering a "counter" height stool for a bar, be sure to measure everything, including the space available under the counter, to ensure leg room.
Cleaning and Maintenance of Kitchen Stools
Due to the fact that the kitchen is used to cook food, as well as eat and socialise, it is clearly evident that any furniture present in the kitchen will be exposed to a variety of things such as food, heat, steam, cooking odours, and spills, making that furniture more at risk for damage than any other furniture in the house. So kitchen stools need to be chosen with care.
Wooden Stools
Wood stools are beautiful as well as versatile, but require more care than metal stools. Wood stools require a bit more maintenance to stay smooth, shiny, and splinter-free. Follow a few tips to keep stools like new and avoid damaging them.
Sun and Water
Avoid prolonged exposure sun and water. If the kitchen stools will be used outdoors, be sure to cover them with an opaque cover when not in use. Even better, when not using the stools move them inside or to a shaded area. The heat of the sun will damage the wood by drying it out. As well, keep stools away from extended contact with water of any sort. Stools will be damaged beyond repair if they are continually gotten wet and left to dry by themselves.
Fading and Drying
Varnish or oil kitchen stools as necessary. If the finish seems to have faded after several years, sand it off carefully and re-varnish to prevent damage by moisture. For unvarnished wood it is necessary to rub oil into the stools periodically to maintain moisture and reduce fading and splintering.
Dust and Spills
Dust frequently and wipe up spills immediately. If liquids or spills dry on the stools, it will stain them, so wipe up any spills with a clean cloth, using only mild soap or furniture polish when needed. One should dust furniture regularly with a polish designed specifically for wood, concentrating on the seat, legs, support beams, and any areas where dust can gather.
Solvents
Any kind of solvent like nail polish remover, paint remover, or alcohol damage wood by stripping the stain or varnish. Avoid using any of these chemicals near the stools and, should any of this substance spill on the stool, wipe it up immediately.
Metal Stools
Keeping metal kitchen stools clean and shiny is extremely simple. Each week, clean kitchen stools with a damp cloth, then run a dry cloth over the metal to buff and prevent rust. Some surfaces require special attention but, following a few good ideas, one can easily keep metal furnishings looking like new.
Marks and Stains on Chrome
Clean up marks and stains promptly. A bit of bicarbonate of soda on a clean damp cloth cleans marks and stains on metal or chrome surfaces. Simply rub gently on the mark or stain to remove it, then wipe clean.
Cleaning Vinyl Seat Cushions
To clean vinyl kitchen stool cushions, fill a bucket with very hot water and one cup of mild dishwashing detergent and mix well. With a scrub brush dipped into the solution scrub the cushion in a circular fashion, dipping into the cleaning solution as necessary. When the entire surface of the cushion is clean, rinse the soap away with a clean, damp cloth.
Mould or Mildew
Sometimes seat cushions, especially those made of vinyl cushions, become mildewed. To clean this away, mix equal parts of chlorine bleach and warm water in a bucket and scrub the cushions with a scrub brush until the mould is gone. A cleaning afterward with warm, soapy water removes all of the bleach. A final rinse and dry, and the cushions are ready to use.
How to Buy Kitchen Stools on eBay
To begin searching for kitchen stools on eBay, simply enter into the search bar any keywords that relate to the style or type of kitchen stool that you are looking for. For example, typing in "kitchen counter stool" brings forth a selection of that item for you to browse. If you are interested in a "swivel counter stool", enter those keywords to generate listings for that specific type of kitchen stool.
When you have decided upon the type of kitchen stool you want to buy, remember to read the listing carefully to determine whether the stool is new or used, whether it has any flaws or damage, and whether the seller has a refund or exchange policy. If you still have questions after reading the listing, go to the seller's member profile and click on the contact link to ask any questions. While on the member profile page, be sure to read any feedback scores other buyers have listed for the seller. This important information for buyers helps to prevent any problems with the purchase.
Conclusion
When one is in the market for kitchen stools, eBay offers a vast variety of styles and colours and prices. It is also advisable to check the prices and availability of stools locally, in order to see whether any are available nearby for purchase and pickup. One may be surprised that the selection is so great and perplexed by the choice. Thus, it important to narrow down the options and decide upon the type of kitchen stool desired before continuing to search.
Kitchen stools are available in both wood and metal, and with vinyl cushions, cloth cushions, or no cushion at all. There is also a wide array of kitchen stool styles, finishes, and materials from which to choose, making it easy to get the look one is after. If one wishes to have a kitchen stool with backs or seat upholstery, he or she may choose amongst genuine leather, vinyl, and fabric, all in different colours and patterns. No matter what kind of kitchen stool one is going for, eBay makes it simple.