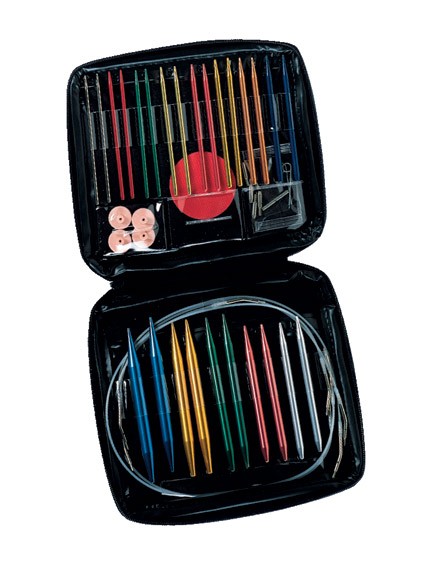 Knitting has been and remains a popular pastime for all ages. Knitting dates back many centuries and is the task of looping yarn in a series of stitches. Many knitters find the hobby both relaxing and enjoyable. Although it is possible to use a knitting machine, there is nothing like a hand knitted item made using knitting needles, so they remain the preferred choice for many. In order to make a knitted item, buyers simply need some knitting needles and a ball of yarn.
Knitting needles come in various types, sizes, and materials. eBay offers buyers a wide range of knitting needle styles, many of which can be purchased at below their retail price. The large selection of products attracts many buyers to this online marketplace. When purchasing knitting needles on eBay, buyers should consider the various types, familiarise themselves with the different sizes, and learn the benefits and drawbacks to knitting with each type of needle material.
Types of Knitting Needles
There are three basic types of knitting needles: straight, circular, and double pointed. Each type functions slightly differently. The best type is often determined by the project being completed, although buyers should bear in mind that some needles can be used for more than one task.
Straight Knitting Needles
Straight knitting needles, also referred to as single pointed needles, are used for small projects involving making a final product with straight edges. These projects usually involve vertically knitted scarves, baby blankets, ponchos, and wraps. Straight knitting needles have a point on one end and a small knob on the other end, designed to keep the stitches from slipping off. They are typically 33 to 35 centimetres long. Using straight knitting needles for larger projects tends to pose a problem, as the volume of stitches per row can be difficult to manage on the length of the needles.
Circular Knitting Needles
Circular knitting needles have two points that are held together by a flexible cable, usually made of plastic. These needles are best suited for larger projects, such as afghans, as the cable is designed to hold a greater number of stitches. This diminishes any problems that can result from trying keeping the whole item on a straight needle. Circular knitting needles can be used for knitting flat pieces, but they are mainly used for projects that have no side seams such as hats, jumpers, and bags. When measured from the tip of one needle to the tip of the other, circular needles range from 40 to 152 centimetres long. The appropriate length varies depending on the project, so the pattern should specify the required length.
Double Pointed Knitting Needles
Double pointed knitting needles are typically sold in packs of four or five. These needles have points on both ends and are shorter than other types. The absence of a small knob at one end allows for continual knitting in the round without special techniques. The needles are used for the sole purpose of knitting circular pieces, such as socks or sleeves. Double pointed knitting needles range in length from 12 to 25 centimetres, with 15 to 17 centimetres needles being the most common. The appropriate length of the needle is often determined by the size of the knitter's hands. Those with smaller hands often find it easier to manage a 15 centimetre needle than those with larger hands.
Size of Knitting Needles
The size of a knitting needle is determined by its circumference. In general, smaller knitting needles create smaller stitches. Sizes are denoted by both metric and numerical labels. Knitting needles range in size from zero to 14, with zero being the largest and 14 being the smallest. In order to find the correct knitting needle for a British knitting pattern, buyers should consult the table below.
| Metric (millimetres) | Knitting Needle Size |
| --- | --- |
| 2 | 14 |
| 2.25 | 13 |
| 2.75 | 12 |
| 3 | 11 |
| 3.25 | 10 |
| 3.75 | 9 |
| 4 | 8 |
| 4.5 | 7 |
| 5 | 6 |
| 5.5 | 5 |
| 6 | 4 |
| 6.5 | 3 |
| 7 | 2 |
| 7.5 | 1 |
| 8 - 10 | 0 |
A pattern should indicate the size of needle that is required to make the item. This should act as a baseline for the needle size. However, each knitter holds the wool at a unique level of tension. This results in a slightly different number of stitches to an inch of knitted fabric. This known as the tension square. The tension square indicates how many stitches and rows should be in a square inch of knitting if the pattern is used with the recommended needle size.
If the tension square is different from what is stated, then the knitter needs to compensate by altering their tension, using needles of a different size, or adding or subtracting stitches so that the garment will be the dimensions indicated by the pattern. For example, if the tension square is too small, this means that the knitter would produce more stitches and rows to the inch than required, so should try again with a larger needle. On the other, a smaller needle should be required if the tension square was too big.
Material for Knitting Needles
Knitting needles vary by the type of material that they are made of. Knitting needles are available on eBay in metal, plastic, and wood, as well as other more specialised materials such as bamboo, glass, and resins.
Metal Knitting Needles
Metal knitting needles are the most popular type of needles used. They are usually made of aluminium, although chrome, brass, and nickel knitting needles may also be found. They are a great affordable alternative to most other types. Metal knitting needles are known for their strength and durability, making them ideal for heavier projects. Although metal knitting needles offer many benefits, they are sometimes avoided due to the clicking sound that they make when used. They are also cool to the touch, which makes them less inviting than other types. Buyers using very fine or smooth yarn often find that the slippery nature of the metal knitting needles' surface poses a problem.
Plastic Knitting Needles
Plastic knitting needles are the least expensive type. Their light weight, smoothness, and durability make them ideal for beginners as does the flexibility that they offer in comparison to their metal counterparts. However, similarly to metal needles, plastic knitting needles tend to produce a subtle clicking sound when used. The majority of larger knitting needles are found in plastic versions.
Wooden Knitting Needles
Wooden knitting needles are widely preferred for their warmth. In addition, these needles are smooth, but not slippery, making them ideal for knitters of every skill level. Wooden knitting needles are often more expensive, especially homemade varieties. Buyers should be cautious when using the needles as they are less durable than other types and highly susceptible to being broken.
Bamboo Knitting Needles
Bamboo knitting needles can be regarded as midway between wooden and metal needles, both in their characteristics and price range. They are warm to the touch, yet lighter than metal. These knitting needles are often preferred over wood because of their greater durability. In addition, the smoothness of the material allows knitters to work accurately and quickly.
Glass Knitting Needles
Glass knitting needles are smooth to the touch. Although heavier than other types and cool at first touch, they tend to warm up with use. These knitting needles are often made from Pyrex as it is less prone to breaking.
Resin Knitting Needles
Resin knitting needles are hollow, so they are much lighter to work with than other types. These needles are often preferred for their strength and durability. They are comparable in appearance and price to plastic knitting needles.
Conclusion
Whether looking for straight, circular, or double pointed knitting needles, buyers can find exactly what they want from the large selection on eBay. When searching for knitting needles, buyers should consider the type of knitting project that they have. Straight knitting needles are best suited for smaller projects, while circular knitting needles can manage the weight and high stitch count of larger projects. Alternatively, double pointed knitting needles are great for making socks.
Buyers should also consider the knitting pattern that they are working with. The pattern often offers information about the size of knitting needles that should be used. In addition, buyers should bear in mind the different types of material that knitting needles are made from: each material has unique characteristics. Many knitters prefer the warmth that wooden knitting needles offer, while others prefer for the smoothness of metal. Knitting needles are widely available on the eBay website.