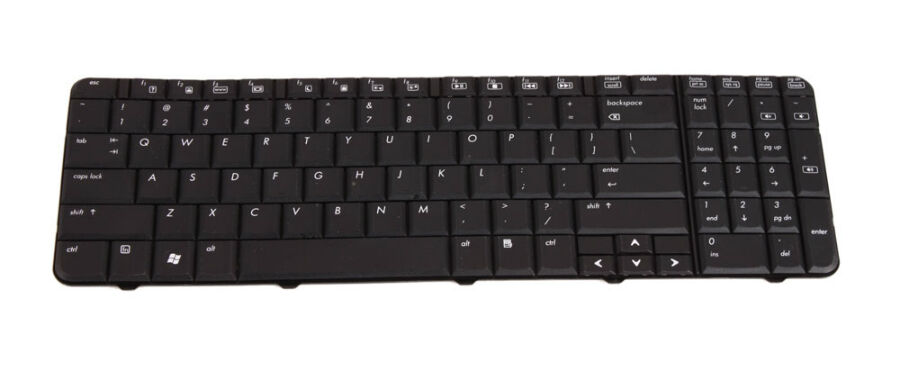 A keyboard is an essential part of any laptop because without a keyboard it is quite impossible to type or operate the computer. Today, laptops are becoming smaller and so are the keys on their keyboards. This, in turn, means narrower gaps between the keys, and may make the typing process more difficult. While one is on the go, the integrated keyboard performs well enough, but at home or in the office an external keyboard can be attached to the laptop. Laptop keyboards allow users to place the laptop on a stand, closer to eye level, because the laptop does not have to be at hand anymore. This makes for better ergonomics and reduces strain on the eyes as well as on the neck, shoulders, back, and wrists.
eBay sellers offer many different keyboards with an array of different layouts and other features available. Keyboards designed for different purposes, such as gaming, are rather common as well. Moreover, it is also possible to buy replacement keyboards that are installed in the same place as the old laptop keyboard, inside the laptop. Individual keys can also be found.
Laptop Keyboard Types
Laptop keyboards can be divided into types by their purposes. Buying a specialised keyboard on eBay is recommended, because this way, the keyboard provides the features the user requires and makes using the laptop a more pleasurable experience. Before starting to look for a laptop keyboard on eBay, the types should be studied. The types include standard, mini, gaming, flexible, ergonomic, and projection laptop keyboards. These types mainly differ from each other in terms of their key layouts.
Standard Laptop Keyboard
A standard laptop keyboard contains alphanumeric, shift, function, and cursor-control keys. The alphanumeric keys are the most basic ones used for typing any texts and they include letters, numbers, and punctuation symbols. When an alphanumeric key is pressed, the same symbol appears on the screen. The shift keys, such as Ctrl, Alt, and Shift, can be either used alone or in combination with other keys to perform various tasks. The same applies to the function keys that are labelled with F1 through F12 and are located on top of numbers. The cursor-control keys are typically found on the right side of the keyboard and they include directional arrows, Ins, Del, and Page Up, Page Down, Home, and End keys.
Mini Laptop Keyboard
Mini laptop keyboards are, as the name implies, smaller than standard keyboards. Although having another set of keys smaller than the laptop's own keys may seem unnecessary, the mini keyboard comes in handy when travelling and mounting the laptop on a table stand.
Gaming Laptop Keyboard
Laptop keyboards were designed for typing, but gamers can opt for a specialised gaming keyboard that makes the gaming process even more fun. The gaming keyboards available on eBay have been designed with the gamers' needs in mind and offer more ergonomic designs. The keys are often backlit, so gamers can enjoy dimly lit rooms when playing their games. Gaming keyboards are programmable, and different profiles can be saved on them, one for each game. Some even come with small screens that give additional information about game stats. Volume and media playback controls allow users to adjust the background music volume without having to pause the game.
Flexible Laptop Keyboard
A flexible laptop keyboard is perfect for carrying around because, as the name implies, it can be folded and rolled up, so it does not take up too much space inside the bag. This keyboard is made of silicone and it is known for its durability as well as for being moisture-proof and dust-proof. Silicone is soft, so typing on such a keyboard does not create much noise as compared to standard laptop keyboards.
Ergonomic Laptop Keyboard
An ergonomic laptop keyboard boosts people's efficiency because it is designed in such a way as to put less strain on joints and muscles, and thus allows users to work for longer periods of time. Generally, ergonomic keyboards come equipped with foam or gel pads that provide support and comfort for the wrists.
Projection Laptop Keyboard
A projection laptop keyboard is very easy to carry virtually anywhere because it does not exactly have a physical form. The projection keyboard consists of a small projection device that projects the image of a keyboard on any flat surface, using laser technology. The user then touches the virtual keys and the signal is sent to the laptop. This keyboard may require recharging every few hours.
Replacement Laptop Keyboards
The keyboard types discussed above are all external and they are connected to the laptop via USB or wireless connections. However, if the original keyboard on the laptop breaks, it is possible to buy a new one and install it on the laptop. The installation process usually involves removing the cover as well as a few screws and disconnecting a cable, and this can easily be done at home. If removing the keyboard requires more than simply unlinking some screws, then professional help may be necessary. When buying a replacement laptop keyboard on eBay, it is necessary to make sure that the replacement keyboard is compatible with the laptop by checking the laptop's exact model number and matching it with the keyboard. The laptop model number can be found either under the laptop or on the screen bezel.
Replacing Individual Keys of Laptop Keyboards
If only some keys on the laptop keyboard are broken or missing, then there is no need to buy a whole new laptop keyboard. Instead, these individual pieces can be purchased. All the parts of laptop keys, including the keys, cups, and hinges, are available on eBay. The key is the visible part that is used for typing. The cup is situated underneath the key and the key is mounted onto it. The hinges are the plastic pieces that are located underneath the key cap and that hold the key in place. When looking for replacement keys on eBay, it is important to find hinges that look similar to the original ones. Although many keyboards look the same, their hinges may be different. As the hinges are not interchangeable, it is essential to find the correct type. The laptop make and model should be matched as well.
Laptop Keyboard Connectivity
Laptop keyboard connectivity does not apply to single keyboard keys or to keyboard types that are attached onto the laptop. The connectivity has to do with stand-alone, external keyboards. By and large, external laptop keyboards can be attached to the laptop computer in one of two ways, either with wires or wirelessly, and eBay sellers offer both types. Some keyboards can even be used in both ways.
Wired Laptop Keyboard
Wired keyboards are generally attached to the computer via the USB port. These keyboards acquire their power from the laptop and thus require no charging. Connecting a wired laptop keyboard generally works according to the plug and play principle, meaning that no further installation is required in order to make the keyboard work. Most standard keyboards are wired.
Wireless Laptop Keyboard
Wireless technologies used for connecting wireless laptop keyboards to the laptop include Bluetooth and infrared. Some keyboards also work with radio signals and can be used to operate the laptop from a distance of up to 10 metres, because they connect to the laptop via Wi-Fi.
Finding Laptop Keyboards on eBay
When looking for a laptop keyboard on eBay, first decide what the keyboard is to be used for. Once you have chosen the type, be it gaming, standard, or even a portable projection keyboard, type your keywords into the search box that you can find at the top of any eBay page. You can also add additional features, such as the connectivity type or backlighting, to your search terms if you have a specific keyboard type in mind.
After you receive the initial search results, you can sort them by price or auction time and you may also choose the item's condition. In order to ensure that the keyboard is compatible with your laptop, read the detailed item listing carefully and feel free to contact the seller, should you have any questions regarding the product. Most wired laptop keyboards are easy to install, given that your laptop has a USB port. When buying a wireless laptop keyboard, make sure that your laptop supports the connection type, be it Bluetooth or infrared.
If a replacement laptop keyboard is the thing you need, browse the photos in the item listing carefully in order to ensure that the hinges are compatible with your laptop. Otherwise, you may later have problems with installing the keyboard.
Conclusion
As laptops are becoming smaller, so are their keyboards. Although, for the sake of portability, a small keyboard is great, some people prefer to connect a larger keyboard when using the laptop at home or in the office. Thanks to an external keyboard, the laptop itself can be placed on a stand and this helps to reduce strain on the eyes as well as joints.
When buying a laptop keyboard on eBay, first the type should be selected according to one's needs. Standard laptop keyboards have the standard keys that everyone expects to find on a keyboard, while gaming keyboards have extra controls for media playback and volume control, along with programmable keys. On the go, smaller keyboards perform well, and eBay sellers offer mini, flexible, and even projection keyboards that have no physical form at all. For long hours at work, ergonomic keyboards that come equipped with armrests are preferred. These keyboard types can be connected either via the USB port or wirelessly by using Bluetooth, Wi-Fi, or infrared connections.
Besides the external keyboards that can be attached and detached quickly with the plug and play principle, an integrated keyboard replacement is sometimes required. The original laptop keyboard can be removed and replaced at home. eBay sellers provide both external and replacement laptop keyboards, and using the search options should make it easy to find the right one.