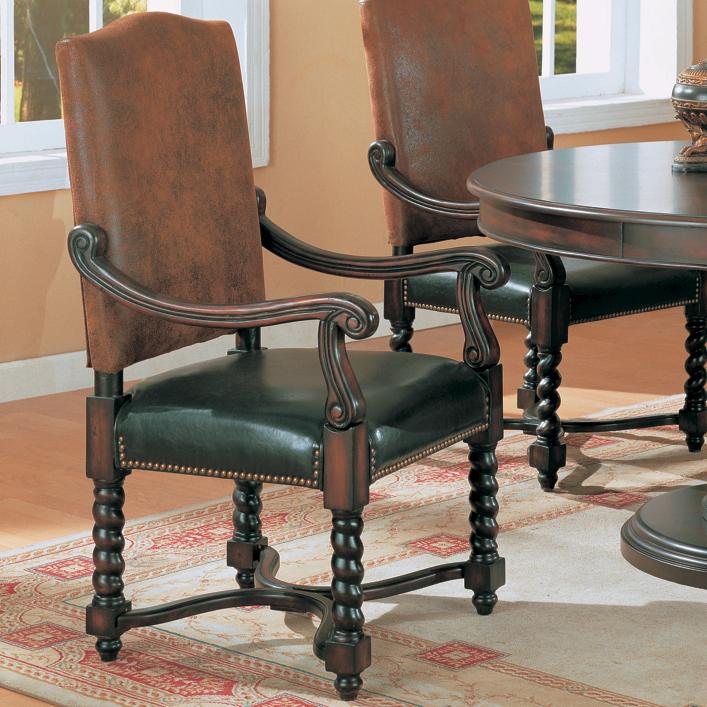 Leather is one of the more popular fabrics that can be used for virtually anything from clothes to boots to upholstery. There are not a lot of interior design concepts that can pull off having leather chairs as the main attraction, but one certainly cannot say that the material is ever going to be lost in obscurity when it comes to furniture. The dining room is one of the gathering places of family, and it can only be enhanced by the inviting sophistication of leather dining room chairs.
Often, department stores and furniture shops carry leather dining chairs, so the shopper in need of some elegant dining furniture can find them in local shops. The massive selections on the Internet, and sites like eBay,, should also not be overlooked. Apart from that, there are other factors that have to be taken into consideration like the advantages of leather furniture, the types of leather most often used in furniture, and the features of leather dining room chairs.
Pros and Cons of Leather Chairs
A person planning to make a significant investment in buying leather dining room chairs should be aware of the advantages and disadvantages of the type of furniture to be acquired. Leather is a tricky material, so there are going to be some interesting points on both sides.
Pros of Leather Dining Chairs

Cons of Leather Dining Chairs

Sleek look adds a luxurious feel to a space

Comfortable and can mould to body shape

Not harmful to pets

Long-lasting and durable

Relatively easy cleaning

Organic and non-allergic

Difficult to match leather in interior design

Can be slippery

Can impart residue to clothing

Not very good temperature control due to the nearly airtight material

Can be expensive
Many people buy leather furniture because of the elegant look and feel of the material. The addition of leather cushions or upholstery to dining chairs can create an atmosphere of stylish invitation that eludes many kitchens and dining areas.
Types of Leather
The increase in technology has allowed manufacturers to come up with many different types of leather, like Nappa leather, suede, full grain, and more, but basically there are three major types that the buyer has to understand.
Aniline
Full-grain hides that have few imperfections are chosen for aniline leather dyeing. The process of dyeing provides the hide with colour, while leaving the natural grain of the hide alone, and is excellent for the buyer that is searching for a more natural look. Aniline leather is less stain-resistant than other types because it does not have a finish, but it is softer. This type of leather ages well over time, developing a patina that enhances the character of dining room chairs. The fact that it is more easily stained than most leather makes it unsuitable for households with active children or pets. However, for furniture that the buyer is planning to hold onto for a long while, it is a good choice.
Semi-Aniline
Semi-aniline leather can be as soft as aniline, though it contains more protection and is less resistant to contamination. It is basically aniline leather that has been coated with various pigments to even out the look of the leather and deal with minor imperfections. The additional coating makes the leather less inclined to fading and stains, and also more conducive to retaining colour. Semi-aniline leathers are the types that are used most in furniture and other industries. High-quality, semi-aniline leathers are nearly as soft as aniline leather, as long as the natural top grain is not removed. While more stain-resistant than aniline leather, it still absorbs substances easily and requires maintenance to last over the years.
Pigmented
Pigmented leather is the one most appropriate for families that have active lifestyles or children and pets because of its durability, which is the best out of the three leather types mentioned. It is also easier to maintain because of the additional pigment coatings and protective finishes. Pigmented leathers are not as soft as aniline or semi-aniline though, but the resistance to contamination and sunlight is an attractive feature. A buyer in search of dining chairs that are to be used regularly, is best served by this type of leather as it is more difficult to wear down.
Details to Consider
There are a number of things that have to be taken into account when planning to buy quality leather chairs for the dining room. Some of the details to consider are the location of the chairs, their upholstery, and their colour.
Location
There are leathers that fade in the sun or are affected by damp so take the location of the dining room into account before purchasing appropriate dining furniture. Ask whether the location, in particular, has busy traffic or is a place that the family only uses at specific times. As mentioned, there are leathers that are more resistant to dirt, so plan accordingly.
The size of the location also matters, as the chairs play a role in how the overall space looks. Dining room furniture should relax people enough that they can enjoy their food.
Frame
The frame of the chair is the skeleton that takes the weight of a person, therefore, it needs to be sturdy and able to withstand prolonged use. Solid wood frames are most often paired with leather upholstery, though metals are used from time to time as well. Do not choose frames made out of steels, plywoods, or plastics as they are more inclined to warp over time. Frames that last for decades are a good investment because even if the leather cracks or stains, the chair can be reupholstered multiple times.
Upholstery
There are chairs that have loose upholstered styles but tight upholstery is more suitable to dining room chairs and leather, especially for those who expect to be serving formal dinners. The stitching of the leather should be even, sturdy, and taut. The leather, itself, is of higher quality if it is supple and pliant with a buttery feel to it. There are many types of leather, the choice of which to choose depends on the use the buyer wants of it. Formal dining rooms probably would be better served with the higher-quality leathers, for instance.
Style
There are different styles of chairs, from the traditional to the more contemporary. Choosing which chair design fits the dining room of the shopper is also important because it adds to the atmosphere of the room. There are many leather dining room chairs that have a casual or formal feel. It is possible to tone down the formality of a dining room by adding more modern chairs or increase the sophistication of a casual dining room with more formal leather furniture.
Buying Leather Dining Room Chairs on eBay
Most interior designers can direct a buyer to shops that have leather dining chairs, some could be various furniture shops, online shops, even vintage boutiques and leathercrafters. Acquiring chairs online is no easy task, though with websites that have enough volume, like eBay, it is possible to find the chairs most relevant to what you want. Navigating an eBay search is simple, you just have to go to eBay and type in your keywords into the search bar. You can be specific with your search parameters, mentioning colours, sizes, styles, even types of leather for the chair. This narrows down a massive selection to a more manageable size. It is also possible to cull the irrelevant results of a search by using the tools available on the site.
Most dining room chairs come in sets, and there are many that sell them in sets. Of course, on eBay it is also possible to find single dining chairs for use around your table. These can be used to replace a worn out chair or complete a dining room chair set. Evaluating the sellers and products are actions of the prudent online shopper. Sellers that have good reputations and reviews are more likely to be able to get your chairs to you exactly as you want them and with minimal hassle.
Conclusion
Buying leather dining room chairs is a major commitment, as leather can be expensive, and expensive leather is not usually paired with a frame made of low-quality material. The buyer has to know exactly what he or she is getting into, and having a basic understanding of leather types as well as the features to look out for can only help in acquiring the type of chairs needed.
There are many types of leather that can be grouped according to tanning process, according to how the leather is prepared, according to how it looks, and so on. What really matters to a buyer is how durable the leather is and how resistant it is to food spills and other contaminants. Still, leather is tricky; a buyer planning to have furniture that lasts also has to know how to maintain the leather properly.
Leather dining furniture can be found in many furniture shops, offline and online. Most online shops have greater catalogues. The selection on eBay alone is larger than in most offline furniture shops and it is worth taking a look.