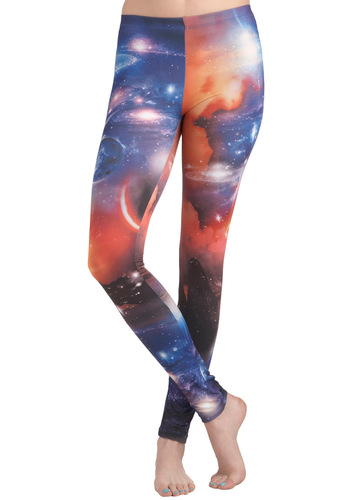 Women's leggings are usually made from cotton, silk, wool, or synthetic fibres, which are blended with lycra to create a stretchy, form fitting garment. Leggings may be worn for warmth, style, or as athletic wear. Some men may wear leggings while working out or for cycling, but leggings are typically worn by women outside of the fitness realm. Leggings come in various lengths, ranging from knee and calf length to full length. They are available in a wide array of colours, prints, patterns, and may even be embellished with sequins, buttons, or zips. Leggings can be worn as a featured item in place of trousers or partially covered by another garment such as a dress, skirt, shorts, or long tunic. When considering which type of flattering leggings to purchase on eBay, it is interesting to understand their history before considering the material, the various lengths, and which length best flatters a woman's body type.
A Brief History of Leggings
The history of leggings dates back many centuries. Leggings were originally designed as two separate garments, one for each leg. The buckskin leather worn by some Native Americans were an early form of leggings as were the hose worn by European men during the Renaissance. Leggings were also worn by many other groups, including cowboys who wore buckskin leggings to protect their legs during cold weather and to prevent damage while riding. In Russia and Korea, the men and women wore leggings as an additional layer of warmth. Leggings also have a history in the armed forces. In the late 19th century, soldiers wore leggings in order to protect their lower legs, provide ankle support, and keep debris from entering their shoes.
Material for Women's Leggings
Leggings are made from various materials depending on their purpose. Leggings made from a nylon-lycra blend are generally reserved for fitness and are often referred to as cycling or running tights. These leggings usually have a glossier look than those made of cotton. In order to distinguish these leggings from fashion leggings, some have racing stripes or reflective patterns. These features also provide extra safety to the wearer. Leggings worn as athletic wear help to prevent chafing during activity. Cotton and cotton blend leggings are usually worn for fashion, although they may also be worn for exercise.
Lengths of Women's Leggings
There are many different length of leggings that vary in the amount of coverage that they provide the wearer. When determining the best length, women should consider their body type, what they plan to wear the leggings with, and when the leggings will be worn. Some women choose to wear leggings alone instead of trousers, while others prefer to style them under dresses or long shirts.
Full Length Leggings
Full length leggings span the entire length of the leg, ending at the ankles. These leggings are versatile because they can be worn with almost anything. Many women also wear these leggings as fitness wear. Full length leggings provide warmth. One particular style of full length leggings, jeggings, have gained popularity in more recent years for their unique look. Jeggings look like jeans with fake seams and pockets, but are in fact leggings.
Capri Leggings
Capri leggings typically end at the mid-calf, but can end anywhere between the knee and the ankle. These leggings are considered more casual that full length leggings, but can still be paired with a wide array of clothing, including mini skirts and long sweaters. They can also be worn under fitness clothing in order to provide an additional layer of coverage and support to the wearer's legs.
Knee Length Leggings
Knee length leggings end just below the knee. These leggings are often worn as dance wear or are reserved for the gym and fitness activities. They are also commonly seen in yoga classes, although they may also be worn under skirts or dresses.
Stirrup Leggings
Stirrup leggings are similar to full length leggings, but they have a strap, known as a stirrup, that wraps under the arch of the foot. The stirrups help to prevent the leggings from riding up the wearer's legs. These leggings are usually worn by themselves as opposed to under other clothing. They are commonly seen on cyclists.
The Most Flattering Leggings for a Woman's Body Type
In order to find the most flattering leggings, women should consider their body type. To make the leggings blend well with the outfit, pair them with a dress or skirt, or choose a neutral colour. Leggings can be worn with almost any footwear: knee-high boots, flats, or high heels. Flats help to create a casual look while high heels can help to dress up an outfit and give the illusion of longer, slimmer legs. It is best to avoid wearing leggings with trainers unless they are for sport.
Consider the Shape of the Legs
Women with nice legs may choose to flaunt them in knee length leggings; women with larger calf muscles should avoid this length. To make the legs appear even longer, women should wear leggings with vertical stripes or long patterns.
Leggings for Slim Women
Bright colours, textures, and patterns look great on slim women. Very slim women are best to avoid full length black leggings worn as trousers, which can make them look gangly.
Leggings for Plus Size Women
Many women often feel that leggings are reserved for slim women. However, the slimming qualities of leggings can also benefit larger women. Plus size women should wear leggings in dark, neutral colours, such as black and brown. These colours are known for their slimming qualities. It is also a good idea to wear thick fabrics as this minimises the appearance of cellulite and give the legs a smooth look. Thick fabrics can also prevent the wearer's underwear from becoming visible. They should also consider fabric with added stretch as comfort is key and helps the leggings to maintain their shape.
Plus size women should avoid leggings that have designs and patterns as this draws attention to their size. Block colours are most flattering and can be paired with a wide range of clothing. In order to minimise the appearance of the dreaded muffin top, larger women should pair their leggings with a dress or a long, loose fitting shirt. This also helps to hide a woman's bottom and add more coverage, if that is the look that she prefers. To complete the outfit, women can complement the leggings with a belt to help to define the natural waistline and to provide some shaping.
How to Buy Women's Leggings on eBay
Most women's leggings are sold at bricks and mortar clothing shops and department stores. Buyers can also find pre-owned leggings at charity shops. Shoppers who want to ensure they are buying leggings that fit perfectly should try them on, if possible. Alternatively, buyers can choose to buy new or used women's leggings online. eBay sells a wide array of women's leggings in various sizes, lengths, and colours. For buyers looking to pay a competitive price or who want a specific type of leggings, eBay offers a large selection of products.
When browsing for women's leggings on eBay, pay close attention to the description of the item you are interested in buying. By carefully reading the full listing and looking at the photographs, you will have a better idea of the condition of an item, and by getting to know the seller, you can feel more confident about purchasing from him or her.
Understand Item Condition
Most people are drawn to a listing by the photographs of the item, but always read the detailed item information before making a purchase. Sellers must use standard terminology to describe the condition of their items. Each listing includes a brief definition of the item's condition in the item specifics section.
Research the Seller
By analysing detailed seller ratings and reading reviews from past customers, you can decide if you are comfortable to purchase from a particular seller. For a quick way to find the best sellers on eBay, look for those who have been awarded Top-rated seller status.
Conclusion
Women's leggings are available in many different styles and can be worn for comfort, style, sport, or warmth. They have been worn throughout the centuries by various groups and have proved to be versatile in their design. Choosing the most flattering leggings is a matter of considering a woman's body type, her personal taste, and the purpose of the leggings. Some women may prefer calf or knee length leggings for the gym; other women may opt for full length leggings as they provide maximum coverage and warmth.
For optimum comfort, women should also consider the fabric choice when deciding on leggings. Some materials are thicker and better at hiding a woman's lumps and bumps. Leggings can be worn fully visible as a substitute for trousers, but to avoid drawing attention to any features, such as the bottom or legs, women can wear another garment such as a skirt or dress. Buyers must also consider the colour and design of the leggings. Larger women benefit from leggings in dark block colours, while slimmer woman may choose to wear brighter colours and patterned leggings. With so many types of women's leggings to choose from, eBay can help any woman to find the best pair to flatter her body type.