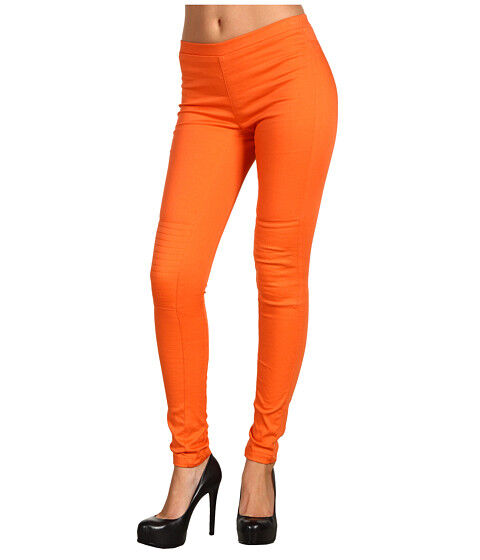 Many women often feel that leggings are reserved for slim figures. However, the slimming qualities of leggings can benefit plus-sized women. Plus-sized leggings serve a wide range of purposes: they can be worn as stylish outerwear; as an undergarment, providing a layer of warmth; for figure control, or as athletic wear. Some women wear the leggings as trousers, while others prefer to wear them under a skirt, dress, or long tunic. Leggings can be made from many fabrics, but most are a blend of lycra, nylon, cotton, or polyester.
Leggings vary in length and can be found in a wide array of colours, designs, and patterns. Plus size women benefit from leggings in dark, neutral colours such as blacks and browns. These colours are known for their slimming qualities. Larger women should avoid leggings that have bright colours, patterns, and adornments such as zips or buttons, which draw attention to unflattering parts. The opaqueness of the material also has an effect.
When considering which type of leggings will best flatter a plus-sized woman's body type, buyers should consider the material of the leggings, the length, and how to size and style them. Leggings for plus-sized women are available at women's clothing shops, department stores, and online at retailers such as eBay.
Factors to Consider When Buying Leggings for Plus-Sized Women
When buying leggings for plus-sized women, a number of factors should be kept in mind. Firstly, the leggings should be thick enough to support the legs and give them a smooth appearance. The leggings should be opaque enough to not reveal patches of the legs. Finally, the material of the leggings should be suited to a purpose, whether it is fashion or sport.
Thickness of Leggings for Plus-Sized Women
Plus-sized women should consider fabric with added stretch as comfort is key and this helps the leggings to maintain their shape. It is a good idea to wear thick fabrics as this minimises the appearance of cellulite and gives the legs a smooth look. Thick fabrics can also prevent the wearer's underwear from becoming visible. Plus-sized women whose legs rub together while they walk cause excessive wear to the leggings' seams and fabric on the inner thigh area. To help prevent this, plus-sized women should consider leggings with higher quality seams and thicker fabric at the thighs to reduce wear and tear.
Many women also choose thickness of the leggings according to the weather: thinner leggings are often preferred during warmer months because of their breathability. However, their thinness may be a disadvantage when it comes to the opaqueness as discussed below.
Opaqueness of Leggings for Plus-Sized Women
Plus-sized women should consider the opaqueness of the leggings and choose a material that does not allow the legs to show through. Blotchy patches of leg showing through the leggings creates an unattractive and uneven look.
Materials for Leggings for Plus-Sized Women
Plus-size women should also consider the materials of the leggings and match them to a purpose. Cotton and cotton blend leggings are generally worn for fashion, whereas leggings made from a nylon-lycra blend are most often worn for exercise and better prevent chafing during activity. Nylon-lycra blend leggings have a more lustrous appearance and are often characterised by their reflective patterns and racing stripes which provide an extra layer of safety to the wearer if, for example, they wear them out jogging.
Lengths of Leggings for Plus-Sized Women
The lengths of leggings vary in the amount of coverage that they provide to the wearer: some are more flattering to plus-sized women than others. Plus-sized leggings should enhance the length of the wearer's legs, helping them to appear taller. When determining the best length, women should consider what they plan to wear the leggings with and when they will wear them. Plus-sized women should consider wearing the leggings under a knee length skirt or dress as opposed to alone as this keeps the bottom and hips covered.
Ankle Length Leggings for Plus-Sized Women
Ankle length leggings span the entire length of the leg, ending at the ankles. In addition to casual wear, they are ideal for use as athletic wear. They provide full coverage and support to the legs, as well as warmth. One style of ankle length leggings, jeggings, have gained popularity in more recent years for their unique look. Jeggings look like jeans with seams and pockets, but are in fact leggings.
Capri Leggings for Plus-Sized Women
Capri leggings are considered more casual that full length leggings, but can still be paired with a wide array of clothing including mini skirts and long jumpers. These leggings typically end at the mid calf: somewhere between the knee and ankle. They can also be worn under athletic clothing to provide an additional layer of warmth, support, and coverage to the wearer's legs.
Knee Length Leggings for Plus-Sized Women
Knee length leggings are often worn as dancewear or reserved for fitness classes. They are commonly seen as yoga wear, although they may also be worn under skirts or dresses. Plus-sized women with large calf muscles should avoid this length as it visually cuts off the legs, making them look broader and shorter.
Stirrup Leggings for Plus-Sized Women
Stirrup leggings have come in and out of fashion since the 1980s. They are similar to ankle length leggings but have a strap, known as a stirrup, that wraps under the arch of the foot. The stirrups help to prevent the leggings from riding up the wearer's legs. These leggings are generally worn by themselves as opposed to under other clothing.
Sizing for Leggings for Plus-Size Women
When buying leggings for a plus-size woman, buyers should ensure that the leggings fit snugly. Leggings that are too tight cut into the wearer's waist and create unsightly bulges. Leggings that are too loose make the wearer look larger. Women need to consider both their waist and height measurements as indicated by the table below.
| Size | Waist (inches) | Height |
| --- | --- | --- |
| XL (20-22) | 44-48 | 5'1" - 5'9" |
| 2XL (24-26) | 48-53 | 5'1" - 5'9" |
| 3XL (28-30) | 53-58 | 5'3" - 5'9" |
| 4XL (32-34) | 58-63 | 5'3" - 5'9" |
Before completing a purchase, buyers should always consult the manufacturer's size chart. Sizing tends to differentiate between brands, so take current measurements and match them to the size chart.
Styling Leggings for Plus-Size Women
In order to minimise the appearance of the dreaded muffin top, plus-sized women should pair their leggings with a dress or a long, loose fitting shirt. A brightly coloured tunic helps to draw attention upwards, away from a plus-sized woman's larger bottom and thighs, as well as providing coverage for the lower body. To complete the outfit, women can complement the leggings with a belt to help to define the natural waistline. Leggings can be worn with almost any shoes: knee high boots, flats, or high heels. Flats help to create a casual look, while high heels can help to dress up an outfit. It is best to avoid wearing leggings with trainers unless they are for fitness.
Buying Leggings for Plus-Sized Women on eBay
If you already know what type of leggings that you need, then you can use the search bar at the top of the page to search for it directly. For a more refined search, you can use the advanced search feature. This allows you to search by price range. If you are unfamiliar with the various types of plus-size leggings available, eBay offers an easy to navigate category search option. By following the provided category links, you are lead to the products that you want. This is often the preferred way of searching as it allows buyers to see all of the options that they may have otherwise missed by limiting the search.
Ask a Question
Buyers will find an "Ask a question" link with each item listing. This link is designed to help buyers to communicate effectively with sellers. If an item listing is unclear or a buyer would like more information about the plus-size leggings, the link allows them to get in touch with the seller directly. To prevent being left with an unreturnable item, buyers should purchase leggings from sellers that accept returns. Information regarding returns and exchanges are usually included within an item's description. If the description does not discuss the returns policy, buyers should contact the seller to ask about this important detail before committing to a bid.
Know the Seller
Buyers should get to know the seller before making a purchase. Check whether other customers have left positive feedback on a seller's profile. You can also look for listings from Top-rated sellers for the highest level of customer service and reliability.
Conclusion
It is more than possible to find the perfect leggings for plus-size women with just a little bit of knowledge and research. Leggings are available in a wide array of styles and lengths. Choosing the best type will depend on both personal taste and the purpose of the leggings. Leggings can be used for physical activity, warmth, or fashion. Some women choose to style them under skirts, dresses, or tunics, which elongates the legs and covers the thighs, hips, and bottom. Bottom heavy women may benefit further from dark leggings and a bright top, which draws the eye upwards and downplays the broader lower half. It is best to avoid leggings that are patterned or embellished as they draw attention to the wearer's thighs. Leggings should be snug fitting and comfortable. With so many types of plus-size leggings to choose from, eBay can help any woman to decide which ones will best flatter her body type.