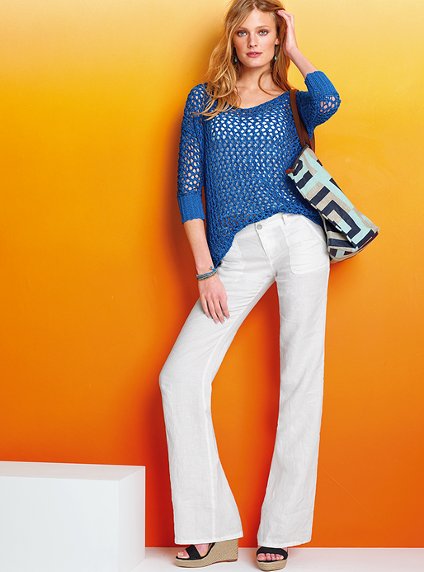 Summertime means long, hot days and cool, balmy nights. It's the season when everyone wants to hang out by the pool but for many working women, that is simply not an option. However, women can still look fashionable in their work wear, while keeping in the spirit of summer, by buying a stylish pair of lightweight trousers. Women's trousers come in many different sizes and styles, but only a few are truly suitable for summer. When it comes to choosing a pair of lightweight trousers, women should select a shorter style made from a light, breathable fabric that fits exceptionally well. Colours that may not be suitable for the dark, cold days of winter such as whites and other pastels, fit right in during the summer months. Summertime trousers are often sold seasonally in women's clothing stores and large department stores, but anyone can find terrific year-round deals on eBay.
Summer Trouser Style
Summertime trousers come in all different styles. If a woman is looking for a casual trouser to wear outside of work, or if her office is not extremely conservative, then choose a style that only hangs down to the knees or mid-ankles. If the office environment is conservative, or she does not feel comfortable showing off her ankles, then select a full-length trouser made from a lightweight fabrics. When weighing in the various options, one might find that there are more than a few popular summer trouser styles to choose from.
Full-Length Lightweight Trouser
Full-length lightweight trousers typically hang all the way down to the ankles. Ideally, a woman should choose a trouser made out of cotton or linen for a lighter feel. Even though the trouser leg is long, these breathable fabrics allow air to easily pass through. These fabrics will keep her feeling fresh and clean even if the air outside is hot and humid. When purchasing full length trousers, make sure that leg length is the correct size. Be sure to factor in the thickness of a typical work shoe to gauge if the trousers are the proper length. Ideally, they should hang a few inches off the floor, without a person wearing shoes. If customers purchase full length trousers online, then she may need to measure herself and use a sizing chart to determine if she needs a short, regular, or tall pair of pants. The chart below lists average leg length for pants.
| Size | Inseam | Height (cm) |
| --- | --- | --- |
| Short | 30 | 155 to 162.5 |
| Regular | 33 | 165 to 172.5 |
| Tall | 35 | 175 and up |
Remember, this chart only lists average sizes and some manufacturers do not produce pants in different lengths. If a woman often has a problem with her trouser legs being too long, visit a tailor to have them hemmed.
Capris
Capris are versatile trousers that make a perfect fit for summer. These trousers typically hang down to the mid-calf and are sometimes called midis. There are two main kinds of capris, with the more casual style being the cuffed or rolled hem. Cuffed capris are great for summer trips to the park or the mall, and they genuinely show off delicate ankles. The hemline is slightly tapered, though some styles that come in a relaxed fit are baggier. The more formal styles of capris are not cuffed or rolled on the bottom. Instead, they have a straight hemline and can be slightly flared away from the ankle. Capris look fantastic on taller women or those with wide ankles.
Gaucho
In South America, a gaucho is considered to be a cowboy. In the world of fashion however, gaucho trousers are hip-hugging, short trousers. Similar to capris, gauchos typically only hang down to the mid-calf. However, what sets the gaucho apart is its extraordinary flared leg. There are different styles of gauchos so one can choose between a medium flare, or an extra wide one. Gauchos are great in the summer because the wide cut allows cool breezes to caress the legs when walking. The extra fabric creates a light and airy shape that makes them ideal for hot weather. If a woman has thicker legs, then consider purchasing a pair of dark gauchos that will make her legs look slimmer. However, if a woman is very slender, be careful when buying ultra wide gauchos since they could totally overwhelm her frame.
Lightweight Fabrics
Summer fabrics are usually synonymous with being lightweight and stylish. Cotton trousers are the usually the traditional choice, since this fabric feels smooth against the skin. Synthetic fabrics, such as nylon and rayon, are also used for summer trousers. These fabrics are certainly lightweight, but they are not as breathable as cotton. Manufacturers, therefore, usually blend cotton with either nylon or rayon, to create a slightly stretchable trouser that holds its shape. However, the ultimate summertime fabric is linen. Made from the flax plant, linen is just as light and breathable as cotton. Linen also feels incredibly sheer against the skin, which is why many high end designers produce linen trousers.
Caring for Fabrics
Always follow the care suggestions that are listed on the products tag. Linen needs to be dry cleaned, which makes it less economical than cotton, nylon or rayon. However, while cotton is machine-washable, customers need to be careful when washing pure cotton pants. Cotton fabric has the tendency to shrink once it is exposed to hot water, so try washing cotton in warm or cold water. Air dry the pants or either dry them on a delicate setting for the best results. If the pants are a blend of different fabrics, such as cotton and rayon, it should be alright to wash them in hot water.
Sizing Lightweight Trousers
There are two areas for concern when it comes to trousers. One is the way the pant fits around a woman's waist and thighs while the other concerns the length of the pant. Only worry about the length when purchasing full-length trousers since both gauchos and capris aren't long enough for length to be an issue. Always try on a pair of pants that in a store because sizes do vary between different designers. The trousers should fit comfortably around the waist, but not be too tight on the backside or around the thighs. Online shoppers cannot use this method and therefore need to use a measuring tape and a size chart to learn their size. Measure around the narrowest part of the waist and the widest part of the hips. Then consult a size chart to see what size fits best.
| | | | | | |
| --- | --- | --- | --- | --- | --- |
| Size | 8 | 10 | 12 | 14 | 16 |
| Waist (cm) | 61 | 66 | 71 | 76 | 81 |
| Hips (cm) | 89 | 94 | 99 | 104 | 109 |
This chart only lists average sizes. Keep in mind that some designers may in fact run small, while others run larger. Always check out a seller's return policy in case the item does not fit properly.
Buying Lightweight Trousers on eBay
Spending all day shopping at the mall can get tiring, not to mention overwhelming. Many women spend all day searching for the perfect pair of trousers, only to learn that the store does not carry the pair they want in their size. Avoid this hassle by staying at home and shopping on eBay instead. Furthermore, many sellers have several size options available, and the selection of pants, from all over the world, cannot be matched by any local store. The prices on eBay are generally cheaper than at retail stores, and if one finds a fabulous pair of slightly used summer trousers, a great deal on the price can almost always be found.
Finding Lightweight Trousers on eBay
Shopping on eBay is incredibly simple once the user learns how to manipulate the search engine to get the desired results. If one is shopping for a pair of capris to wear to work, then enter the term "women's work capris" into the search box. The search engine will return auction listings that match all search terms. If the potential customer wants to narrow their search, then simply add more terms. For example, if a person wants black capris for work, then search for "women's black business capris". One can also use the engine to narrow search results down by brand, size, and condition. If the search returns no results, then there may be too many terms in the search bar.
Conclusion
Warmer weather calls for a more lightweight type of trouser. Whether a woman needs a pair of pants to wear to work or just a pair to wear around the house, eBay has it covered. Instead of spending all day shopping at the mall, women can search for their perfect pair of pants right at home on the computer. Start off by finding a style that fits well with a woman's wardrobe and her own personal fashion sense. Full-length trousers go well in the work environment, while capris and gauchos are slightly intended for more casual occasions. Always be sure to inspect the fabric of the trouser to ensure that it is lightweight enough that it will not make wearer sweat. Cotton and linen are highly popular options, but one can also find warm-weather, synthetic fabrics as well. Finally, make sure the trousers purchased are the right size, either by consulting a sizing chart or by having previous experience buying the brand. Follow all these steps and enjoy a pair of wonderful new summer trousers.