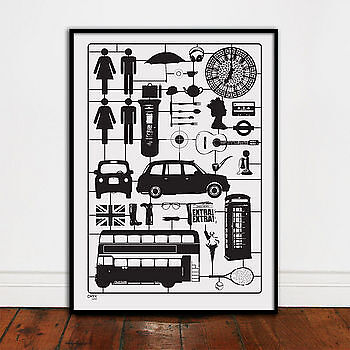 Prints have become a common way of acquiring famous art imagery at a fraction of its original cost. Mass produced prints that currently flood the market are known as open edition, such images have an open license and can be produced an unlimited amount of times. However to the opposite of this there are contemporary prints that are hard to come by and receive short production runs. They are classed as limited edition and are the prized possession of a contemporary art print collector.
Limited edition prints can be an investment opportunity for those knowledgeable in the field. Through the likes of eBay, obtaining limited edition contemporary prints has become possible for all and breaks down the art industry's once elitist walls.
Contemporary Print Artists
Contemporary art as a field has a rich history and has been used as a platform for individuals to make social and political statements. This way of producing art has sustained in both vision and popularity. It is with this that new generations of contemporary artists are taking their place amongst the names of the past.
Acquiring pieces from such artists has the potential for profit even if they do not have any immediate resale value. Historical limited edition print values are pretty self-explanatory but a piece from an unrecognised artist is tougher to price. When scouring eBay's auction listings look out for the work of the following artists, they are up and comers and their work has future resale value potential.
Jo Peel
Dave White
Chuck Close
Nikki Black
Helen Lang
Graham Carter
Ben Allen
The above names may not be overly familiar and some may be completely new to shoppers. But they are amongst a new wave of artists who are issuing limited edition prints. The work they present is more affordable than acquiring limited edition prints from artists of years gone by. Whichever artists or era you choose to buy a contemporary art print from eBay has a wide selection available to suit all budgetary needs.
Price of a Limited Edition Contemporary Print
Limited edition contemporary prints are exactly what they claim to be. They are produced in limited numbers in order to help maintain future value. For those entering the world of print art such pieces are essential to obtain, they offer both an opening vision of the contemporary art world and a cornerstone to a collection. These works values vary depending on the artist
Modern artists who are new the field will command up to £200 whilst established artists reprints can sell upwards of a £1000.
When an artist is known within the industry to be reaching their peak the popularity and price of their limited edition prints skyrocket.
Those who invested early on in an artist's career reap the rewards, it is no surprise to see certain limited edition prints fetch thousands of pounds when this occurs.
The works of established contemporary artists maintain a steady value due to their relevance in art history.
Buyers should be sensible when approaching the online auction environment and set themselves a realistic budget.
Be aware that sellers have been known to mislead buyers by using the term limited edition incorrectly. Those who wish to shift unwanted stock have used it far too often and buyers are not getting what they are paying for. Question the seller regarding the number of the print and make it a rule of thumb to only buy contemporary art prints that are 200 or less.
Condition of the Print
In an ideal world, brand new prints are the preferred purchase to all contemporary art print collectors. This may be an option to those with a suitable budget and means that no artist is off limits. However most do not have that degree of disposable income and will be looking towards used contemporary prints instead.
Purchasing used prints means that shoppers can pick up some real bargains. However they should take care whilst browsing as used prints may have suffered some form of damage during their lifespan.
Scratches – Not considered a major issue, as it does not take away from the print image. However a scratch can have a detrimental effect on resale value.
Tears – The impact of a tear (repaired or otherwise) is subjective. A professional can repair such damage but some dealers will tag any print that has suffered a tear as worthless. This is due to the fact that they are no longer in their original form.
Stains – Canvas is an absorbent surface that soaks up any liquid it comes in contact with. This makes removing stains difficult and in some instances spells the end for a canvas print.
Contemporary art prints are delicate and users will not want to put limited edition versions at risk. Be sure to ask sellers about how they stored the piece prior to sale and ask them for close up shots of the canvas surface. This will give prospective buyers an indication of how the piece has been treated.
How to Store Contemporary Prints
Contemporary art is inspiring and can be real conversation starters when displayed in the home. However there will come a time in which limited edition art prints of this type need to be stored. In order to avoid the impact that time can take on a piece take the following steps to help preserve its longevity whilst in storage.
Use a specialised filing cabinet that can handle all canvas sizes.
Store prints horizontally in flat form, never roll them up or store them in tubes.
Handle prints with white cotton gloves, this will prevent hand oils damaging the canvas.
Do not store prints back to back and keep them separate whilst in a drawer.
Use Mylar sleeves and backing boards in order to keep a print flat.
High levels of humidity and heat can destroy a print so keep them in a room that is below 27 degrees.
Those buying limited edition contemporary prints will usually have resale value in mind. Prints of this nature are fragile and require extra care. They are at risk of damage when exposed to excess light and heat. Storing them incorrectly can destroy the canvas image; buyers should do what they can to store them in the correct environment.
eBay and its sellers have a wide range of storage solutions available, many of which should be taken into consideration when choosing to purchase limited edition contemporary prints.
How to Buy Limited Edition Contemporary Prints on eBay
Contemporary art may divide opinion but there is no doubt that it is fascinating in appearance and sparks strong opinions. It has been a part of popular culture since the 1950s and newer artists are consistently pushing the genres respected ideals. It is such variation that means that there are prints out there to suit the needs of even the most selective of art buyers.
In order to locate limited edition contemporary art prints shoppers should select the collectables and antiques category on eBay's homepage.
From there enter the art sub-category and select prints, contemporary and finally limited editions.
If shoppers have a particular artist or piece in mind they should use the search function at the top of the page.
eBay Shops and Delivery
Contemporary art dealers have realised the extra profit that eBay shops offer to their businesses. They allow those with a selective array of stock to sell their prints to a targeted market and can be a great way for buyers to pick up a bargain. Limited edition art prints can be expensive so expect to pay higher delivery charges to ensure that it is protected during transit. Some canvases are too large for standard delivery and must be collected in person from the seller. eBay sellers are accommodating in such circumstances so get in contact to arrange how and when a collection can take place.
Making a Purchase
When buying a contemporary art print from eBay shoppers will need to do one of the following.
Place a Bid
Make a Best Offer
Buy it Now
Upon conclusion of an auction the winning bidder will need to complete the checkout process. Use PayPal to submit payment, as it will ensure that the buyer protection program covers the transaction. The program can prove priceless in circumstances such as a print getting damaged or lost in transit.
Conclusion
Contemporary art pushes the boundaries of the industry and is an important part of 21st century popular culture. Its importance is understated and the appeal of limited edition prints has never been higher.
Those still producing such art strive to create unique pieces that initiate discussion amongst fans. These aspects have made contemporary art prints must own items in limited edition form.
Limited edition prints present a future resale value that open edition prints do not; it is this reason that makes them highly sought after.
eBay has options for all budgetary requirements meaning that anyone and everyone will be able to find a print that appeals to their tastes.