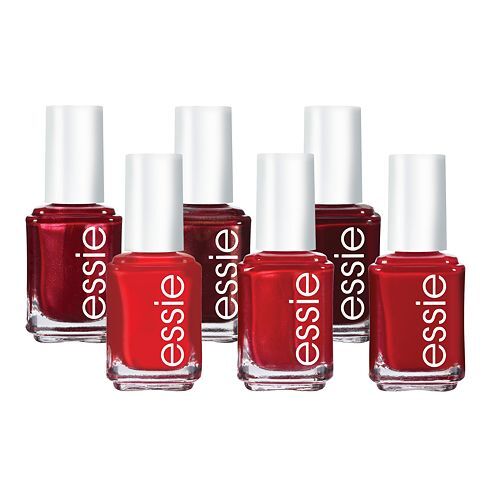 People have been colouring and decorating their nails for thousands of years. Nail polish originated in China and was made by mixing beeswax, gelatin, egg whites, and gum arabic with vegetable dyes. As far back as 1300 BC the colour of nail polish indicated the wearer's social status. Modern nail polish is based on the same formula as car paint, which has been adapted to allow for movement and flexibility.
Nobody likes chipped and flaking nail polish, especially not if it starts peeling off a day or two after it was applied. The quality of long-lasting nail polish depends as much on the type of nail polish bought as on the way that it is applied. Learn which types of finishes and products are available and how to choose nail polish that lasts. Tips on protecting nails from wear and tear help to make the nail polish last even longer. Long-lasting nail polish is available from a wide variety of sources, including chemists, department stores, fashion shops, nail boutiques, and online, from eBay.
Types of Nail Polish
Nail polish is available in a variety of types. The most common are available in solid colours, and have a shiny surface. These are available in normal and quick-drying varieties. Advancements in beauty technology have resulted in two updated, stronger nail polish options. Gel nail polish is far stronger than traditional nail polish. It is applied to a roughened nail and set using ultraviolet (UV) light, resulting in a harder, longer-lasting finish.
Shellac polish is a newer product that is usually applied only in salons due to the equipment required for application. Developed by Creative Nail Design (CND), this product does not require filing and is applied directly to the nail. Four layers of the base coat are applied, followed by two layers of colour, and a top coat. They are hardened under UV light. The polish is then buffed to create a shiny surface. This type of polish lasts for weeks. Both gel and shellac nail polishes are usually applied by professionals.
Types of Nail Polish Finishes
Traditional nail polish is available in a number of finishes. The table below lists some of the most popular effects with a short description.
Nail Polish Finish

Description

Subtle colour, usually metallic, mixed with a base pigment

Even mixture that is smooth to the touch

Shimmer polish

Appears as two or more colours

Chunky glitter particles suspended in a base colour

Often feels rough to the touch

Frost

Frosty finish with a metallic look

Usually has more frost than pigment

Contains fine particles that reflect light to create a holographic effect

Light reflected on the nail surface gives a flash of a second colour

Opalescent is similar, but with a pearl quality

No gloss or shine
The type of finish chosen affects how long the nail polish lasts. Some types of polish, such as matte, are not suitable for a protective top coat, while others, like glitter, can chip as a result of catching on clothing.
Choosing Long-Lasting Nail Polish
When choosing long-lasting nail polish, consider the effect that the nail polish creates. Fashion polishes may not last as long as traditional polishes due to their composition. While higher prices do not necessarily equate to higher quality, quality is important when choosing long-lasting nail polish. Choose a polish from a reputable manufacturer and ask friends and family what works for them. Although it may seem like an excellent way to save time, avoid products that combine base and top coats and colours. These are often inferior and so do not last as long as correctly applied, good quality nail polish used with separate base and top coats.
Applying Long-Lasting Nail Polish
The most important factors affecting the durability of nail polish are the way that the nails are prepared and the steps taken to protect them after applying the polish. To make nail polish last, always use a base coat and top coat. Nail polish should be applied to clean fingernails that have been washed to remove oils and buffed to create a smooth surface. Do not apply hand moisturiser before polishing nails as the film created on the nail by the moisturiser encourages it to peel off.
A base coat should be applied and allowed to dry before applying two coats of colour. Those who have weak or brittle nails should invest in a base coat that nourishes the nails. Each coat should be allowed to dry for at least 15 minutes. A thin top coat should be applied to each nail, sealing in the nail polish and protecting it from chips and scratches. Allow nails to dry for at least 30 minutes. Matte nail polish is not suitable for a top coat, making it more prone to chipping and flaking. Even if the polish is of high quality, inadequate protection makes it flake and chip faster than traditional nail polish.
If traditional nail polish simply does not last for long enough, consider having gel or shellac nail polish applied by a professional. Bear in mind, however, that this can be quite expensive. Alternatively, opt for traditional polish for everyday wear and gel or shellac polish for special occasions or as a treat.
How to Protect Polished Nails from Wear and Tear
Applying good quality nail polish with a base and top coat is the first step in long-lasting nail colour. Knowing how to protect the nails from everyday wear and tear further extends the lifespan of nail polish. If wearers bites their nails, then the polish can start to chip almost immediately. Every nibble removes a piece of polish, damaging the nail's finish.
Lighter colours, such as pastels, do not show damage as quickly or as clearly as dark colours. Only a close inspection of the nails of a person wearing light nail polish can detect small flaws in the finish. Glittery and sparkly finishes do not show chips either. Do not apply more than three coats of nail polish as thicker layers are less durable and tend to peel more easily. Nails can be rejuvenated by refreshing the top coat as needed. Quick drying top coats provide less protection than slow drying ones, so bear this in mind when buying a top coat.
Household cleaning and washing dishes are not kind to nail polish. When engaging in these activities, protect the nails by wearing rubber gloves. This also protects the skin from harsh chemicals, leaving the hands soft, smooth, and beautiful.
Buying Long-Lasting Nail Polish on eBay
Finding the perfect nail polish on eBay is simple. Just type a search phrase, for example "OPI glitter nail polish", into the search field, located on every page, to see the items available from eBay sellers. Refine your search by choosing the most appropriate category and item characteristics. If you would like to narrow or expand your search, use the advanced search function.
Before Buying on eBay
Before you buy on eBay, evaluate the product and the seller. Clicking on an individual listing opens the item listing page where you can find all of the information that you need about the nail polish. This includes details such as the full item description, postage and packaging costs, the seller's accepted payment methods, buying options, and the seller's feedback information. Contact the seller by clicking on the "Ask a question" link if you have any questions about a listing.
eBay's seller feedback feature allows you to see what other buyers think of a specific seller's products and customer service. Detailed seller ratings provide additional information about aspects such as the seller's communication and the accuracy of the item description in the listing.
Conclusion
Long-lasting nail polish allows wearers to keep their nails looking good for longer. Some types of nail polish are longer wearing than others. Gel and shellac polishes are hardened with UV light and can last for weeks. However, as specialist equipment is required for applying these polishes, they are usually available only in nail salons. This increases the cost of applying nail polish, making it an option that most would use only on special occasions.
Some nail polish finishes last longer than others. A matte finish cannot be protected by a top coat as the top coat adds shine. This makes the matte finish more prone to damage. Light, glittery, and shimmery colours do not show wear as quickly as dark solid colours and are great options for everyday wear. Choose a good quality nail polish for the best results.
The secret to prolonging the life of nail polish lies in the application. Nail polish should be applied to clean, smooth nails that have not been moisturised with hand cream. A base coat allows the nail polish to attach itself to the nail, while a top coat protects the polish. Nails should not be bitten and no more than three layers of polish should be applied. The top coat can be refreshed as needed. Polished nails should be protected in order to make the polish last longer. Wear rubber gloves when washing dishes or cleaning as this protects both the hands and nails from chemicals and water damage. eBay has a wide range of long-lasting nail polish.