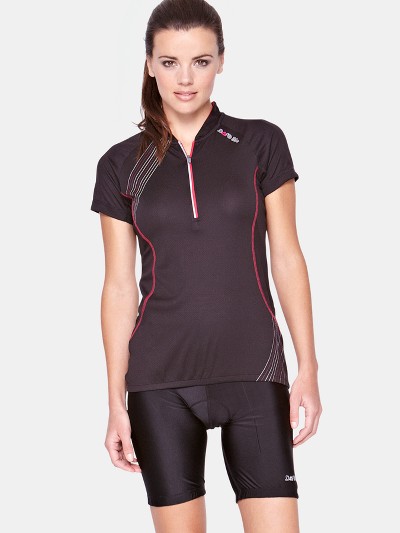 There are a number of key factors to take into consideration when choosing a bicycle jersey, and the length of the shirt's sleeve is one of them. Depending on the season and weather conditions, cyclists will find one sleeve length more suitable than the other. Cyclists need to think about the fabric used in the manufacturing of a jersey too.
There are plenty of bicycle shops and specialist websites that sell both long and short-sleeved jerseys , but buyers are advised to search for these items on eBay. The site has a large range of new and used jerseys at prices much lower than those found in stores or on sites. The following guide shall examine the key factors to be considered when choosing one style over the other, and how to successfully find a desired jersey on eBay.
What Are Bicycle Jerseys?
Bicycle jerseys are specially designed and developed garments that can greatly improve a cycling session. Jerseys are made to regulate a cyclist's temperature and stop them from becoming too warm or cold. These jerseys are also made to protect from the elements and various weather conditions. As the jerseys are very light they aerodynamically assist the cyclist and can greatly improve speed.
Long vs. Short Sleeved Bicycle Jerseys
The main factor that should influence a buyer's decision in picking a long or short sleeve jersey is the season and general temperature of their surroundings. Also, the time of day or night that they will be cycling can influence this.
Long Sleeve

Bicycle jerseys with long sleeves should be worn in colder climates, and during the autumn and winter seasons. Wearing a long sleeve jersey will keep the cyclist warm and help maintain blood flow in the arms. Long sleeve jerseys should also be worn at night and if cycling at high altitudes.

There are a number of long sleeve bicycle jerseys available with thermal lining. These types of jerseys should also be worn in wet and windy weather conditions. It is not a good idea to wear a long sleeve jersey in hot weather, as it will cause the cyclist to perspire at a fast rate, leading to dehydration and stamina loss.

Short Sleeve

Short-sleeved bicycle jerseys are ideal in hot and humid climates, or during summer and spring seasons. Short sleeve jerseys should also be worn during the day, provided that the weather is suitable. The shortened sleeves keep the cyclists cooler for longer and allow perspiration to leave through the arms without being trapped by material.

Wearing a short sleeve jersey in cold weather can lead to numb arms and less control over the bike, which becomes a safety risk.
Fortunately, cyclists do not have to just choose between long and short-sleeved jerseys, and the following are two accessories that can be worn to increase warmth:
Arm Warmers are pieces of fabric that are worn on the arm. Arm warmers can be rolled up or down allowing the cyclist to choose how much of the arm is covered.
Windbreakers are jackets made from very thin materials, like nylon. These will resist wind chill and protect from light rain. Windbreakers are available with and without front zippers.
Everybody has its own reactions and tolerances towards temperature, but below is a general idea of when a cyclist should wear a short or long sleeved jersey:
2°C or lower – Long sleeve thermal jersey with windbreaker.
2°C - 7°C – Long sleeve jersey.
7°C - 10°C – Short sleeve jersey with windbreaker.
10°C - 15°C – Short sleeve with arm warmers (depending on weather conditions).
15°C higher – Short sleeve jersey.
Bicycle Jersey Materials
Jackets can be made from a number of materials, and buyers need to think which would be most suitable for them. The material used will also influence whether a long or short-sleeved jersey should be purchased.
Synthetic vs. Natural
Originally all jerseys were made from wool, but this was not very practical, as wool is a heavy material that retains moisture. As a cyclist perspired, the sweat was soaked up by the wool, weighing the cyclist down and draining their energy. The invention of synthetic materials, like nylon, after World War II allowed manufactures to create a light jersey that could absorb and evaporate moisture. The following are the most common materials used in jersey manufacturing today:
| | |
| --- | --- |
| Polyester | Polyester jerseys are probably the most popular type worn by cyclists today. Polyester is a synthetic material that is very strong and can last a long time. This material is excellent at moisture absorption and is UV resistant. This makes it the ideal choice for short-sleeved jerseys, as it will keep the cyclist cool while protecting them from the sun. Polyesters jerseys can range in price, but inexpensive long and short sleeve jerseys can be bought. |
| Nylon | Another synthetic material, nylon jerseys are extremely durable and will not rip if the cyclist has a fall. As with polyester, nylon has good moisture absorption properties and will keep the rider dry. This material is also wind resistant and waterproof, which makes it suitable for use in bad weather conditions. Short and long sleeved nylon jerseys can also be bought for inexpensive prices, and all buyers should consider this material when searching on eBay. |
| Merino Wool | Whereas cyclists no longer wear normal wool, merino wool is very popular and some claim that this material results in the best bicycle jerseys possible. Merino wool is very suitable for long sleeve jerseys as the material is woven in such a way that it locks in body heat to keep the cyclist warm. However, short-sleeved merino wool jerseys can also be bought. |
| Cotton | Although not as popular as it once was, plenty of people still purchase cotton jerseys. This material is breathable and very suitable for use on hot days. Buyers looking for an inexpensive short-sleeved jersey should consider purchasing one made from 100% cotton. |
| Bamboo | A relatively new material used in the manufacturing of bicycle jerseys, bamboo is naturally anti-fungal and anti-bacterial. This makes it an ideal choice for use in short sleeve jerseys worn on hot days. |
| Lycra | Another popular synthetic material, lycra is known for its elasticity and long lasting fit. Even by bicycle jersey standards, lycra is an extremely thin material that is very good at keeping a cyclist cool, but it is not great at trapping heat. Because of this, it is recommended that buyers avoid long sleeve lycra jerseys, unless it has been combined with another material, e.g. lycra and merino wool. |
When deciding whether to purchase a long or short-sleeved bicycle jersey, consider the following questions:
· What season is it right now? Is the weather warm or cold? Buyers should think about the region they live, and how the weather is generally over the course of a year. Some areas stay reasonably warm all year, while others remain cold even in the summer.
· What time of day or night will the cycling session occur at? Very early morning and nighttime cyclists should purchase long sleeve jerseys, whereas if the session is during the afternoon or evening then they should buy a short sleeve model.
· If the buyer is planning on purchasing one jersey for the year regardless of the changing seasons then it is advised that they invest in some arm warmers or a windbreaker. At least that way if the weather takes a turn for the worst they will be prepared and will be able to continue cycling.
Buying Long and Short Sleeved Bicycle Jerseys on eBay
To begin browsing for long and short-sleeved bicycle jerseys, take the following steps:
· Head to eBay.co.uk and click on the 'Shop By Category' tab located to the left of the search bar.
· Click on the Cycling link found underneath the Sporting Goods heading.
· This will load the 'Cycling' listings page.
· Scroll down and click on the Cycling Clothing link found in the Categories table.
· Next, click on the Jerseys link and on the following page and type either Long Sleeved Jersey or Short Sleeved Jersey into the search bar and press enter.
· Use the filters on the left of the page to make the search more precise, e.g. click on the 'Men' filter or 'Women' filter.
· Use the 'Size' filter to quickly list all relevant jersey sizes only.
· Clicking on the title of a listing will load up a jersey item page. From here, buyers can see information relating to the current bid, the location and cost of postage, as well as additional information about the jersey in the 'Description' box.
· Review the seller's history before placing a bid, and avoid jerseys listed by sellers who have received a high percentage of negative feedback.
Conclusion
When deciding on whether to buy a long or short-sleeved bicycle jersey, spend some time thinking about the current weather and the general temperature. Buyers also need to consider when exactly they will be cycling, and at what altitude, as both of these factors should influence their decision. Spend some time researching into the various materials available, and if thinking about purchasing a short sleeved jersey then perhaps purchase some arm additional garments too.
eBay is a great place to get long and short-sleeved bicycle jerseys, as well as arm warmers and windbreakers. Buyers will find a great select of new and used items at much lower prices than elsewhere, so spend some time browsing to guarantee finding an apt jersey.