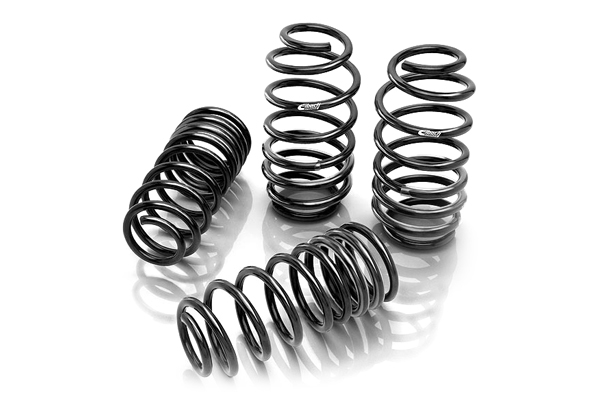 Lowering springs are a set of thick coiled springs that enhance a car's performance and appearance by reducing the centre of gravity and air resistance on the chassis and changing the spring rate. This removal of air resistance makes for smoother steering with a better grip, especially around turns, because the car is much lower to the ground. Lowering a car is the quickest and least expensive way to make it look and perform better with lower fuel consumption.
Those who shop for lowering springs include mechanics, car owners, and enthusiasts who want to upgrade their car, save on fuel, or replace the stock springs with better-quality lowering springs. When shopping for lowering springs, it is helpful to understand their basic function as well as the different types and what to consider when choosing lowering springs for one's car. The multitude of lowering springs on eBay includes a range of makes and models for both the front and rear parts of the car, in both new and used conditions and to suit every budget. As the world's largest online auction site and marketplace, eBay's low prices and variety are as attractive as the speed and security of its payment system.
To Lower or Not to Lower
Specially designed lowering springs enhance performance and many drivers use them in place of the original stock springs in their cars, usually in the front and rear end of the car. Lowering the car improves traction and steering control, perks up aerodynamics because there is less air going under the car, and uses less fuel, while adding a more attractive look and feel to the car. There is also a more comfortable ride as well as reduced risk of rolling over because the car sits closer to the ground.
However, there are downsides to lowering the car, too, such as the tyres wearing out unevenly or too quickly, or a potential conflict with other parts of the car in the case of badly set-up suspension. Because the car is much lower to the ground, there is more chance of it hitting the road when it bounces like on speed bumps, which can badly damage the bottom of the car. Other risks come from using substandard lowering springs which, when they fail, can cause severe injury on the roads. It is best to lower cars that travel on smooth roads, such as sports cars, and avoid lowering cars that travel on rough and uneven roads because of the increased risk of damage.
Types of Lowering Springs
Since lowering a car changes the spring rate and height of the car, lowering springs are categorised according to the spring rate, which is the amount of force or load it takes to compress a spring a certain distance. The higher the spring rate, the stiffer the spring is.
The two main types of lowering springs are the progressive rate springs and the linear rate springs. With progressive rate springs, the top and bottom coils have a bigger gap than the coils in the middle of the spring. The spring rate varies depending on the distance travelled, with the spring getting stiffer the more it is used, thus creating a comfortable ride. Progressive rate springs cost a lot more than linear rate springs; they are ideal for drivers who want buckets of aesthetic appeal and a smoother ride. Linear, standard, or specific rate springs have coils that are evenly spaced apart. There is no change to the spring rate no matter the distance one travels, thus the ride can get bumpy. Linear rate springs are less expensive than the progressive rate ones, and are for cars whose drivers prefer a better-quality lowering of the car and performance over looks.
| Types of Lowering Spring Rates | Features |
| --- | --- |
| Progressive Rate | Varied spring rate, spring stiffens with more use, increased look and smoother handling, comfortable ride, more expensive |
| Linear Rate | Fixed spring rate, no change to the spring, increased performance and better quality lowering, bumpier ride, cheaper |
From the information above, it is clear that variations in spring rate in the two types of lowering springs have different effects on the car's appearance and performance. Consumers knowledgeable about the types of lowering springs and their spring rates better understand what they actually need for their cars.
Ride Height
Ride height, or ground clearance, is the distance from the base of the car to the ground and usually ranges between 370 mm and 430 mm for most standard cars. Those who lower their cars reduce the ride height, and most cars can easily lower another 50 mm without any risk of significant damage. As many part manufacturers quote how much lower a car sits after installing their lowering springs, knowing the initial ride height helps consumers select the most suitable lowering springs within their desired range. Improperly fitted springs and lowering springs that weaken and sag over time affect the ride height and can cause problems with the wheels and chassis.
Make, Model, and Part Manufacturer
There are a host of lowering springs on eBay suitable for many makes of cars like Vauxhall, BMW, Audi, Ford, Peugeot, VW or models like Golf, 95, Astra, 140, 96, and Coupe. Searching for compatible lowering springs is simplicity itself when using the car's make and model because lowering springs are built in accordance with the car's specifications. The alternative is to go to choose among the aftermarket springs manufacturers, since they specialise in suspension systems and lowering springs that fit just right.
The most popular springs manufacturers are H&R, with their aggressive high-performance springs for both smooth and rough roads, and Eibach, which is renowned for cost-effective, progressive rate springs with improved handling. Other quality manufacturers include Pi, B&G, Apex, Spax, and Panther, who offer springs in a variety of strengths to suit most consumers' needs. Many of the springs manufacturers also offer the rate of their lowering springs.
Condition
The selection of lowering springs on eBay includes different types of conditions, which determine the price and also affect the consumer's perceived value of the item. New condition tags on items mean buyers can expect that the lowering springs are unopened, untouched, and unused, in their original packaging. Used lowering springs are second-hand items with previous owners; if in good working condition, they save buyers a lot of money when compared to buying new ones. Consumers should pick those that fit their car and are in good condition with no damage that affects the working of the springs, such as rust or chipped paint.
The eBay Buying Process
At any given time, there are millions of buyers and sellers from all over the world transacting on eBay, which speaks to the reliability of their payment system. The considerable number of people that eBay connects also means that the selection of items on offer is impressive at the very least, and includes unusual and hard to find items sourced the world over: there is truth to the phrase 'when it's on your mind, it's on eBay'. The payment system, PayPal, allows buyers to pay for items using their credit cards or bank account securely, as PayPal conceals all sensitive information from sellers. Such a secure payment method also speeds up the payment and shipping time considerably because buyers can pay for several items with one easy payment.
Top-Rated Sellers on eBay
Sellers who receive a steady positive rating attain the status of eBay top-rated sellers, a select group of traders who guarantee fast shipping, excellent customer service, and quality products. The seller earns this rating through the collective feedback received from all the buyers with whom they transact with over time. eBay does not set this rating; it is an honest and impartial assessment of the seller's service and reputation. Many buyers old and new start with the trusted top-rated sellers for the items they seek because of the unspoken assurance of a satisfactory shopping experience. Buyers registered on eBay often save their favourite sellers on My eBay for quick email notifications of any new items in their stores.
Buying Lowering Springs on eBay
It takes but a few seconds with a simple keyword search on eBay to sight the assortment of lowering springs on offer, which include lowering springs in multiples or as a complete kit from the same manufacturer. You can further sort the results through 'price', 'condition', 'make', 'model', 'part manufacturer', and 'placement on the car'. Once you have narrowed down your options, read through item descriptions to see whether the lowering springs match your needs. Those in used condition must have closer inspection of the photos for signs of wear. If you find them adequate and in good working condition, then click on the seller's ID in the item's listing to read up on the feedback they received from other buyers and to get a good idea about how much longer you have to wait before you finally show off your road-hugging sports car. Remember to notify the seller and leave feedback on their profile page once you do.
Conclusion
Lowering springs are a type of after-sales car parts that drivers and mechanics install in the car's suspension system, lowering the height of the car and changing the spring rate to improve performance and appearance. This also results in better aerodynamics, less risk of rolling over, and greater traction; however, sometimes the tyres wear out unevenly and there is a risk of damage to the underside of the car because of its lower height, although driving over smooth roads only decreases this risk.
The two types of lowering springs are progressive springs, which have a varied spring rate, and linear springs, which have a fixed spring rate. When shopping for lowering springs on eBay, buyers who consider the type of springs they need, the springs' manufacturer, make, model, and even the condition, have a better chance of a fitting purchase. The additional benefit of eBay top-rated sellers for numerous items, including lowering springs, means that a buyer can trust that the lowering springs they buy are just as described by the seller.