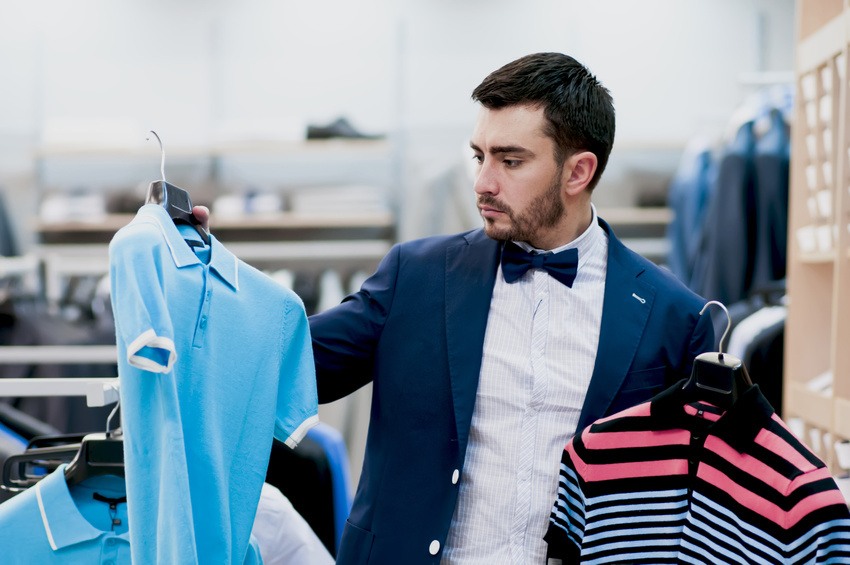 Looking for a men's Armani T-shirt requires sifting through different brands that fall under its umbrella. This, after all, has a direct bearing on the price of any Armani T-shirt. In addition to style and colour options, T-shirt materials also vary. Pay attention to the fit before buying, as different ones tend to flatter different body types.
Armani Brands
The main Armani line, Giorgio Armani uses the highest quality materials but does not offer T-shirts. Next in line, in terms of pricing, is Armani Collezioni, a diffusion line that sticks to the aesthetics of the main line, but relies on cheaper tailoring. Emporio Armani targets the younger generation, and T-shirts from this line offer fair quality. Typically, expensive men's Armani T-shirts come from both these lines. T-shirts from Armani Jeans rank next in terms of affordability, offering some young and vibrant designs. The cheapest Armani men's T-shirts come from its EA7 line, best suited as stylish everyday wear. Armani Exchange T-shirts are not expensive either but sell predominantly in Asia and the US.
Armani Collezioni
Men's T-shirts from the Armani Collezioni line spell elegance and often come in solid colours. A short-sleeved cotton jersey T-shirt in dark purple and peach pairs perfectly with jeans and offers a comfortable fit, while a long-sleeved striped jersey T-shirt in camel and lead best suits slightly chilly days and works well as an inner layer in colder conditions. Lastly, a short-sleeved striped jersey T-shirt in shades of blue or orange is perfect for sunny days.
Emporio Armani
Emporio Armani T-shirts come in a range of modern and youthful designs. The short-sleeved multi-coloured printed cotton T-shirt in light grey or light green serves as effective everyday casual wear. The jersey V-neck T-shirt in light grey or beige with interspersed blocks offers a more edgy look, making it ideal for an evening with friends. Wear a short-sleeved T-shirt in white, black, maroon, and light grey with the logo on the back just about anywhere.
Armani Jeans
Vibrant reds, greens, and blues is what buyers can expect from Armani Jeans T-shirts, although whites, blacks, greys, and prints also make it in this collection. Their slim fit V-neck cotton T-shirt sells in yellow and red and has shaded lettering on the rear. The cotton T-shirt with a print of the sea and the sky that comes in white, black, and blue suits summer events that do not insist on formal wear.
EA7
Armani EA7 T-shirts mainly target the youth, and while these T-shirts are not as expensive as other Armani T-shirts, they do not fall short on the style quotient. An acid green or white T-shirt made using polyester is perfect for cycling; and the crew neck T-shirt in white, black, red, and blue, with the flag of Italy and Italia printed on the front, is perfect for fans.