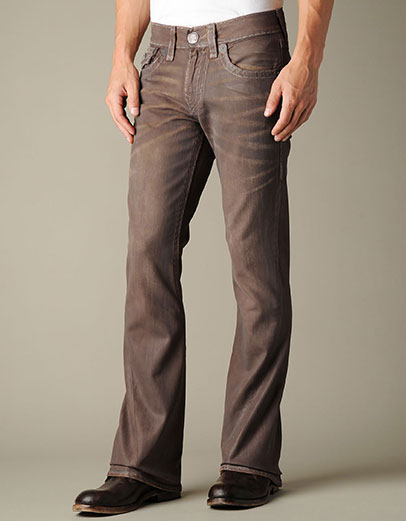 Flared jeans are a fashion icon which remains popular year in and year out. Other styles of jeans come and go, but flares continue to be worn decades after they were first introduced. This can make a good quality pair of flared jeans a great investment, since there is no danger of them falling out of favour.
Despite the fact that they have been around for so long, there is no single definitive style for flared jeans. This means that the consumer planning to buy a pair of flares, needs to have a clear idea of what he is searching for. When he is aware of the different styles and cloths available, and has decided when, where and how the jeans will be worn, he is able to begin his search.
It is possible to find flared jeans in the high street. However, as with many fashion items, the selection available there may be limited. Online retailers such as eBay generally offer a much wider choice of flared jeans, which makes eBay an ideal place from which to buy.
Types of Flared Jeans
Broadly speaking, flared jeans fall into three camps, with the difference between them being the degree of flare, and how high up on the leg the flaring starts.
Boot Cut Jeans
Boot cut jeans are the original flared jeans. They were originally styled to be comfortable for cowboys and others who wore riding boots. Today, their popularity extends far beyond the American West, with millions of people around the world choosing to wear this classic style.
Men's boot cut jeans may start flaring out slightly from the knee, although they are generally cut loose all the way down from the crotch. The flare is never as extreme as it can be with some other types of flared jeans. Instead, it is a practical and stylish adaptation, giving the extra room that boot wearers need for comfort. That said, the cut is no longer restricted to those wearing boots. This style is often worn to portray a relaxed image.
Although the flaring on boot cut jeans is obvious, its relative conservatism makes boot cut jeans an excellent choice for those experimenting with flared jeans for the first time.
Classic Flared Jeans
Classic flared jeans were introduced onto the fashion scene in the 1970s, with the flaring intended to be purely decorative from the start, without any practical purpose being served. Unlike boot cut jeans, classic flared jeans flare from below the knee, with the widest point being reached at the base of the leg. This gives them a very distinctive silhouette, with the flare balancing out the width of the thigh.
The degree of flaring on classic flared jeans does vary, but on some pairs the base of the leg can be as much as 65 cm. Before buying a pair of these flared jeans, it makes sense to decide just how much of a flare the wearer is feel comfortable with. This can range from the subtle to the most outrageous flaring. There is no right or wrong choice, it is simply a matter of personal preference.
Flared jeans have come back into mainstream fashion repeatedly since their introduction, and rarely look out of place. This makes them a perennial favourite. But when buying classic flared jeans, a man should consider the whole outfit. Flared jeans may not look right with some formal jackets, such as a double breasted blazer. Having said which, there are few unbreakable rules these days, so a man should let their sense of style dictate what looks right.
As their name suggests, bell bottoms have a distinctive bell-shaped flare, starting below the knee. They were once a naval style, but became fashionable in the 1960s and 1970s. As with other flared jeans, they are still worn today. However they are quite a striking fashion statement, and may not suit all men.
As with classic flared jeans, before buying bell bottoms it is sensible to think about how and with what they will be worn, and how obvious the wearer wishes the flaring to be.
Choosing the Correct Size
Before setting out to buy a pair of flared jeans, it is necessary to have the wearer's correct measurements. Rather than relying on guesswork or on the size label on a pairs of trousers, the measurements should be taken directly from the wearer.
For the waist measurement, the wearer should stand with his feet apart. The tape measure should then be wound around the smallest part of the waist.
For the leg length, the wearer should stand straight, while a second person holds the tape measure at the fork of the crotch and then measures down to the hem of the wearer's existing jeans.
Considering Different Fabrics
Flared jeans are traditionally denim, and this remains overwhelmingly the most popular choice today. However it is not the only cloth worth considering.
Denim is a hardwearing cotton twill fabric, which is famous for its endurance and its rugged good looks. Traditionally blue, denim can actually come in several colours and shades, and is often sold pre-distressed.
Corduroy is another hardwearing, woven cotton fabric. In appearance, it resembles a cotton velvet, but with the tufts arranged in long, parallel ridges with bare base cloth visible in between. The width of these ridges varies, from needle cords at one extreme to jumbo cords at the other. Cord jeans should last just as long as denim, and which of the two cloths to go for is purely a matter of personal choice.
Selecting the Right Colour
Just because flared jeans are a design classic, does not mean that wearers today are in any way limited to the traditional blue. As well as the original indigo dye, these days denim can be found in various shades of dark blue to almost black. This can be a flattering colour for those whose figure is naturally bulky and can withstand the diminishing effect of dark shades. Denim is also available in a light, stonewashed blue, as well as modern, fashionable colours which vary from year to year. These latter choices can look impressive, but are subject to the changing whims of fashion.
Unlike denim, corduroy has always been found in a wide range of colours, from deep reds through various light and dark browns, to navy blue or black.
Shopping for Flared Jeans
If you are considering buying some flared jeans, it is important to decide whether you want them to be outrageous, middle of the road, or conservative. From this starting point, you can decide whether bell bottoms, classic flared or boot cut are better suited to your personal style.
Having decided on the broad type of flared jeans, you still need to consider the degree of flare. Both bell bottoms and classic flared jeans can be conservative or dramatic. Ultimately it is a matter of personal style, although the more conservative the degree of flare the more situations they will be suitable for.
Next, consider size and colour. Size is fairly simple, although you can elect for a tighter or looser fit.
With a clear image in your mind of the style you want, begin searching for the ideal pair and best possible price. If you normally do your shopping in the high street, you may be concerned that the range of choices in terms of style, colour and qualities available is limited. For this reason many people these days shop for flared jeans online, at sites such as eBay. eBay has a very wide selection of flared jeans of all types, both new and used, including many from well known named brands.
How to Find Flared Jeans on eBay
Searching for flared jeans on eBay is simple. To start your search, go to the eBay home page. Every page on the eBay site has a search bar. Simply type in to the search bar the sort of jeans you are after. For example, if you are thinking of buying a pair of men's flared jeans you would enter 'men's flared jeans' into the search bar. This will bring up a results page full of listings for men's flared jeans. If you are looking for men's flared jeans in a particular colour or size, you can sort the listings to only show those jeans in your chosen colour or size.
There are two ways to buy items on eBay. Either you can take part in an auction, or you can buy the item at the listed price. The seller specifies which method is being used in the item description. If you see a pair of jeans you like and have some questions, you can contact the seller through the contact link in their profile. Whichever method you choose, the simplicity and range available makes eBay ideal for buying flared jeans.
Conclusion
Flared jeans are a fashion perennial. Other styles come and go, but flared jeans are always popular.This is an advantage when it comes to buying a pair, as they can remain stylish for many years. There are several different varieties of flared jeans, including boot cut, classic flared jeans, and bell bottoms. Whereas boot cut flares were designed to let cowboys ride comfortably in boots, classic flared jeans and bell bottoms are really just decorative styles.
The different types of flared jeans vary in their degree and type of flare, meaning that the buyer can choose to be as outrageous or conservative as he likes. The traditional flared jean was blue denim, but flared cords are also very popular, and they come in a range of different colours. Denim itself can nowadays be found in a variety of colours too, ranging from almost black to pale stonewashes.
When buying a pair of flared jeans, it is often difficult to find an exciting range of styles and colours in the high street. For this reason, many people choose to buy their flared jeans online, where retailers such as eBay offer a wide range of different styles, colours and cloths.