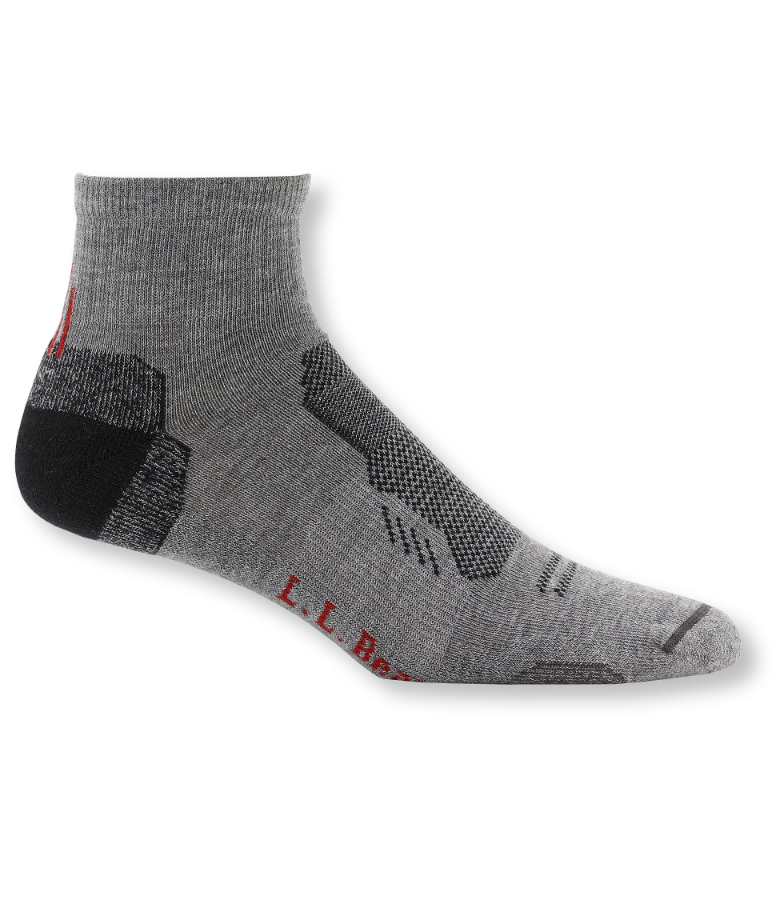 Men's formal socks are worn with a particular type of clothing. Most often, they are paired with a tailored suit or with trousers with matching shirt and tie. Formal socks are also worn with a particular type of men's shoe that is typically formal as well. Shoes may usually be black or dark brown and should be understated, perhaps a pair of English brogues or Italian loafers.
Men's formal socks may be worn for a particular type of occasion such as meetings, interviews, or perhaps a wedding or formal dinner party.
Both the occasion and the type of clothing shape the type of men's formal socks purchased, as the socks should never catch the eye themselves. Their purpose, apart from protecting the foot, should be to marry together the tailoring and leather work of trousers and shoes respectively.
An individual who prepares to buy men's formal socks is well advised to be aware of the materials that formal socks come in as well as the role that sizes play in the decision. A consumer who understands what makes a quality men's formal sock may find a number of choices at an online retailer such as eBay.
What Are the Best Materials for Men's Formal Socks?
Generally yarns are made from three types of fabric. Cotton and wool are naturally occurring materials whilst there is a group of man-made, synthetic yarns that offer benefits to the wearer.
Cotton is a natural yarn and is especially good when there is a requirement for wickability. This is the ability of a fabric to absorb moisture, and men's formal socks made of cotton absorb perspiration by osmosis, drawing it away from the foot. A pair of cotton socks ensures the feet remain fresh and comfortable during hot days.
Wool is also a natural yarn and should be the yarn of choice to keep the feet and toes insulated in cold weather. The naturally occurring air pockets in wool act as an insulator and are effective at keeping toes warm in cold weather. Yarns such as lambswool, and angora are softer and when combined with other, stronger yarns can be woven into softer fabrics that wear well.
Synthetic yarns include such materials as acrylic, nylon and orlon. They tend to be lightweight and are more hard wearing than natural yarns. Modern weaving techniques mean that synthetic yarns can also be woven to resemble cotton and wool. The hard wearing nature of such fabrics results in a men's formal sock that retains colour and shape much longer.
Each yarn offers its own advantages when used to make men's formal socks. Manufacturers sometimes use yarns that are made from a combination of materials to produce top quality yarns at competitive prices. The more common combination is cotton and acrylic yarn which produces a lightweight sock that is absorbent and hard wearing.
Sizes in Men's Formal Socks
Choosing a sock by its size is extremely important when buying socks for formal wear. One size socks should be avoided as they often stretch and bag during the course of being worn. Bagging can lead to unsightly creases and wrinkles appearing around the ankle, and this can spoil the clean lines that formal shoes, socks, and trousers should present. Men's formal socks are not offered in as many different sizes as shoes, but the chosen brand of socks should be available in a minimum of four sizes. A good brand offers at least four sizes to choose from.
There can be confusion between UK and EC sizes, and the following table details the six generally accepted sock sizes and their equivalent UK and EC shoe sizes.
| Sock Size | UK Shoe Size | EC Shoe Size |
| --- | --- | --- |
| Adult SM | 10-3 | 28-31 |
| Adult MS | 3-5 | 32-37 |
| Adult MD | 5-8 | 37-42 |
| Adult LG | 8-11 | 43-46 |
| Adult XL | 12-14 | 47-50 |
| Adult 2XL | 15+ | 51+ |
Sock size is usually linked to shoe size. It is recommended to purchase a sock that is one size bigger than the wearer's normal shoe size, as it offers more comfort.
Design of Men's Formal Socks
The high quality men's formal socks are fashioned in a way that makes them comfortable to wear and good for one's feet. These socks should have some, if not all, of the following features.
Full cushion sole support
An extra thickness of yarn along the entire sole of the foot can make a men's formal sock more comfortable to wear. Full cushion sole support is particularly important if the wearer intends to be on his feet for long periods of time, as this can lead to problems with aching feet.
Arch Supports
Specific panels that are woven into the fabric of a men's formal sock provide additional lift and support for the arch of the foot. An arch support is woven into the sock such that the additional yarn is tensioned resulting in more support for this important part of the foot. This is helpful when socks slip on the inside of a shoe as the additional texture of the arch limits slipping.
Y-Heel Construction
A small y-shaped panel that is introduced into the heel of a men's formal sock makes it fit more closely to the true shape of the foot. Y heels help to marry the shape of the sock to that of the foot much more closely. This results in a much more comfortable sock to wear, with the added benefit of reducing the tendency of the sock to slip inside the shoe.
Flat Toe Seams
Toe seams can make men's formal socks extremely uncomfortable to wear and a good sock, made by a quality manufacturer, pay particular attention to how their seams are stitched. When the seams are stitched flat, the toe of the sock can sit comfortably in a pair of shoes without rubbing or chaffing.
Ring Toe Cushioning
Toe seams in men's formal socks can be further hidden by weaving a band either side of the seam, around the entire toe section of the sock. This has the effect of increasing comfort levels.
Turn Welt Top
A turn welt top is particularly important in men's formal socks. It is a technique that is used to increase the amount of elastic at the top of the sock. A sock with additional elastic does not bag or droop around the ankle.
Men's formal socks should also be long enough to extend beyond the ankle, preferably up to and including the calf in order to ensure that the sock is always presented covering the leg. If the wearer is particularly athletic, it may be necessary to buy socks from a specialist supplier that are woven with larger sized calf sections than normal.
Colours and Patterns in Men's Formal Socks
Given that men's formal socks should marry together the lines of a pair of good trousers with a pair of equally good shoes, there is some debate around what colours formal socks should be. Traditionally, a men's formal sock would be in a colour that blends with the colours of the trousers and the shoes. This often means the socks are black, dark grey, or in a suitable shade of blue or brown.
A pattern of diamonds in socks, known as Argyle, is also traditional. Sometimes, the colours used to contrast the diamond pattern might be more at home on a pair of golf socks, but careful selection of colours can still result in a muted sock that does not stand out on its own.
Less traditional sock designers are always looking for a way to make socks stand out. This can sometimes result in a pair of socks that has extremely bright colours and makes a fashion statement in its own right. With modern dyeing techniques that use synthetic fibres, the colours and patterns can be eye catching.
How to Buy Men's Formal Socks on eBay
eBay has a large selection of men's formal socks in a wide range of modern colours and patterns as well as the more sombre single colours and traditional patterns such as Argyle. Your search for men's formal socks should begin on the eBay home page with you typing in simple descriptive words such as "men's formal socks" or "Argyle socks".
You can see many listings as a result of a wide search like this, so you might wish to narrow your search down by adding other search terms, perhaps the name of a designer such as "Ralph Lauren" or "Burberry". You should look at the photographs of the socks you are considering very carefully to see which, if any, of the sock design features are included. If photographs are not provided, then you can always send a question to the eBay merchant concerned.
Finally, before committing to buying your socks, you should also look to see what the merchant's returns policy is. Will they exchange them if the size is wrong or if you do not like the colour? Because of the personal nature of socks, some merchants may not be prepared to offer an exchange service. Verifying the details with merchants prior to purchase is always a good idea.
Conclusion
Buying poorly made or ill fitting socks can result in sore feet and poorly presented formal clothes. Alongside a properly fitted pair of good shoes, men's formal socks should be chosen with one's shoe size in mind. If one is planning to spend significant amounts of time on one's feet in formal socks, then it is important to find a pair of socks that is woven with all of the relevant details that make the socks as comfortable as possible. A careful choice of the yarn type can also bring positive results and make the experience of wearing formal socks much more comfortable.
For many people, men's formal socks are just as useful for everyday wear, and eBay does a good job of pulling together a wide choice of listings. Consumers can use clear photographs and accurate product descriptions along with the tips in this guide to make informed purchasing decisions.