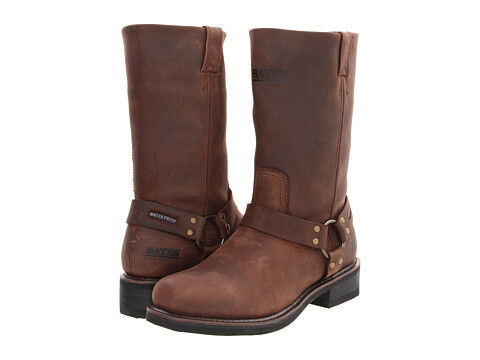 Men's riding boots are not only worn for horse riding competitions, but also to protect the rider's legs and feet when riding a horse at any time. They also look good on any man either wearing a riding costume or regular clothes. Riding boots have been around for hundreds of years and have seen improvements in the material and style but their general design remains the same. Men's riding boots are important as they protect the toes when around horses and also protect the legs from chafing when they rub against the saddle.
Different riding events require different styled boots; therefore, when searching for a pair of riding boots, one must consider what he will be wearing them for, among other things. Besides competitions, riding boots should always be worn during any activity regarding horseback riding. To help one get the riding boots suited for him, this guide discusses the types of riding boots, their function, and the way to choose suitable boots and buy them from eBay.
History of Riding Boots
Before riding boots were invented, men wore shoes which only protected the feet up to the ankles at most. Over time, tall riding boots which often came up to the knees replaced shoes. Tall riding boots were initially used by the military, and among the first to wear them was the Hessian army from Germany. Later, two styles emerged from the Hessian boot style, the Wellington boot and the cowboy boot. The two styles are distinctly different; the Wellington boot has a simple, minimalistic design while the cowboy boot is more decorated.
As protective footwear, tall riding boots are essential when riding as they not only protect the toes and feet but also the legs from chafing. Although riding boots are generally tall, there is a variation which is the short paddock boot. Riding boots have another distinct feature which is the high heel. Having high heels is necessary when riding as they prevent the feet from sliding and getting stuck in the stirrup. The main purpose of riding boots is to provide protection to the rider but there are varieties in different colours and with embellishments that are designed for casual wear.
Materials for Riding Boots
Riding boots are traditionally made of leather, but other materials are also used, including rubber and synthetic leather. Each material can be made into a reliable boot, but there are of course some differences in the quality. The following are the main materials used to make men's riding boots and their properties.
Leather Riding Boots
Leather is the traditional material for riding boots and is still widely used to make high-quality boots. Real leather riding boots are often very expensive but they can be very comfortable to wear because they are easier to break in than rubber and synthetic leather boots. After leather boots have been worn for a while, they adjust to the wearer's leg shape and allow for good mobility according to the wearer's riding style. Leather riding boots can last a lifetime if they are well taken care of, which means cleaned, dried, and moisturised regularly. With regular polishing, any scuffs can be removed and the boots can be kept looking like new. Leather boots are also waterproof and can be worn in any season and type of weather.
Synthetic Leather Riding Boots
Riding boots made of synthetic leather look similar to real leather boots but have slightly different properties. They generally take a longer time to break in than leather boots, making them less comfortable to wear in the beginning. Synthetic leather boots also scuff easier than real leather ones, and they look less appealing over the years, but they do not require as much care as real leather. They are durable and waterproof just like real leather boots, but are not breathable which means that they can be less comfortable to wear in hot weather. Although synthetic boots have some shortcomings, they cost less than real leather boots, making them an equally popular choice among riders. Compared to rubber, synthetic leather looks closer to real leather and is more visually attractive.
Rubber Riding Boots
Like synthetic boots, rubber riding boots are less costly than leather ones. Compared to leather boots, rubber ones are very durable and waterproof. They can withstand extreme heat and moisture without cracking or rotting. They also do not require as much care as leather boots, and can just be washed with water to keep them clean. However, rubber boots are more prone to scuffing and can look less attractive over the years. They are also not breathable which means that wearing them in hot weather can be uncomfortable. Finally, rubber boots cannot imitate the style and prestigious look of real leather.
How to Choose Men's Riding Boots
The first thing to consider when buying men's riding boots is their purpose. Riding boots of different styles are suited for different occasions, for example riding competitions or leisure riding. The next section discusses the various styles of riding boots and what they are usually worn for.
Men's Riding Boots Designs
Most riding boots designs are meant to be worn for English riding events, while Western riding events usually require cowboy boots. There are various boot designs one can choose from, and they should be chosen according to the kind of riding that will be done.
Field Boots
Compared to other riding boots, field riding boots have laces so they have adjustable width meaning they can fit better than other types of boots. They allow the rider to have more flexibility so he is more comfortable while riding with a shorter stirrup in events which require jumping over fences. This stirrup position requires the ankles to be flexed most of the time, making it necessary for more flexibility in the boots. Field boots are well suited for all jumping events including show jumping and fox hunting.
Dress Boots and Hunt Boots
Dress boots are stiff and do not have any laces. They are worn for dressage events and fox hunts. Hunt boots are similar to dress boots as they usually do not have laces. They do, however, have cuffs at the top, which is usually tan in colour. The boot itself is black and it is often worn for fox hunting.
Paddock Boots
Paddock boots are ankle-length boots and are the preferred type of boots for leisure riding. They can also be worn as everyday footwear around the stable as they are very comfortable to wear and are easier to put on and take off than tall boots. They are also a popular choice for children because they are less expensive than other types of boots. Paddock boots are also called Jodhpur boots and are considered the most comfortable riding boots.
Cowboy Boots
Cowboy boots are required for Western riding events. Compared to other boot designs, they are usually very ornate and may come in various colours. Typical cowboy boots have a mid-calf height, but there are also short styles, similar to paddock boots, or tall up to the knees.
Riding Boot Sizes
In terms of size, measurements for riding boots are the same as for other shoes but they may vary between manufacturers. The following table illustrates the measurements and sizes of men's riding boots.
| Foot Measurement (mm) | European Size | US Size |
| --- | --- | --- |
| 241 | 38 | 6-6.5 |
| 248 | 39 | 7 |
| 254 | 40 | 7.5 |
| 261 | 41 | 8-8.5 |
| 268 | 42 | 9-9.5 |
| 274 | 43 | 10 |
| 281 | 44 | 10.5-11 |
| 288 | 45 | 11.5-12 |
| 294 | 46 | 12.5 |
| 301 | 47 | 13-13.5 |
| 308 | 48 | 14 |
| 315 | 49 | 14.5-15 |
| 321 | 50 | 16 |
Whenever possible, the buyer should try the boots on before purchasing. This is even more important when buying tall boots as wrong sized ones can be very uncomfortable to wear.
Buying Men's Riding Boots on eBay
Buying riding boots on eBay is a simple and fast process if you know what type of boots you want. You can start your search at the eBay's home page by typing in what you want into the search bar. A simple search for 'men's riding boots&' will provide you with a selection of all the available riding boots on eBay, while a more specific search for 'men's grey riding boots&' will bring up a list of men's paddock boots. You can then browse the refined list for the boots that you like. You can customise your search further by selecting different categories of boots such as the size or brand.
After selecting the riding boots that you like, read all the details of the product including the size, the shipping fees, and the estimated delivery time. Buying from a local seller usually means that you pay a lower shipping fee and you can receive your item quicker than when buying from abroad.
Conclusion
Men's riding boots are available in various designs and materials. Before purchasing riding boots, a man should know what he will wear them for as boots of varying styles have different purposes. Paddock boots are suitable for leisure rides and as everyday use around the stable while field boots are suitable for English riding competitions.
The material of the riding boots is also important as different materials have different properties. For someone on a budget, boots made of rubber or synthetic leather are suitable as they are cheaper than real leather boots. Riding boots made of real leather are high quality, stylish, breathable, and comfortable to wear than rubber and synthetic boots. Lastly, one should always try on the riding boots before buying them unless he is sure of his size. An ill-fitting boot can be very uncomfortable and possibly hazardous to wear. With all the types of riding boots sold on eBay, anyone searching for the perfect pair to buy shouldn't have any problem finding it.