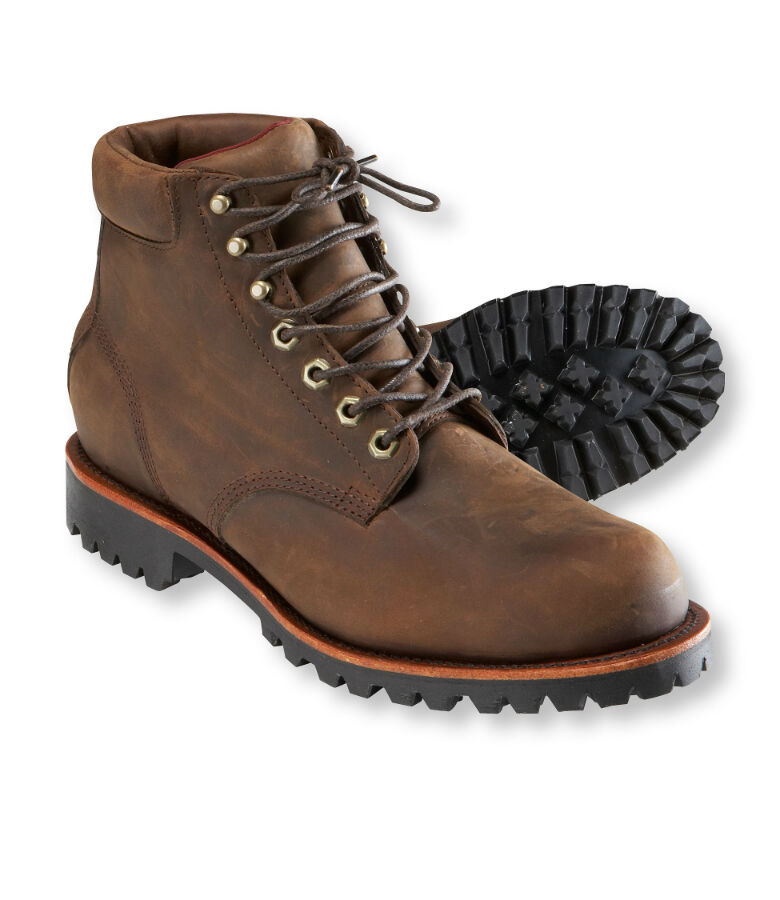 A good pair of work boots can make a big difference at work especially in a hazardous industrial environment. There are many kinds of men's work boots to suit different jobs and it is important to choose the right pair for each job. Work boots function not only as a part of someone's uniform or compulsory safety gear, but they also provide comfort and protection from the hazards at work. Since work boots are crucial accessories for protection at work, it is necessary to choose the right type of boots to wear. Before buying them, one must know the different kinds of work boots available and exactly what he needs in a pair of work boots.
Work boots vary in their function, material, construction, and size. To help buyers buy the perfect pair of men's work boots, this guide discusses the different types of work boots, materials, and methods used to make them.
Types of Work Boots
There are several types of work boots that are suitable for different environments. To choose the right pair of work boots for a job, it is important for one to determine what features the boots are required to have considering the workplace safety standards. The most common types of work boot are described in the next section.
Steel-Toe Boots
Steel-toe work boots, also known as safety boots, have protective steel reinforcements in the toe area to protect the wearer's feet from falling objects. Besides steel, the reinforcements in some boots are made of composite materials such as plastics. Many steel-toe boots also have soles with protective plates. This kind of footwear is useful in many industrial workplaces including construction sites and factories where there are risks of falling objects.
Many people buy boots which are a little tight thinking that, after some time, the boots tend to soften up and fit comfortably. However, steel-toe work boots are not as flexible as regular boots because of the extra reinforcements; therefore, they will not soften and become looser. To address this, one should always buy steel-toe work boots in a comfortable size that fits well.
Plain-Toe Boots
Plain-toe boots are the opposite of steel-toe boots meaning that they are just regular work boots without any steel reinforcements. This type of work boots are suitable for those who are not working in an area with a high risk of injury from falling objects but still need the extra protection that boots can provide compared to regular shoes. Plain-toe boots come with other features such as slip resistance and insulation.
Insulated Boots
Insulated work boots protect the feet in cold environments as they have extra insulation needed to keep the feet warm. Numerous types of insulating materials are used, such as wool, synthetic fibres, and Thinsulate, which is a specially-developed material for heat insulation. Thinsulate is among the best heat insulators as it keeps the feet warm in extreme cold weather without being a heavy or thick material. Boots are normally insulated by applying an insulating lining on their inside. People who work around snow or ice should get insulated work boots for proper protection in cold weather.
Waterproof Boots
Waterproof work boots keep the feet dry during outdoor work or in rainy weather. These boots may be made of different materials such as leather, nylon, or mesh. Waterproof leather boots are often thicker, heavier, and less aerated than regular work boots. Waterproof boots made of nylon mesh usually have a waterproof layer applied and are lighter than leather boots. Many brands use special waterproofing agents that are sprayed onto the boots. By using this waterproofing layer, the weight of the boots can be reduced and their breathability increased.
Slip-Resistant Boots
Slip-resistant work boots typically have rubber soles which are not slippery even on oily or wet surfaces. They are especially useful for those working in restaurants, factories, and ships, where the floors are always wet and slippery.
Materials for Work Boots
Choosing work boots made from suitable materials is important as different materials are suited to be worn in different environments. Common materials used to make work boots are full-grain leather, waterproof leather, and nylon mesh. The following section shows a comparison between the different materials.
Materials

Advantages

Disadvantages

Full-Grain Leather

very durable

water resistant

robust

heavy

low breathability

Waterproof Leather

robust

waterproof

expensive

Nylon Mesh

breathable

flexible

lightweight

soft

comfortable

not waterproof
As shown in the table, the material of a work boot influences its properties. Therefore, it is wise for one to consider the kind of material that his work boots are made of to ensure that they are well suited for the job. Wearing work boots made of the wrong material can not only be uncomfortable but also dangerous.
Construction Methods of Work Boots
The construction method of a work boot is the way in which the upper is attached to the outsole of the boot. The common construction methods for work boots are outlined below to help the reader make an informed decision when buying work boots.
Stitchdown Construction
This is the traditional way of making any kind of shoe including work boots. In the stitchdown construction, the upper is stitched to the outsole of the boot. One type of stitching method, which is the Goodyear Welt, involves a single continuous stitch around the boot. This stitchdown method is durable and it is the only method that allows the sole of the boot to be replaced in order to extend the shoes' lifetime for further wear.
Cement Construction
In this construction method, the outsole and the upper of the shoe are cemented or glued together. Boots constructed using this method are less costly than boots constructed with other methods but are also less durable. However, improvements in the glue strength used have helped make cement construction more reliable than when the method was invented.
Moulded Construction
Moulded construction, or direct attach construction, involves moulding the outsole directly to the upper of the boot. Although moulded construction is very durable and usually lasts longer than cement construction, stitchdown construction remains the strongest construction method of the three discussed in this section.
Extra Features
Work boots come in many styles and with numerous features. Depending on his job and preferences, the buyer may need work boots with other features. Some boots have padded collars that protect the wearer's ankles from rubbing on the edge of the boots and become chafed. The padding also provides extra comfort which is important if the worker needs to stand up most of the time while at work. For those working in environments with high electrical hazards, it is a basic safety measurement to wear boots which have good electrical insulation.
Taller boots provide better ankle support than shorter boots, and this can be very helpful especially if the wearer has experienced ankle injuries. Some people may have irregular foot shapes such as high arches or flat feet. In this case, to provide more comfort and injury protection when working, it is a good idea to buy orthopaedic insoles for the boots.
Getting the Right Size
Just like buying any other pair of shoes, one should try on work boots of different sizes and brands before purchasing them. Men who wear work boots usually perform their job standing all day and, therefore, they should choose boots which have the best fit and comfort. When buying insulated work boots, it is advisable to choose boots which are a half-size larger to accommodate thicker socks.
Buying Men's Work Boots on eBay
eBay offers a large selection of men's work boots in different styles, brands, colours, and sizes. To find the perfect pair of work boots, you can start searching from the eBay's home page. Just type what you are searching for into the search bar, for example, 'men's steel-toe work boots', and click search. A list of relevant results will then appear and you can browse it to look for the work boots that you like.
If you find a pair of boots that you are interested in, you can click on it to view more information about the product, such as the available sizes, material of the boots, and refund policy. It is a good idea to contact the seller directly and ask about their refund policy if it is not stated on the product page. You can also view the seller's feedback score on this page. A high feedback score shows that the seller has positive ratings from many customers over the past 12 months. If you are satisfied with your chosen work boots and have gone through all the necessary details, you can then purchase them.
Conclusion
Choosing the right men's work boots for a job is crucial as they are not only used to cover and keep the feet comfortable, but also to provide protection against various safety hazards and extreme conditions while at work. There are various types of work boots meant for different work environments and one should choose a suitable pair of boots for his type of work.
Steel-toe boots protect the feet from falling objects and heavy machinery while insulated boots keep the feet warm in extreme cold. One should also decide what material and construction method he wants for his boots as work boots made through each method have their pros and cons. Lastly, one should purchase work boots of the right size to ensure optimum comfort and protection for the feet. Getting the perfect pair of work boots is important for any man who needs proper feet protection and comfort at work, and eBay is a great place to search for such work boots.