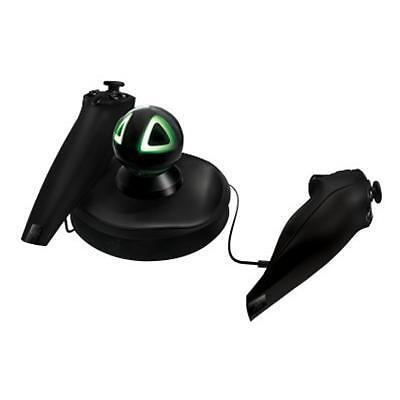 Motion sensors and cameras are used by motion controlled gaming consoles. This type of gaming console allows players to interact with it through body movements, eliminating the need for traditional controllers. There are three platforms that are able to use this technology: Nintendo Wii, Sony PlayStation, and Microsoft Xbox. Although there are variations in the application of the technology, the basic principles are similar. Some require handheld controllers, while others are controller free.
Before buying motion sensors and cameras, understand how the technology works and what the differences are between the three platforms' use of motion detection hardware and software. Several factors should be taken into account when buying hardware, the most important of which is compatibility. All cameras and sensors do not work with all gaming consoles and specific hardware may be required for different models from the same manufacturer. Learn how to establish which hardware to buy. Motion sensors and cameras are available from gaming and computer shops, authorised dealers, and online, from eBay..
Nintendo Wii Gaming Consoles
Nintendo Wii was released in November 2006 and was the first of its kind. The device uses infrared technology in the remote control, which is handheld, and a sensor bar, which is placed on top of the display monitor. This bar emits infrared beams, allowing the console to calculate where the remote control is relative to the console. Later technology allows the device to sense more complex movements, such as twisting and rotating.
Sony PlayStation Move Gaming Consoles
The PlayStation Move controller was first released for the PlayStation 3 in September 2010. It works with a handheld wand, which is tracked by a PlayStation Eye camera, and features internal sensors to detect its movements. The controller has an orb at the head, which can glow in a full range of colours. Based on the user's environment, the console selects a colour that can be distinguished from the background easily, allowing the Eye camera to track the wand and determine its distance from the camera. Sensors inside the controller track rotation and overall motion.
Microsoft Kinect Gaming Consoles
Microsoft Kinect is designed for Xbox and Windows PC and does not require a handheld wand or remote control to work. The console is based on a webcam-style add-on that allows the gamer to interact with a console through gestures and spoken commands. The console was launched in November 2012.
Motion Capture Software
The software is based on data regarding motion capture of moving objects in realistic settings. It takes into account visual data related to age, height, gender, clothing, and body type, to allow the device to learn about its surroundings. The console analyses the data captured by the camera and compares it to information stored in its database. This analysis takes place 30 times per second.
Motion Capture Hardware
The hardware required to do this consists of a video camera, depth sensor, and microphone. The camera captures colour, body type, and facial features to help with recognising players. The depth sensor is included to create an accurate three-dimensional rendering of the player. The microphone is designed to isolate the voice of the player from other background sounds. These components work together to track 48 points on each player's body.
Factors to Consider When Buying Motion Sensors and Cameras
Compatibility is the most important factor to consider when buying gaming motion sensors and cameras. In addition, buyers should take the add-on accessories available into account.
Compatibility of Motion Sensors and Cameras
Compatibility is an important factor in choosing motion sensors and cameras because of the technological differences between the accessories and hardware required for motion control to work with each console. Hardware is brand specific, so Wii motion sensors only work with Wii products, Microsoft Kinect accessories only work with Microsoft products, and so on. Research the motion sensors and cameras available carefully, focusing on compatibility.
With constant advances in technology, hardware from the same manufacturer may not be suitable for all console models. Some newer devices are backwards compatible with older consoles. For example, Wii controllers are compatible with newer Wii U consoles. This means that users do not have to replace accessories when upgrading the console. Motion sensors and cameras should also be compatible with the games that the user already owns, unless he or she is planning an expensive upgrade. Again, backwards compatibility is a desirable feature. If the new sensor and camera hardware is not compatible with games, consider selling them secondhand, for example on eBay, to offset the cost of new games.
Accessories Available with Motion Sensors and Cameras
Several accessories come with motion sensors and cameras. These relate either to gameplay and are added to wands or controllers, or they simply make it more convenient to use the console. The table below lists the accessories available for each type of gaming console.
Gaming Console Platform

Accessories

Nintendo Wii

Wii Motion Plus,, replaced by Wii Remote Plus

Wii Classic Controllers

Wii Balance Board

Wii Wheel

Wii Zapper

PlayStation Move

PlayStation Move Sharp Shooter

PlayStation Move Blaster

PlayStation Move Tennis Racquet

PlayStation Move Golf Club

PlayStation Move Racing Wheel

PlayStation Move Bowling Ball

Camera stand or mounting clip

Microsoft Kinect

Mounting accessories

Cables

Calibration cards

Power cables to connect the device to older consoles
Before buying motion sensors and cameras for an existing gaming console, consider whether it would be a more cost effective solution to replace the console with another type. The accessories available and the method of interacting with the console could be more desirable on a different platform.
Some manufacturers create motion sensors in special shapes for sports or shooter games. These work in the same way as normal sensors, but have additional features that make certain game types feel more realistic or that make it easier to reach in-game controls. Take care when buying these types of sensors. Unless most of the games played on the console are designed to work with these devices, the novelty soon wears off and the extra accessories are left to gather dust.
Conclusion
Motion sensors and cameras allow users to interact with games and control in-game actions through movement. The technology used differs from one platform to another. The Nintendo Wii makes use of infrared technology, while cameras are used with Sony PlayStation Move and Microsoft Kinect consoles. Both Wii and PlayStation require the use of handheld remote controls. Kinect relies only on the user's movements.
Compatibility is the most important factor to consider when buying motion controlled gaming accessories. As different technologies are used in each console, motion sensors and cameras cannot be used across platforms. In addition, the hardware chosen should be compatible with the console and the games the user wants to play. Replacing a collection of games can be expensive. If it is required, offset the cost of replacement by selling older games.
Careful research may be required before buying a sensor and camera. Ensure that the devices chosen are not too advanced for the console and vice versa. Check whether hardware is backwards compatible as this increases the lifespan of the devices. If it is backwards compatible, an upgrade of the console does not necessitate an upgrade of the motion sensors and cameras.
Several accessories are available to make gameplay more fun and using the hardware more convenient. Exercise caution when buying accessories or special remote controls as these items may lose their appeal quickly. eBay sellers offer a range of motion sensors and cameras suitable for all gaming consoles.