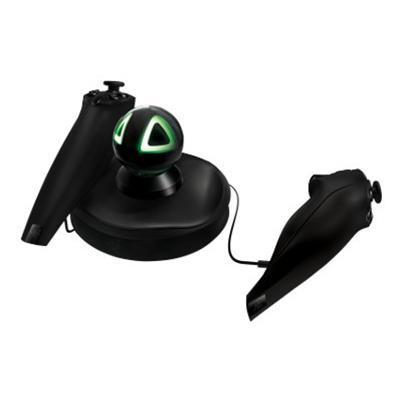 Gaming consoles have come a long way since the introduction of the early models of Sony's PlayStation and Microsoft's Xbox gaming consoles. With computing technology advancing at an amazing rate, it is no wonder these companies continue to release state-of-the-art motion sensors and cameras that can enhance a user's gaming experience.
Motion sensors and cameras for any of the major gaming consoles are available for sale on eBay. At this website, consumers can choose to purchase new or used motion sensors and cameras for any of the main gaming console makes and models. Those who choose to shop online at eBay for their desired video game motion sensors or cameras benefit from the website's simple search methods, secure payment options, and reputable sellers.
For consumers looking to purchase motion sensors or cameras on eBay, it pays to have prior knowledge of the different types of sensors and cameras available in the market. Being aware of the different gaming platforms and the different models available is also helpful in making an informed purchase decision.
Shop for Motion Sensors and Cameras on eBay
To find motion sensors and cameras on eBay, a shopper may simply enter a relevant search term such as "motion sensors and cameras" into the search bar on eBay's home page. This gives a general overview of what is available for sale on the website. One may choose to filter these results further. If the shopper knows exactly what type of video game motion sensor or camera is required, for example, a Nintendo Wii motion sensor or a Sony PlayStation 2 camera, simply typing these terms into the search bar results in more specific listings.
An alternative way to filter the search results is to use the subcategories that eBay provides. One can find motion sensors and cameras for video gaming under the main category of 'Video Games & Consoles' and the subcategory of 'Accessories'. Shoppers can search within these subcategories by type, platform, model, price range, or condition.
Motion Sensors
Introduced to the public in 2006 with Nintendo's Wii remote control, motion sensors were used to detect the user's direction and acceleration when being used. Other manufacturers soon followed and introduced their own motion sensors to gaming consoles, including the PlayStation Move by Sony, HP's Swing, and Kinect from Microsoft.
Motion sensors for gaming consoles are able to generate a three-dimensional image and recognise that image. They use infrared light to do this.
Cameras
Gaming console cameras and webcams can be used with a number of games. All the major gaming console brands offer cameras to purchase, including cameras for Xbox, Sony PlayStation, and the Nintendo range of gaming consoles. QuickCam was the first to release a webcam in 1994 for Apple's Mac. Since 1998, QuickCam has been selling cameras under the brand name of Logitech.
Motion Cameras
Motion cameras are used for motion-controlled gaming, allowing the user to interact with selected games using body movements. Nintendo Wii was the first to introduce motion cameras to gaming consoles. Microsoft soon followed with Xbox Kinect, as did Sony, with Move motion camera for PlayStation.
Gaming Platforms
Three major video gaming platforms currently dominate the marketplace. These include Microsoft Xbox, Sony PlayStation, and Nintendo Wii. Choosing the video gaming platform comes down to price and personal preference.
Microsoft Xbox
Microsoft released the Xbox in 2001 to compete with Sony's PlayStation 2. Xbox Live was launched one year later and allowed users to play online. Xbox 360 was released in 2005, and it was this game console that introduced the Xbox Live Vision Camera. Many Xbox 360 games could be used with this camera. In 2010, this camera was superseded by the Kinect motion sensor.
Sony PlayStation
Sony PlayStation was first introduced in 1994. The PlayStation 2, the best-selling home game console, was launched in 2000. Along with this game console version, the company released the EyeToy, a digital camera that was able to recognise a user's movements. This camera enabled players to interact with EyeToy games. However, it was Sony's PlayStation 3, launched in 2006, that also saw the introduction of the PlayStation Move motion sensor.
Along with the release of the Move motion sensor, Sony also released the PlayStation Eye with its PlayStation 3 model. This digital camera gaming device is similar to a webcam and picks up user's actions and sound.
Nintendo Wii
Introduced to the gaming market in 2006, the Nintendo Wii was released in order to compete with PlayStation 3 and Xbox 360. It is based completely around motion detection hand controllers that can detect a user's movement in three directions.
Choose the Correct Platform for Motion Sensors and Cameras on eBay
When looking to purchase any type of motion sensors or cameras on eBay, it is important to understand the platform the equipment is being purchased for. One can find motion sensors and cameras for Microsoft Xbox gaming consoles, Sony PlayStation gaming consoles, and Nintendo Wii gaming consoles on eBay.
Motion Sensors and Cameras for Microsoft Kinect
Used for Kinect Adventures games, the Kinect motion sensor is compatible with all Xbox 360 consoles. With the use of a camera, microphone, and depth sensor, the Kinect wirelessly monitors the user's body movements, including facial movements and voice. Users are able to give voice commands to the Kinect motion camera, which requires no hand-held controllers.
Some of the popular games that use Kinect cameras include Dance Central, Kinectimals, Zumba Fitness, and Kinect Sports.
Motion Sensors and Cameras for Sony Playstation Move
Often the least expensive of all the platforms, Sony offers Move cameras for Playstation gaming consoles. Consumers who already own the Playstation Eye camera can purchase the motion sensor separately. Using a wireless handheld motion controller, the Eye camera tracks the LED lights of the controller in 3D.
Popular Sony Playstation games that can be used with Playstation Move include EyePet, Sports Champions, and Dance Dance Revolution.
Motion Sensors and Cameras for Nintendo Wii Motion Sensors
Nintendo Wii gaming consoles work by using a motion sensor bar and wireless handheld motion controllers, or remotes, with built-in motion sensors. This gaming platform uses a combination of infrared light and Bluetooth to track users' body movements.
The Nintendo Wii range of games is significant, with Wii Sports and New Super Mario Bros being two of the more popular game options available on this platform.
Choose the Correct Model
Several models of gaming consoles exist, and consumers need to know which model they own. The following table provides a list of the various gaming platforms and the different models that have been successfully released to the market.
| Platform | Console Models |
| --- | --- |
| | PlayStation 1, PlayStation 2, PlayStation 3, PlayStation PSP |
| | Xbox, Xbox 360, Xbox 360 Core, Xbox 360 Arcade, Xbox 360 Elite. Xbox 360 Pro, Xbox 360 S |
| Nintendo | Wii, Wii U |
Not all video gaming motion sensors and cameras can be used with the console models that have been released over the years. Some platforms do make their motion sensors and cameras backwards compatible, while others do not. Therefore, it is important to verify this with the seller when purchasing these accessories on eBay.
Buying Motion Sensors and Cameras on eBay
If you want to shop online for video gaming motion sensors and cameras for your PlayStation, Xbox, or Wii, then you can buy with confidence on eBay. Take advantage of the large number of listings that the website offers for motion sensors and cameras. Once you have searched for your desired item and found something that may be appropriate in the listings, it is recommended that you take time to learn more about the product listed. Read the listing description carefully, taking note of the seller's preferred payment methods, the delivery options, and returns policy.
If you want to buy with confidence, then you may choose to work with one of eBay's reputable sellers. These sellers are awarded Top-rated seller status because they consistently achieve 4 and 5 star ratings and excellent feedback from customers. They are also known to provide accurate listing descriptions and ship items quickly. Top-rated sellers are easily identifiable by the Top-rated seller badge located next to their listings.
Conclusion
Children and adults alike enjoy playing the vast array of games available on Sony PlayStation, Microsoft Xbox, or Nintendo Wii gaming platforms. As technology advances, so does the gaming experience for users. These major brands are always introducing new and updated motion sensors and cameras to the market to entice buyers to purchase innovative gaming technologies. Each gaming platform features its own unique motion sensors and cameras designed specifically for use with its machines and games. When looking for video gaming motion sensors or cameras, consumers should be aware of the different types available, the type that is compatible with the particular gaming platform, as well as the accessory that is compatible with the specific gaming console model.
Buyers looking to purchase new or used motion sensors and cameras on eBay can benefit from the extensive range of items listed for sale. They can also take advantage of eBay's useful buying tools, like eBay Mobile and desktop applications, as well as Top-rated sellers, secure payment options, and easy search methods.