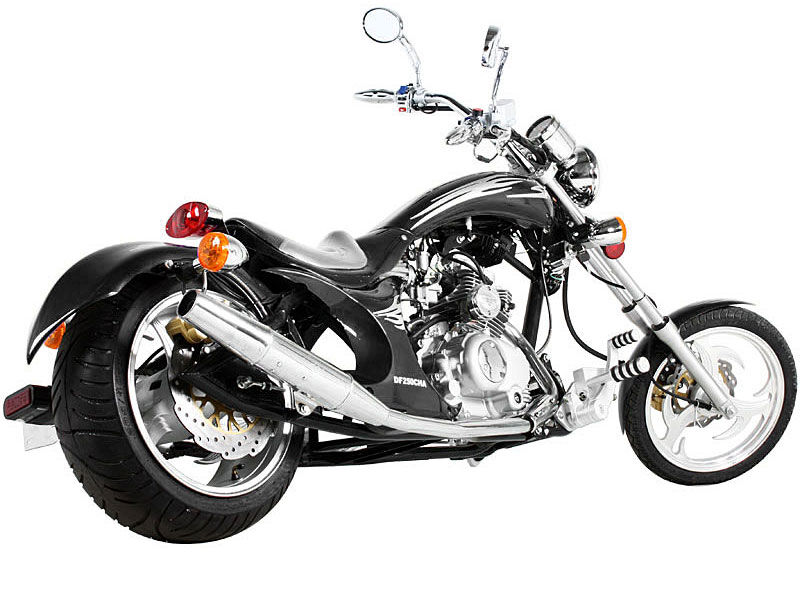 Motorcycle enthusiasts who want to give personality to their beloved vehicle should consider purchasing a decorative exhaust tip. Not only does it make it easier to identify the bike in a crowded space, it also gives the motorcycle extra flair. Kept in place using pipe clamps, exhaust tips are typically found sandwiched between the exhaust pipe and the heat shield. While motorcycles already come with exhaust tips from the manufacturer, many people find it desirable to change them to give the bike a more custom feel.
For those who are looking to do just that, there are plenty of motorcycle exhaust tips that may be purchased on eBay.. Although there are still some shoppers who prefer getting these from traditional specialty shops, most have found that eBay is simply more convenient and easy to use. For those who are new to eBay, it is important to know the different ways to find motorcycle exhaust tips on eBay. After choosing the exhaust tip to be purchased, buyers should also know how to evaluate the seller before completing the sale.
Searching for Motorcycle Exhaust Tips on eBay
Buyers who are not used to buying online may initially find shopping on eBay to be completely baffling. Along the High Street, for example, shopping means taking a look at what is on the shops' shelves and choosing from the selection. While this also works on eBay, there are just too many products to browse through all at once. For those who find themselves confused and overwhelmed, simply begin by typing in the product in the search box found on every page. To search for exhaust tips, type in "motorcycle exhaust tip&" to look for this in the eBay database. Depending on the number of products listed on eBay, pressing enter can turn up a couple of products to over a thousand. Those who need to be more specific in their search, can include other keywords when searching on eBay.
Motorcycle Exhaust Tips by Design
In general, there are two types of motorcycle exhaust tips: the Original Equipment Manufacturer (OEM) and the aftermarket exhaust tip. OEM exhaust tips may be purchased from the motorcycle manufacturer itself, while aftermarket exhaust tips are made by third-party companies. Below is a table of just some of the different designs of these aftermarket tips.
| | |
| --- | --- |
| Motorcycle Exhaust Tip Design | Description |
| Slash Cut | Appears to have been "slashed" off with a knife; most common exhaust tip available on the market; angle can be a shallow or dramatic diagonal slash; gives the motorcycle an edgy look |
| Tapered | Characterised by a gradual reduction in diameter; may have horizontal grooves or a variety of other design; known to affect engine sound |
| Fishtail | Tapers to a slim and wide fin-shaped end; unique shape lowers the noise level of the exhaust system; vintage style whose popularity comes and goes over the years |
| Turn Down | Directs the exhaust to go straight to the pavement; commonly found on pickup trucks and classic cars; may be twisted to send exhaust to a particular direction |
| Afterburner | Has a jet engine design; looks powerful and distinctive; great match for motorcycles with a throaty sound and a powerful engine |
| Trumpet | Incorporates a flared opening like a trumpet; typically found on bikes from the 1960's and 1970s; not normally found on complete exhaust systems and have to be purchased separately |
These are just some of the motorcycle exhaust tips out on the market today. Because these are normally attached to the motorcycle for cosmetic purposes, many manufacturers have been really creative with their tips, coming out with unique and one-of-a-kind options. Selecting the motorcycle exhaust, at the end of the day, depends mostly on the biker's personal style and taste.
Motorcycle Exhaust Tips by Material
Materials used for motorcycle tips range from chrome, brass, aluminium, and stainless steel, among others. OEM exhaust tips are normally chrome-plated, which means that they eventually rust despite their shiny appearance. Ideally, it is best to purchase aftermarket exhaust tips that are compatible with the make of the exhaust system itself. Not doing so can risk corroding both the tip and the system when the two metals interact with one another. When it comes to the best type of material, however, consider getting exhaust tips in stainless steel,, which keeps it from rusting over time. This is often best for cars or trucks that are used off road.
Motorcycle Exhaust Tips by Brand
There is a wide range of motorcycle exhaust tips that are classified by brand. These are Baron, Kuryakyn, Vance & Hines, Scorpion, Arrow, Supertrapp, Rinehart, Bassani, Rush, Akrapovic, and Remus, among others. Selecting from these brands ultimately boils down to budget and personal preference. Aside from just exhaust tips, these brands are known to carry other aftermarket motorcycle products.
Motorcycle Exhaust Tips by Condition
More than just offering brand new motorcycle exhaust tips, eBay offers secondhand exhaust tips from motorcycle enthusiasts who plan to replace the ones on their bike. These can be filtered from the search results by selecting "Used&" under "Condition". Some of these exhaust tips may even be collectibles from vintage motorcycles from unknowing sellers who believe the tips are not worth anything. Knowing how to use the eBay system properly can make it easy to find exhaust tips that selling for less that they are worth. For shoppers who only want brand new, they may also select "New" under "Condition".
Motorcycle Exhaust Tips by Price
Buyers may also browse for motorcycle exhaust tips based on price by entering their price range. Those who are looking for inexpensive tips because they are working with a budget should find what they are looking for here. Brand new exhaust tips made from quality materials such as stainless steel are normally more expensive. However, it is possible to find affordable stainless steel options as long as one does not mind that it is secondhand.
Motorcycle Exhaust Tips by Location
On eBay, it is also possible to search for motorcycle exhaust tips by location. For those who do not want to be charged expensive shipping fees, this is a great way to sort out items that are located outside the United Kingdom. There are many instances where exhaust tips located abroad have shipping fees that are higher than the cost of the actual item itself. In fact, the shipping fee is so high that a more expensive item being sold by a local seller becomes the more affordable option. Look for "Item Location" option and select the locations you are willing to buy from. For exhaust tips that are only available abroad, buyers can select "Worldwide".
Shopping for Motorcycle Exhaust Tips on eBay
After you have chosen the motorcycle exhaust tips that you wish to purchase, you now need to assess your seller. Start by checking the eBay feedback score to check if other customers have been happy with the seller. These are often the sellers who have feedback scores of 99 per cent and above. However, you can still choose to purchase from a seller if he or she has a feedback score below this suggested percentage. Sometimes, sellers have low scores due to general inexperience as they are starting out. They get better in time; you just have to make sure that you maintain constant communication with the seller. This can easily be done through eBay's function that allows buyers to ask the seller a question.
If you are working with a budget, you can also choose to deal only with sellers that are free shipping or those that live around your area. Some sellers may even allow you to collect the product directly from them. Filter for local seller listings by typing your postal code and the distance that you are willing to travel to collect this. eBay should give you a results page of product listings that can be found on your specified radius. Learn how to use eBay properly and you can use its many filters to search for exhaust tips that you want with just a couple clicks.
Conclusion
Exhaust tips are a fantastic way to give a personalised touch to one's motorcycle. There are many ways to shop for these motorcycle exhaust tips on eBay. One of the first ways to do so is to search by exhaust tip design. These are slash cut, tapered, fishtail, turn down, afterburner, and trumpet, among others. When it comes to tip designs, these are just the tip of the iceberg since there are no limits to creativity when dealing with a decorative item. Another way to search for exhaust tips is by material, which are chrome, aluminium, brass, stainless steel, and more.
Aside from design and material, shoppers can also search based on brand, condition, price, and location. On eBay, shoppers should find that there are many ways to browse and purchase the items that they want. In just a couple of clicks, motorcycle exhaust tips may be sent to the destination of one's choosing.