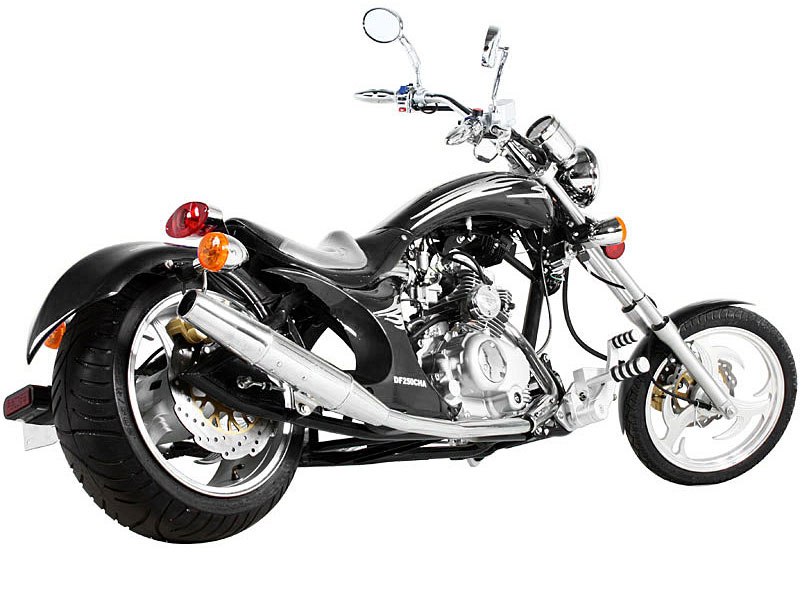 Motorcycle wheels and rims not only play a crucial role in the smoothness and safety of a ride: they can also be a major factor in determining the look of one's motorcycle. Whether opting for a set of classic, bicycle-style spoke wheels, or an aggressive pair of custom cast wheels, the choice lends a certain character to the bike.
Replacing or upgrading the wheels of a motorcycle is something that is likely to happen over the course of ownership. eBay has a wide array of motorcycle parts and accessories on its website. Buying on eBay is a fairly straightforward process. In order for it to be as smooth and successful as possible, there are several steps a consumer can take. Preliminaries include understanding what kind of wheels or rims one needs, choosing between original and third-party manufacturers, and whether to buy new or used. Once they're ready, buyers can use eBay's user-friendly interface to find the right wheels and rims for their motorcycle.
Types of Motorcycle Wheels
Selecting a motorcycle wheel has as much to do with style as with performance. There are several different types from which to choose. Before deciding on one, the consumer should think about what kind of look they want their bike to have, whether sleek, rugged, sporty, or classic. There are also practical considerations when shopping for wheels, as some have certain strengths in terms of performance. The buyer needs to keep their riding style and habits in mind.
Most motorcycle wheels can be divided into two types: spoke and solid. Spoke wheels feature a number of wire rods, or spokes, radiating from the central hub outwards to the rim. This type of wheel is durable and can be a good choice for off-road riding, as well as on-road. One major advantage of the spoke wheel is that it is often fairly easy to repair, since the parts are individual. Solid wheels, on the other hand, are made of one piece of metal. This gives them more durability than spoke wheels and a bold, attractive look, but if damage occurs, they often need to be replaced entirely.
Types of Solid Wheels
Solid rims are classified according to the way they have been constructed. The following chart outlines three common types of solid rims and their characteristics.
| Type of Solid Wheel | Manufacturing Process | Advantages | Disadvantages |
| --- | --- | --- | --- |
| | Metal poured into a cast | Inexpensive option for the look of solid rims; good choice for touring or road bikes | Less durable than alloy or billet rims |
| Alloy Wheels (or Mags) | Aluminum alloy, often with magnesium, poured into mold | Alloy gives the rims extra strength; lighter weight for better fuel economy and speed; distinctive look | More expensive than cast rims |
| | Cut with laser from a single block of metal, usually aluminum | Unique, intricate designs possible thanks to the laser cutting process | More costly than other types |
Setting a budget in advance helps buyers narrow down their choices and stay focussed during the shopping process on eBay. Finding the right kind of wheel is a matter of balancing style, durability, and cost preferences.
Custom Motorcycle Wheels and Rims on eBay
Motorcycle owners have a range of wheels and rims from which to choose. If they want something particularly unique, they can opt for custom wheels, whose eye-catching details make a bike stand out from the rest. Custom wheels made on an individual basis can be tailored to the consumer's specifications. However, they can be quite costly, so it is important to take one's budget into consideration. Another option is to look for wheels by professional manufacturers with specific motorcycles in mind, such as a Harley Davidson or BMW. There are many such wheels on eBay, which gives buyers a more affordable way to create a customised look for their motorcycle.
Motorcycle Wheel and Rim Manufacturers
When buying a new set of wheels, consumers can choose between parts made by the bike manufacturer, such as Yamaha or Honda, or an aftermarket brand whose product is appropriate for several different bikes. Many aftermarket brands offer quality wheels for a range of bikes, although it is worth researching particular brands in advance to see how motorcycle owners and professionals review them. Some buyers prefer to purchase from the original equipment manufacturer, or OEM. Those looking for a particular brand can refine their search results by selecting the manufacturer of their choice. Be aware that listings citing specific bike brands may still be for aftermarket wheels; always read the listing closely to avoid confusion on this issue.
Know the Motorcycle's Make, Model, and Year
Not all wheels are universally compatible with all bikes. There can even be subtle differences in the same model from year to year. When changing out a motorcycle's original wheels and rims, it is vital that the buyer have the precise information about their motorcycle when shopping for wheels and rims on eBay. A listing should clearly indicate which models it fits. If the buyer has any questions about this, they can contact the seller. Researching online databases and consulting with professionals can also help buyers determine if a wheel is right for their motorcycle.
Considering Used Wheels and Rims
Buying used wheels and rims can save buyers a good deal of money, and vintage wheels have their own appeal. eBay's extensive user base means that there are thousands of used motorcycle wheels listed on the site. However, as with any used motorcycle parts, it is important to be judicious when making a purchase. The seller should be very clear about the condition of the wheels, how long they have been used and in what manner, e.g., casual, frequent, or off-road, and the reason for selling. Any damage or wear should be well described and visible in the pictures posted. The photos should be of the actual item itself, rather than stock images. Inspect the photos for things like rust, cracks, and dents, which could be signs that additional repairs are needed before the wheels can be safely used. If planning to have someone mount the wheels, verify in advance that they consent to mount the used item you are considering.
Finding the Right Size Motorcycle Wheels and Rims
Getting the right size wheels and rims, as well as fitting them with the appropriate size tyre, is essential to the safe and smooth operation of a motorcycle. The easiest way to determine the wheel size is to look at the existing parts on the bike, where their sizes and specifications should be clearly denoted. Usually this information is engraved on the rim's underside. If this is not possible, buyers should consult the motorcycle owner's manual, or a professional. They should check both the front and the back wheel specifications, as they are often different.
Searching for Motorcycle Wheels and Rims on eBay
Searching for motorcycle wheels and rims on eBay is a fairly simple process. Begin on the eBay home page, and locate the search bar. Enter keywords related to the item you're looking for, such as "Suzuki motorcycle wheels". You can further refine your search results by selecting limiting factors, such as manufacturer, price range, seller location, bike model, wheel condition, and more. You can also elect to sort your results according to price, seller location, and more.
When you are signed into your eBay account, you can save searches to your account for quick access in the future. The short listings let you compare them at a glance, and you can save favourite listings once you've opened the page with the full listing. Additional hints on effective searching are available on eBay's Search Tips page.
Reading the About the Wheels or Rims
Always read the full listing closely, making sure that the item is what you're looking for. Take note of specifications and condition, particularly if it is a used item. Be sure you understand the conditions of sale and the seller's payment requirements. If you need additional information, you can ask the seller a question through eBay.
Check Postage Costs
Motorcycle wheels can be bulky and heavy items to post, which is why you should verify postage or pick-up options before finalising your purchase. Local pick-up, when possible, can be an economical option. However, it should always be approached prudently and with consideration for the comfort and safety of both parties. Read seller feedback before agreeing to local pick-up, and always meet in a populated, public place during daylight hours.
Get to Know the Seller
Checking a seller's feedback score and reading through comments from past buyers helps you get a sense of how reliable they are. Doing so lets you feel confident with your purchase. Once you've completed your transaction, you can assist the seller by providing your own constructive feedback.
Conclusion
Wheels and rims have impact on the safety and comfort of a motorcycle, as well as its individual style. When replacing or upgrading a set of wheels, motorcycle owners can take advantage of eBay's substantial selection at competitive prices. First, it is important to know what kind of wheel one wants, whether spoke or solid, and what subtype. This is a matter of taste, budget, and durability needs. Getting the right size wheel and rim is also essential for proper, safe function. Next, buyers can choose between new and used wheels from aftermarket or original equipment manufacturers.
Searching is an easy process on eBay. Once they've found an item of interest, buyers are responsible for reading all posted information thoroughly, including details about the wheels or rims, seller feedback history, and payment and postage requirements. With the right information, consumers should be able to find just the wheels and rims they need for their motorcycle on eBay.