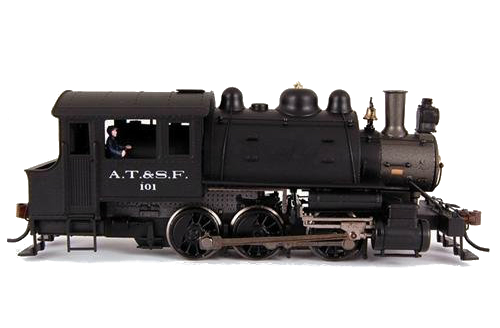 eBay is awash with huge numbers of model railway locomotives and enthusiasts will find items for sale in every category or brand that can be bought.
NIB refers to the condition of the product being "New In Box" and immediately separates the search into one for new products, as opposed to those that are used.
Model locomotives are a serious hobby for enthusiasts everywhere and the following buying guide gives a detailed run-through of how to source and buy one safely and securely using eBay.
Locomotive Power Sources
As model locomotives have evolved, so have the methods by which they are powered. The following table outlines the five methods of power that eBay offers as search parameters when searching for NIB Locomotives, with a short description alongside:
Power Type

Description

Used by early railway modellers in a time when electricity wasn't a common feature in most homes.
Modern day train sets for younger enthusiasts are largely made up of battery-powered locomotives.
Large rechargeable batteries also power outdoor-ready models.

The first model locomotives were powered by clockwork.
Method by which models are wound up before operation and don't consume much electricity as a result.
Control is tricky and later models made this easier by introducing various levers around the track.

The newest method of controlling model locomotives.
Uses an alternating current (AC).
Two decoders or chips, one on the track and one in the locomotive, relay signals back to the command station which makes the locomotive move.
Has made it simple to control a number of locomotives and send out a more complex set of commands.
Command station also allows the user to send messages to locomotives so that they make realistic noises.

Rare form of power that allows the user to vary the voltage and gives greater control of speed.
Different knobs can influence different parts of the track.

Most common source of power amongst modern train sets.
Consists of a transformer that controls the speed, a plug and a power clip that connect to the transformer, and power the rails.
Trains controlled by one transformer can only go in one direction and have to go at the same pace.

Not Specified

Large swathes of the locomotives available to buy on eBay won't have a specified power source as a searchable category.
These can be found by selecting the Not Specified category.
Additional information on power is also found in the individual product description.






























Steam
Some model locomotive manufacturers sell models that can be powered by steam. They are regularly labelled as Live Steam and use a system that acts similarly to real-life steam locomotives.
Live Steam products are in a different eBay area and are listed under the Steam category. To find this, simply visit the Toys & Games section and select the Steam sub-category. Once there, click on Locomotives to see all the Live Steam products on eBay.
Locomotive Scales (Gauges)
It's critical when buying a NIB locomotive that the buyer makes sure the Scale (Gauge) is the correct one for their set.
Scale and Gauge are two different words that are sometimes used to categorise the same thing.
Scale refers to the locomotive's size when up against its real-world equivalent.
Gauge, meanwhile, refers to the distance between the two rails on which the locomotive runs.
The following list outlines the different ones that can be purchased:
Locomotive Assembly
NIB locomotives will be sold at a variety of different stages of assembly and some may need extensive assembly before they can be used.
The table below lists the assembly stages and explains what each means:
| Stage of Assembly | Description |
| --- | --- |
| | Locomotive was fully assembled at the factory and doesn't require any more work to be done by the buyer. |
| | Comes un-built in a box with all the kit present and has yet to be assembled. |
| | Came as an un-built kit in a box and has already been assembled. |
| | Pieces came separately and item has been built from scratch. Unlikely to find these listed as NIB because most will have had some use and as such won't be new. |
| Not Specified | Many models won't have a specified assembly stage and buyers will have to refer to the item description to find it out. |
Understanding eBay Acronyms
NIB is one of a number of acronyms that are used by sellers on eBay. As such, they will confuse some buyers when they first encounter them.
To help combat this, eBay has a page dedicated to understanding the different acronyms and it's available at this link.
How to Buy NIB Locomotives on eBay
eBay is home to a huge range of model railway locomotives, many never having been used and as such described as NIB. The large number of knowledgeable sellers on the site means that finding the right item is an effortless process. Sellers will be on hand to offer help at every stage of the buying process.
To find NIB Locomotives on eBay, first navigate through the site's main categories and click on Collectables. On the page that follows go to the Trains/ Railway Models sub-category and click on it.
The item page gives the buyer a number of different options and under Product Type click on Locomotives. On the following page scroll down to Condition and select New to see all of the NIB Locomotives available on eBay.
Buyers can also search by Brand, Scale (Gauge), Method of Power, Assembly and Item Location using the lists of parameters on the left hand side of the page.
When buyers have selected a product, there are three choices of what to do next: Bid in an auction, Buy It Now or make a Best Offer.
Not all auctions will offer all three options and each serves a very different purpose. It's therefore important to decide carefully when opting for one of the three.
Before committing to a purchase, it's important to check sellers' history to make sure they are legitimate. eBay makes this a simple process as all sellers have an extensive transaction history that shows all the business they've ever conducted on the site.
Buyers can use this to scrutinise the seller and anything that arises can be put to them using the ask the seller feature.
There is further information to guide the buyer through the process on the Buying Tips page.
Conclusion
Newcomers and seasoned enthusiasts covet New in Box, or NIB, Locomotives in equal measure. eBay, together with this guide, are the ideal tools to help buyers make sure they find items that conform to their individual precise specification.
The key factors that need to be considered when searching and buying a NIB Locomotive on eBay are:
Power Source
Scale and Gauge
Assembly Stage
Brand.
Once a decision has been made concerning these prime factors, it will help to inform a choice that ultimately rests with you, the buyer.
When ready to complete a transaction be sure to utilise PayPal to ensure that it goes through as safely and securely as possible.