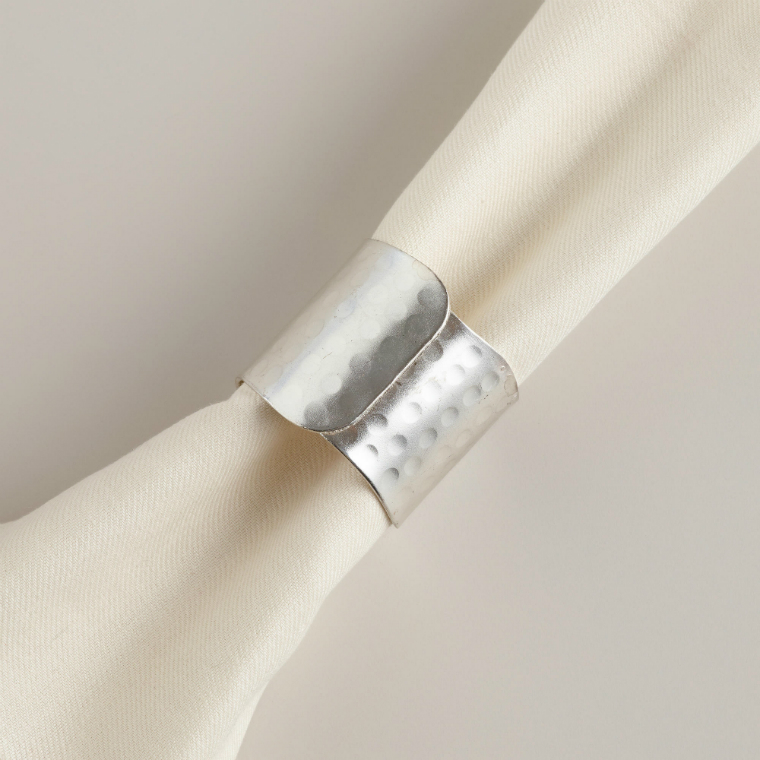 Napkin rings are used to hold napkins, or serviettes. They are placed on the dining table at the start of a meal, usually to the left outside the outer fork. They may also be placed on side or main plates. Napkin rings are the most popular type of napkin holder, with others including upright holders and napkin clips. Napkins are held in napkin rings in various ways. One of the simplest and most common is done by folding the napkin in half and rolling from the open edge inwards. This method is appropriate for both fabric and paper napkins and for all occasions. A more informal method is to hold the napkin from the centre and push it through the ring. More complex folds include the fan fold, which ends with the napkin fanning out from the ring. Whichever method is chosen, most rings will be appropriate, and various napkin folds can be used with the same napkin ring to produce different effects.
Choosing Napkin Rings
There are many different types of napkin available, from sterling silver rings for formal dinners and special occasions to everyday napkin rings and stylish contemporary rings for sophisticated dinner parties.
Material
Napkin rings come in a variety of materials. Certain materials may be more appropriate than others, based on criteria such as personal taste, particular occasion, durability, and budget.
| | |
| --- | --- |
| | Sterling silver is a term to describe items made with an alloy of 92.5 per cent silver and 7.5 per cent other metals, generally copper. The other metals are included to give the item strength, hardness, and durability as pure silver is quite soft. In the UK, sterling silver items are usually hallmarked to indicate their authenticity, often just with a 925 mark. Sterling silver may tarnish but is otherwise long lasting. It can be polished with a silver polish or cloth. Sterling silver napkin rings are a good option for formal dinners and special occasions. They are expensive. |
| | Silver plated items have a thin coating of silver over other metals, often copper. The layer is usually very thin. Silver plated napkin rings, and other items, resemble sterling silver but they do not contain anywhere near as much silver and are not as high quality. The plating may eventually wear off so they are not as long lasting as sterling silver. They are, however, less expensive to manufacture and therefore to buy. They are a good economical choice on a lower budget if the appearance of silver is desired. |
| | Stainless steel napkin rings are lightweight and hardwearing. They are a good option for contemporary dinner parties where a minimalist look is desired and are also suitable for everyday use. They can be easily wiped clean. Stainless steel is relatively inexpensive. |
| Other metal | Other metals include chrome, aluminium, copper, and pewter. Chrome, aluminium, and copper are all good choices for contemporary settings, while copper and pewter can also be used for more traditional events. Metal is generally a good choice for napkin rings as it is durable, hardwearing, and stain resistant. Napkin rings are also available in worked finishes such as wire and filigree, often with stone or beaded insets. Metals such as chrome and copper are inexpensive compared to sterling silver. |
| | Napkin rings containing crystal are often made predominantly with metal and have crystal insets. Strictly speaking, crystal glass should have a minimum lead content, but this minimum quantity can vary. It is also known as lead crystal. Crystal is valued as it typically has a higher refraction index and, therefore, a more sparkling appearance. It is a good choice for formal dinners and special occasions. Crystal is known for being fragile and so care should be taken with all items, during handling and cleaning. Crystal is typically more expensive than other forms of glass. Some sellers will list items as "crystal effect" which may not have a high lead content and is not as sparkly as proper lead crystal. |
| Other glass | Glass napkin rings may either be made entirely of glass or have glass insets. Both can complement contemporary dinner tables. Glass is relatively fragile and should be handled with care. It can be easily wiped clean. Glass napkin rings are cheaper than sterling silver, but good quality rings can still be quite expensive. |
| Porcelain | Porcelain is a ceramic material made from firing clay and other substances in kiln ovens. Bone china is a type of porcelain that also contains bone ash. Porcelain, especially bone china, is valued for its hardness and translucent lustre. Porcelain is a good option for formal dinners, traditional events and special occasions. Although it is hardwearing and resistant to chipping, it may break if dropped on a hard surface so porcelain napkin rings should be handled carefully. They can be easily cleaned simply by wiping or washing, but may not be dishwasher safe. Porcelain is typically more expensive than other ceramics. |
| Other ceramic | Like porcelain, ceramics are kiln fired. Stoneware and earthenware are ceramics. Ceramic napkin rings may be a good choice for dinner parties in a contemporary or rustic setting, as well as for everyday use. Ceramic items are generally fairly hardwearing. They are generally relatively inexpensive, though designer items may be higher in price. |
| Plastic e.g. acrylic | Plastic is lightweight, practical, and relatively hardwearing. It is a good choice for everyday use, for large events, outdoor use and for use with children. Plastic napkin rings are available in a wide variety of styles and colours, making them suitable for where a particular colour is required. |
| Wood | Wooden napkin rings are a good option for dinner parties with a contemporary or rustic theme. They are generally hardwearing and practical, though they can stain. They are fairly inexpensive. |
| Bamboo | Bamboo napkin rings could be used for contemporary, rustic or Oriental themed meals, or for everyday use. They are lightweight and practical, though they can stain, and are not as durable as other materials. They are inexpensive. |
Size, Shape, and Style
Not all napkin rings are the same size and shape. For typical round shapes, the diameter can vary to give a smaller or larger circle. Smaller circles are more delicate and take up less space on the table, but the napkin should be able to fit through the band comfortably. The band might be narrow or wider. Traditional napkin rings tend to have a slightly narrower band and contemporary or casual rings tend to be chunkier, but there are no hard and fast rules. Consider the other aspects of the table, such as dinnerware and glassware, and decide which kind of band is appropriate. Napkin rings might also be oval, square, rectangular, or triangular. Any kind of shape that can hold a rolled napkin is possible. The band can be straight or curved. They might be smooth, ridged or embellished, perhaps with stones, beads, or even silk flowers. The shape of napkin rings can also vary from a simple band. Some napkin rings are spirals, others are swirls, incomplete bands or made up of multiple bands. They might be in the typical band shape, but with a flattened edge for placing on the table. They may be in the form of an animal, perhaps a swan or a rabbit. Festive napkin rings might be in the form of a snowman, angel or snowflake. Napkin rings are available in many styles. As well as the many different shapes outlined above, they may have different designs embellished on them, from floral and nature motifs to stripes and geometric shapes. Always bear in mind that the design should coordinate with other aspects of the table, such as napkins, placemats and tablecloth. Some napkins can be sold as personalised or engraved. Be aware that this may affect the delivery date. The seller should state how long the process is expected to take.
Napkin Rings and Sets
Napkin rings are frequently sold in sets of two, four, six, or eight, though they may also be sold individually. It is often a good idea to purchase slightly more than needed to allow for extra places on special occasions as well as for loss and breakages. Napkin rings are also sometimes sold with napkins, though generally they are both sold separately.
Find Napkin Rings on eBay
To find napkin rings, navigate through the tabs to the left of the eBay homepage. Go to the Home & Garden page followed by the Cookware, Dining & Bar page and the Tableware, Serving & Linen page. From here, select Napkin Rings & Holders followed by Napkin Ring. There are options to choose which material or colour is required, as well as to specify a price range. Napkin rings can also be searched for in the search field to the top of the eBay homepage, simply by typing in keywords such as "napkin rings", "sterling silver napkin rings" or "wooden napkin rings".
Conclusion
There are many styles and shapes of napkin ring available to suit all occasions. They are made from various materials, from traditional sterling silver to wood and ceramic. Browsing the listings is a good way to gain inspiration for purchases, but specific searches can also be conducted. Always bear in mind that napkin rings should complement the napkins and also the general style of the table.