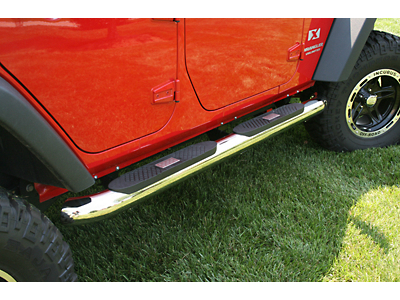 Nerf protection for a vehicle serves functional, protective, and aesthetic purposes. Originally intended as a tubular device to protect race cars when they "nerf", or collide slightly as they manoeuvre past each other, nerf bars have also become popular with off-road vehicles both as protection when crossing rocks and for assistance when entering or exiting the vehicle. Motorcycle and quad bike owners may also want to add nerf protection for the style and functionality.
eBay Motors has a wide selection of nerf protection of different types, sizes, and styles. Buyers should research in advance what choices are optimal for their needs. Since most nerf bars are customised to particular models, it is easy to determine which ones will mount properly and complement the vehicle's contours. Shopping on eBay is a fairly straightforward process; by following just a few basic steps, buyers can find stylish, sturdy nerf protection for their vehicle.
Types of Nerf Protection
There are different types of nerf protection for the side of a vehicle. They help guard the lower part of the vehicle when driving through extreme terrain, and also facilitate access to four-by-fours and trucks whose cabs are lifted for extra clearance underneath.
| Type of Nerf Protection | Description |
| --- | --- |
| Tube Nerf Bars | Round bars extending along the side of the vehicle; steel with padding for each seating row; provides protection and functions as a step |
| Oval Nerf Bars | Oval tube provides a flatter, broader base for stepping into the cab; preferable for younger or older passengers, or anyone who needs more footing |
| Nerf Steps | Individual steps to be mounted underneath each door; retractable models can function as nerf bar in up position and step in down position |
| Customised Nerf Bars | For motorcycles, quads, all-terrain vehicles, and racing bikes |
| Sport Tubes | Small-diameter nerf tubes; mount flush along the bottom of the vehicle; purely for style, do not provide a step |
Selecting the right type of nerf bar is a matter both of aesthetic preference and practicality. For the most stability, oval nerf bars are a good choice, while some consumers may prefer the classic look of the rounded tube. Nerf steps are appropriate for those who want ease of access without significantly altering the look of their vehicle.
Nerf Bar Size, Diameter, and Weight Capacity
Nerf protection comes in different lengths, diameters, and weight capacities. These variations can have some effect on style, as well as performance.
Nerf Bar Lengths
There are two basic lengths for nerf bars intended for trucks and four-by-fours. Cab-length nerf bars extend the length of the cab, with a stepping pad at each seating row. These can accommodate two- and four-door vehicles, and are easy to install. Wheel-to-wheel nerf bars are ideal for trucks, with an extra set of pads to provide footing for access to the truck bed. These are also an excellent option for those who transport cargo on their roof rack, as they provide additional positions from which to load and unload large items.
Nerf Bar Diameters
The diameter of a nerf bar is partly an aesthetic element. Some drivers prefer the sleek look of a thinner tube, while others may want a bolder, more aggressive style that a thicker nerf bar gives their vehicle. However, diameter does play a role in stepping security. The larger the diameter, the surer one's footing when stepping into and out of the cab. It is important to choose a nerf bar that is broad enough for the user's comfort, to avoid slipping and potential injury.
Nerf Bar Weight Capacity
Buyers should be aware that nerf bars have a certain weight capacity. Most nerf bars on the market can support up to 300 pounds, or 136 kilogrammes. Whilst this is an adequate capacity for many vehicle owners, some may need a more robust option. For example, those who expect to load large items into a truck bed or onto the roof may want to consider reinforced running boards with a heavy-duty weight capacity.
Choosing a Nerf Bar Style
As a prominent external feature, the nerf bar should match the vehicle's style. The bar itself may be made of stainless steel or an aluminum alloy, and buyers have two main choices when it comes to finishes for their nerf bar: polished steel, or a black powder-coated finish. The buffed shine of polished steel has a sleek, bright look that catches the eye. Black powder-coated bars are more understated; the coating protects against rust, and the matt finish is generally resistant to scratches and chips. An additional benefit of the powder-coated finish is that it provides additional traction, helping to prevent slips should a passenger step off the pad.
Nerf Step Bar Pads
The step pads along a nerf bar are designed to help passengers and the driver keep sure footing as they enter or exit the vehicle. They are generally made of tough plastic or polymer materials; however, over time, continuous use may wear the pads down to the point where they lose their grip, not to mention their aesthetic appeal. Fortunately, eBay carries replacement step bar pads. Buyers should determine the diameter and shape (oval or round) of their nerf bar in order to ensure getting the right size replacement pads. They can opt for pads by the original manufacturer, if available, or an aftermarket brand.
Custom vs. Generic Nerf Bars
Buyers have a choice between generic nerf bars that fit a range of trucks, four-by-fours, and bikes, or those that are customised for a specific vehicle. This is generally a question of style preference. Since nerf pads are meant to follow the contours of the vehicle, custom-built bars that are model-specific are an attractive choice.
Nerf Bar Installation
Most nerf bars are quite easy to install. They bolt into already-existing holes in the vehicle's frame, for a painless, drill-free mounting process. Since most nerf bars are customised for specific models, they are engineered to work perfectly with the shape and size of the vehicle.
Searching for Nerf Protection on eBay
Whether you are looking to add style and protection to an all-terrain vehicle, or give yourself a boost into your pickup's cab, you can find a wide selection of quality nerf bars on eBay. Start on the eBay home page, and locate the search bar. Enter keywords for your search, such as "Jeep Wrangler nerf bar", or "Land Rover side steps". Have your vehicle make, model, and year on hand when searching: this can help you find a nerf bar that is custom-designed to its specifications. Including this information in your search terms narrows the listings to nerf protection that is right for you. Once you have your search results, you can further refine them according to condition (new or used), price, seller location, and more.
If you are signed in to your eBay account, you can save searches for quick reference in the future. You can also put favourite listings on your watch list to keep track of them. For additional hints on effective searching, visit the Search Tips page.
Reading the Listing
Once you have found a listing of interest to you, be sure to read it thoroughly. The item description should have details about the what model(s) the bars fit, their dimensions, materials, and condition. Photos posted should be of the item for sale, and show any areas of wear or damage, if applicable. Note the payment requirements and any additional postage fees, or whether local pick-up is available. If it is, this can be an economical option; however, it should be arranged with consideration for the safety and comfort of both parties. If you have any questions, you can contact the seller through eBay.
Getting to Know the Seller
Lastly, you get to know the seller a bit more before finalising your purchase. Check their feedback scores and read through comments from past buyers, preferably those who also bought nerf protection. Consistently positive feedback is a good sign that this is a reliable, knowledgeable seller. Top-rated sellers maintain a strong track record of customer service over a high volume of transactions. Leaving your own constructive feedback for the seller after you have received your item is one way you can assist both the seller and future buyers.
Conclusion
Nerf bars first evolved as a way to protect racing vehicles from damage side collisions when passing, or "nerfing". The piece of equipment gained commercial popularity among off-road vehicles as a way of protecting the lower part of the body when driving on rough terrain. Nerf pads also assist in accessing highly-raised cabs, and add a specific style element that many desire.
eBay has a wide selection of nerf bars on its website. Before shopping, it is important for buyers to consider what kind of nerf bar meets their needs, and what finish, length, diameter, and weight capacity is right for them. Nerf bars customised for specific vehicle models are generally preferred, as they are designed for the body's proportions, as well as ease of installation. Once they have a clear idea of the nerf bar they are interested in, searching on eBay is an easy process. By following a few basic steps, consumers can acquire stylish nerf protection for their vehicle.