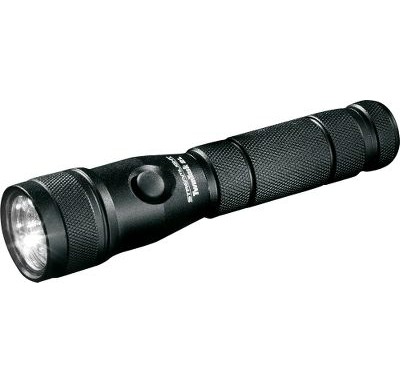 Whether taking a break from busy big-city life or simply enjoying a night in the great outdoors, camping can be a supremely relaxing and enjoyable experience. However, it is not without its difficulties. A common problem campers are faced with is how to see what they are doing once darkness falls.
For this purpose, modern society has given us the torch, or flashlight as it is sometimes called. This device allows hassle-free, powerful illumination at any location. However, for those unfamiliar with its workings, knowing what to look for when buying one can prove difficult.
It is the intention of this guide to explore the features of camping torches, and to discuss the potential benefits and drawbacks of buying both used and new products. This guide will also seek to explain why the popular online bidding platform, eBay is an excellent place to shop for camping flashlights and torches.
Camping Flashlights and Torches
This guide will begin by briefly exploring the basic features of camping torches and flashlights, as well as the different kinds available, with the aim of informing the reader to the extent that they know what to look for when shopping online for them.
Basic Features of Camping Flashlights and Torches
Camping flashlights and torches are electronically powered devices, which project a powerful beam of light. They are switched on, pointed in the direction of the area of desired illumination until the required task is complete, and are then switched off. The basic features of torches are as follows:
Bulb/emitter – the bulb, or emitter, is the part of the torch that radiates the light. This commonly takes one of three forms. Incandescent bulbs are old-fashioned light bulbs, which generate light by passing electricity through a tungsten filament. The amount of light generated varies depending on the power passed through the bulb, and on the purpose of the light. LEDs (light emitting diodes) are a more recent development; they create more light, are more powerful, (and thus cost-efficient), give a more focused beam and last longer than traditional incandescent bulbs. The third kind, HID (high intensity discharge) improve significantly further upon all the LED's advances, though at a far greater cost.
Lens/reflector – lenses and reflectors are devices that work in conjunction with one another to concentrate the light emitted by the bulb or emitter into a focused beam. The reflector gathers the light, and redirects it through the lens. The lens focuses all of the light being generated into a single beam.
Power source – the power source is the device from which the bulb or emitter draws power. There are four main ways in which a camping torch or flashlight can be powered. Battery powered torches run on either disposable or rechargeable batteries. The kind of battery needed depends upon how powerful the torch is. Manually powered torches are powered by winding them up. This is cheaper and more energy-efficient, though requires frequent and laborious winding. Solar powered torches run on batteries that can be recharged by solar power, which is environmentally friendly, though problematic if there is no sunlight available. Some torches run on rechargeable capacitors. These can be recharged quicker, but last for less time.
Control switch – the control switch is simply the means by which the torch is activated and deactivated. This normally comes in the form of a toggle button or an on/off switch, though some variable output models will feature other control mechanisms.
Handle/interface – this is simply the means by which the torch is held. Most torches will simply be cylindrical, allowing them to be grasped in the hand. However, other types are available, as mentioned in the section below.
Types of Camping Torch
This section will briefly cover each of the most commonly found types of camping torch, and point out their main uses. These types are:
Other types include waterproof models for diving, small ear-mounted versions, and credit-card holders with attached LEDs.
Why Buy a New Flashlight or Torch?
This section and the next will discuss the advantages and disadvantages of buying new or used camping flashlights and torches.
Buying a new camping flashlight or torch is almost equivalent to a guarantee of functionality. As the product has never been used previously, it is less likely to have been impaired in its ability to perform its designated task. Further, buying new allows buyers to keep on the cutting edge of mass-marketed technology, as a new product is likely to still be in production, and thus still technologically advanced.
The main downside to buying a new camping flashlight or torch is cost. It is more expensive to buy a new product, and as such many buyers with more restrictive shopping budgets will elect to buy a used item instead.
Why Buy a Used Flashlight or Torch?
Buying a used camping torch or flashlight is often the more prudent and practical option for consumers on a lower budget, as the fact that the item has been previously owned results in a reduction in market price. This is a desirable trait for many shoppers.
The flipside of this benefit is that the product has been used before; it may now be functionally impaired. Even if this is not the case, it is possible that the product now has a shorter lifespan than its newer counterpart would, having been used previously. There are several important things to take into consideration when buying used, including the seller's reputation. Using eBay allows a buyer to check extensive and comprehensive records of previous user's experiences with any seller, which serve as indicators of how likely they are to provide high quality, fully functional goods in future.
How to Buy New or Used Camping Flashlights and Torches on eBay
The hugely popular, consumer-oriented auctioning website, eBay is a truly excellent place to shop of new or used camping flashlights and torches online. It has an extremely large pool off different sellers and retailers to draw from, resulting in a comprehensive selection of products from which the user can choose. Further, its streamlined, intelligent and most importantly simple design allows easy use for anyone.
Navigating the website to the appropriate section is not a difficult task. To begin, go to the eBay homepage. On this page, in the left-hand margin, is a list of the broadest categories of available products. From this list, select the Sports & Leisure option. This opens up a new list of sub-categories. Select Sporting Goods from this second list.
The user should now have been relocated to a list of sporting activities, from which Camping should be chosen. Next, select the Lights, Lanterns & Torches sub-category. Finally, choose between the New and Used options under the condition filtering option. For instant navigation around the site, the search bar can be used. Simply type the name of the desired item into the bar, and click the 'search' button.
The page should now display a list of items, represented by a name, a thumbnail image and a short product description. This is called the 'item listings'. The item listings can be customised to display only products relevant to the buyer.
The filtering options can be found in the page's left hand margin, and include type, features, brand, material, condition (as mentioned above), price and seller's location, amongst others. In addition, there is the 'auction' option, which enables users to bid against other users in an attempt to get a better price, and the 'buy it now' option, which facilitates an instant, fixed-price transaction.
Clicking on an item's name or thumbnail image will relocate the user to said item's individual page. This page contains information about the seller, such as contact information, user ratings and feedback, as well as more detailed information about and specifications of the product and the delivery service offered.
This combination of wide array of products and user friendly website design is the reason that eBay is so popular and widely used, and why it is ideal for buying both new and used camping flashlights and torches.
Conclusion
Camping is a very rewarding and enjoyable pastime. However, to get the most from the experience, one must own some form of flashlight or torch. This guide set out with the intention of providing details about camping flashlights and torches, as well as detailing the potential benefits and drawbacks of buying both new and used flashlights and torches.
Price and budget must be weighed against the need for higher functionality and longevity if the buyer is to make the right choice. This guide concludes that eBay is a truly great means of buying camping flashlights and torches online, thanks to its user-oriented design and diverse array of available products.