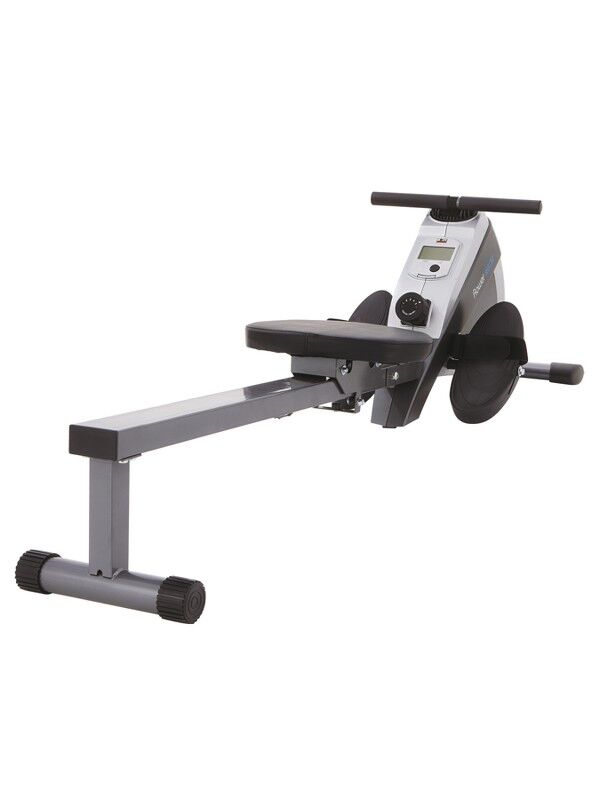 This guide will concentrate on the different aspects to consider when buying either new or second-hand rowing equipment used in the exercise and fitness industry. These different types of equipment will be assessed by such aspects as their various brands, resistance types and price range.
It will look at buying in respect to shopping on auction website eBay, one of the best places to search and complete a transaction as items can be differentiated between instantly in respect to their condition. Remember that this guide is only a basic run through of both new and used rowing equipment; researching further from different sources can also help with your final decision.
What is a Rowing Machine?
The sport of rowing is one of the most efficient and strenuous exercises for the human body to compete in. Because of this, a replication of its process has been created in the form of a rowing machine for indoor use in gyms and at home. It is sometimes referred to as an ergometor.
Although there a few different methods to using a rower, the most common way involves the user sitting down on a sliding seat in the typical rowing position. Here, they will place their feet on the foot stretcher at the front of the mechanism and pull themselves forwards and backwards by holding onto a specialised handle.
Rowing is primarily an exercise for the cardiovascular system and works numerous parts of the body, including the back, arms and legs. Different types of training can be utilised on a rower, where emphasis can be placed on interval training, fitness enhancements and high calorie burning sessions.
Nearly all modern day rowers will come with LCD monitors which provide the user with useful information on the workout being carried out. Such aspects as the rowing speed, distance travelled, calories burned and time taken can all be displayed.
Different Types of Resistance for Rowing Machines
When coming to search out a rowing machine to purchase, you may come across different resistance types for which certain models fall into. They have similar mechanisms, where the handle is connected to a flywheel via a rope or chain. When the handle is pulled and the user moves backwards on the seat, the different resistance types will come into play.
The table below will look at these in more detail:
| Resistance Type | Description |
| --- | --- |
| Magnetic Resistance | Magnetic resistance rowers are considered the smoothest model to manoeuvre and quietest to work out on. They work when electromagnets affect the brake inside the flywheel. Resistance can be easily altered and details are more accurately presented on the monitor. |
| Air Resistance | Air resistance rowers can be adjusted by the amount of air that is allowed into the flywheel – the more air present will increase the resistance. Also, the harder the handle is pulled will mean the tougher it is to row consistently. They can tend to be quite loud however and cost more. |
| Hydraulic Resistance | These types of rowers use hydraulic pistons to provide resistance, which can be altered manually to suit the user. They tend to be less expensive than other rowing machines as they do not provide a decent replication of the real activity and lack fluidity. |
| Water Resistance | Unsurprisingly, water is used inside these types of rowing machines to create the drag when the handle is pulled; this gives a more realistic feel to the exercise. The amount of water needed can make them long and on the heavy side however. |
Heart-Rate Monitors
Some rowing machines will come with heart rate monitors as an additional piece of equipment to enhance the exercise routine. Although some people may not feel the need for such a device, older users or those with heart problems can find the monitors extremely useful. They are presented in two different ways:
Chest Strap – Heart-rate monitors attached to the chest will continuously measure your heart rate whilst exercising. They will link up with the monitor on the front of the rowing machine either digitally or via analogue helping to measure the heart rate throughout the workout. They can be adjusted so that an alarm will sound when a minimum or maximum threshold has been breached.
Hand Sensors – Hand sensors work in a similar way but transport the relative information to the LCD monitor via the pulse rating in the hands. This will be done automatically when the handles on the rowing machine are held, informing the user of their heart rate and thus how to increase or decrease their output.
Buying New or Old Equipment
One decision for some buyer's is to consider whether a brand new or second-hand rowing machine will be more preferable. Although buying new may seem the obvious choice, a used product doesn't necessarily mean it will be inadequate.
The main advantage comes in the fact that equipment which has been used before should have decreased in value. If looking to save money then this route is something to look into before making a final purchase. However, there are some aspects to look out for if buying second-hand, especially if buying on eBay – these have been highlighted below.
Evaluate the Condition. Extra care is needed when examining the rowing machine or equipment if buying a used item. In all likelihood, the seller will have used the machine before so natural deterioration may have occurred. If buying on eBay, check out any pictures carefully and consider how old the equipment actually is.
Is it worth it? The actual difference in cost of new and used may not be worth the potential risk of buying second-hand. If only a small amount is being saved then spending that extra bit more on a recent model may prove wiser in the long run.
Visit in Person. If interested in used equipment, then one good tip is to actually visit the rowing machine in person. This way no mistakes or confusions can arise with the purchase. If shopping on eBay, then bring up UK only results or those within a certain mileage of your location.
Check the Item's Status. Look out for details of why the seller has decided to offload their equipment, i.e. is there anything wrong with the product. Look out for the warranty status also and whether or not the seller accepts returns.
Know the Market Price. Do as much research as possible on the average price of the different types of rowing machines and the various resistance mechanisms. For brand new models, the top end of the market can reach up to figures of between £1500 and £2000. More basic models can be found for less than £50 however, and potentially much lower if buying on eBay.
Ask Questions. Even for brand new items, contacting the seller if any queries arise with a purchase is advised. Know that shopping on eBay should be done in accordance with the guidelines laid out in the Safety Centre. Use the Resolution Centre if any problems arise with a purchase.
Buying Rowing Equipment on eBay
To compare both new and used rowing equipment, eBay is a great website to use not only for its easy search mechanism but because items can be reviewed next to each other. The following points outline how to use the site.
- Start a search by using the keyword search menu. Enter a term such as "rower," "rowing machine" or "ergometor" and then select the 'Exercise & Fitness' category from the menu bar on the left hand side of the page.
- Here, the results that have appeared can be narrowed down in accordance with personal preference. The type of resistance and heart rate monitor the rower uses can be selected between, along with a certain brand if this appeals.
- Buying from a respected manufacturer may guarantee a certain quality remember, even if the item has previously been used. The most popular brands of rowing equipment include York, Concept and Body Sculpture.
- Use the 'Condition' feature within the refinements menu to bring up either new or used rowing equipment. Some listings will be classified as 'New other' – this means that they will be second-hand items but unused or only tried out once.
- Many sellers will list their second-hand rowing equipment as an auction item at a potentially low price to attract interest. Buy It Now items are also available instantly for the advertised price.
- As noted above, stay safe on eBay by reading the item's description carefully but also by checking out the history of the seller. Look at their feedback rating and take preference with sellers who have close to a 100% positive rating.
Conclusion
The difference between new and used rowing equipment can simply come down to the specifics of the individual item; having preconceived negative views on a second-hand product may cause you to bypass a perfectly sufficient rower just because it has been used before. This can potentially cost you spending money unnecessarily.
Buying new or unused rowing equipment does come with its benefits however and more confidence will come with the purchase. Either way, scout the fitness market and evaluate if a rowing machine will suit the exercise program you have planned. Also consider which resistance type of machine will benefit the work out.
Use eBay to quickly separate used and new items depending on which type is preferable. Remember to stay safe on the site by using some of the advice listed in this guide.