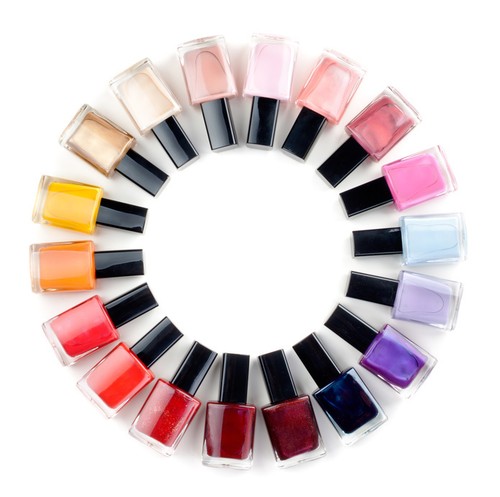 There is nothing more fun than a manicure. A pretty coat of shiny nail polish makes a woman's hands look elegant, lifts sagging spirits, and completes a look. Changing nail polish according to mood and whim is part of the joy of being a woman. The only problem is that some nail polishes are made with toxic ingredients which can be harmful. For those consumers who are living a green life or simply trying to eliminate toxins from their households, nail polish is a good place to start. Women do not have to give up their favourite nail varnishes and colourful polishes to avoid toxins; consumers simply have to get savvy to what constitutes toxic ingredients and switch to brands that do not use those items.
Some non-toxic nail polishes are water based instead of chemical based, and they are just as beautiful and long lasting as their toxic counterparts. Non-toxic polishes made with more natural ingredients also do not have that bad smell that regular nail polish has. Do not worry about a child who chews on her painted nails, leaving a toxic smell behind in the bathroom after polishing, or having chemicals that are dangerous in the house. Simply switch to a polish that is better for the environment and less poisonous to consumers. There are details that consumers should look for when they are shopping to ensure that they are purchasing a nail polish that is not made with toxic ingredients, and they include the specific ingredients and brands.
Check the Ingredients
The first step in buying non-toxic nail polish is to check the ingredient list. There are three main toxic ingredients in many nail polishes which consumers want to specifically avoid. Any nail polishes that contain these ingredients are toxic and potentially hazardous. They can cause skin irritation, reproductive side effects, allergic reactions, and nervous system side effects.
Formaldehyde
Formaldehyde is a nasty chemical that is known to most consumers as a toxic poison. It is a preservative which is used as a nail hardener, and considering the fact that it is also used for embalming, makes it generally a chemical nobody wants near skin.
Some types of furniture contain formaldehyde. Studies show that this chemical may have a link to cancer, and though it may not be proven, it is not really worth inhaling or putting the chemical on skin just to achieve lovely nails when there are other polishes on the market that do not contain this potentially deadly toxin. Formaldehyde is also sometimes called formalin on ingredient lists.
DBP (Dibutyl Phthlate)
DBP is another bad chemical that consumers want to leave behind when polishing their nails. This chemical is used in plastics. Studies show that it has been potentially linked to issues with childbearing women, and has given laboratory animals cancer.
It can disrupt hormones, cause allergic reactions and skin irritations, and generally should not be dealt with by humans. Consumers should always avoid nail polish which is made with this chemical.
Toluene
Toluene is not only found in some brands of nail polish, but consumers may recognise the name of this chemical because it is also used in gasoline manufacturing. If that is not enough of a deterrent, consider the fact that toluene can be absorbed by the skin simply through smell.
Side effects of this nasty chemical are headaches, eye and skin irritation, liver damage, and dizziness. Toluene is also used to make dynamite, which makes it even less appealing and very unnatural.
Check the Brand
There are many brands that offer non-toxic nail polish in a wide variety of colours and types. Consumers do not have to sacrifice the fun of painting their nails simply because some brands use toxic chemicals in polish. While non-toxic, organic, and natural polishes are sometimes more costly than toxic ones, it is well worth the cost to avoid the chemical exposure.
Natural brands of nail polish are found at affordable prices on eBay, and sometimes they are even sold in bulk. So buyers are able to stock up on their favourite natural brands and try new non-toxic brands to replace the old toxic polishes that many consumers may be using without even knowing how dangerous they are.
Acquarella
Acquarella nail polish is not only non-toxic, but it is also completely without an odour. This brand offers nail polishes made from a water-based solution, without compromising on colour. Consumers not only get to paint their nails without breathing in disgusting, smelly fumes, but buyers are also reassured that they can paint their nails without toxic chemicals being involved.
Acquarella also boasts a hydrating nail polish that actually treats the nails and conditions them. It dries quickly, can be removed easily, and it is non-flammable. This brand also makes many fun colours for every woman's personality and style tastes.
Nars
Designer brand Nars makes lovely nail polishes, and to make them even better, they are without toxic chemicals. Lots of colour choices along with long-lasting shine and a chip-free formula are bonuses along with chemical-free nail polish. While Nars is a more costly polish, it can be found for a lesser price on eBay, so buyers are able to purchase all of their favourite non-toxic Nars shades.
Suncoat
Suncoat polish is another water-based nail polish which is also vegan, planet-friendly, and without any toxic solvents or chemicals. The polish does not really have a scent since it is made with mostly water. This water-based nail polish is so gentle that it can even be removed with hot water alone. A lot of colours and finishes make Suncoat nail polish a good choice for green nail polish lovers.
Spa Ritual
Try Spa Ritual nail polish for a toxin-free and colourful nail polish experience. Spa Ritual is also vegan and made with no animal products, toxins, or chemicals that are harmful or dangerous. Products are eco-friendly as well as coloured with natural dyes and packaged with recycled products.
Spa Ritual offers so many shades of polish it is hard for consumers to select just one. Glitter, matte, glossy, and intense shades all make up the Spa Ritual line of non-toxic polishes for a healthier lifestyle.
Nubar
Nubar is completely cruelty-free, and it is made without animal testing or without animal products. This brand meets all of PETA's guidelines for cruelty-free products. There are no carcinogens in Nubar's nail lacquers, and it offers a wide range of polishes, treatments, nail art supplies, gel and UV polishes, nail jewels, base coats, primers, and a host of other nail supplies which are safe, non-toxic, and eco-friendly.
Honeybee Gardens
Made almost entirely of water, Honeybee Gardens brand nail enamel offers no fumes, no toxins, 25 colours to pick from, and matching lipsticks too. Honeybee Gardens also makes a base coat and a topcoat which are toxin-free, and all of the company's products are eco-friendly. The polish can be removed with simple rubbing alcohol, and there is no need for toxic nail polish remover.
Non-Toxic Nail Polish Remover
Nail polish remover usually contains potentially harmful chemicals, and it smells horrible too. Luckily some of the brands that make toxin-free nail polishes also create nail polish removers to accompany them. Brands which make non-toxic, acetone-free nail polish remover are Suncoat, Acquarella nail polish remover, and another brand called Scotch Naturals. Another option is to purchase one of the brands which is easily removed with water or household products to avoid exposure to nail polish remover altogether.
How to Buy Non-Toxic Nail Polish on eBay
To purchase non-toxic nail polish on eBay, use the simple search engine to navigate to nail polish. There are a couple of ways to go about your search. You can click on polishes you like and check the ingredients for the toxic chemicals in some polishes, to see if the polish contains the toxins, or you can search by brand for the brands you know do not contain these chemicals, such as Acquarella or Nars polish. From there, it is simply a matter of price and colour selection. Some sellers may offer a discount if you buy more than one colour of polish or nail accessories from them, so ask them if they can give you a bundled shipping price on more than one item.
Check the seller's feedback to make sure it is positive before you bid, and make sure that you go back once you have received your polish and had a great experience to leave feedback for the seller yourself. This enables sellers to better refine the purchasing process to have more satisfied customers, and it helps buyers make important purchasing decisions. Merchants who are Top-rated sellers on eBay are probably your best bet for purchasing quality products online.
Conclusion
Nobody wants to have toxic chemicals in their homes, in their foods, in their make-up, or on their nails. Avoid nasty toxins and go a more natural way by purchasing nail polishes which have chemical-free ingredients for a safer, greener way to paint nails. Consumers do not have to sacrifice style in the name of eco-friendly polish; there are plenty of colours and types of polish available that are beautiful and free of dangerous chemicals. Go green in every aspect of life, and consumers love not having to ventilate rooms before or after doing manicures, since most natural polishes are completely without smelly, stinky fumes.
Water-based nail polishes are also easy to remove, and in some cases, buyers do not even need nail polish remover. For moms who enjoy painting their little girl's nails, or consumers who are trying to live a more natural, chemical-free life, non-toxic polish is a good and healthy place to start living a more eco-friendly existence, without potentially harmful side effects. Nails can be pretty and planet-friendly with non-toxic nail enamels.