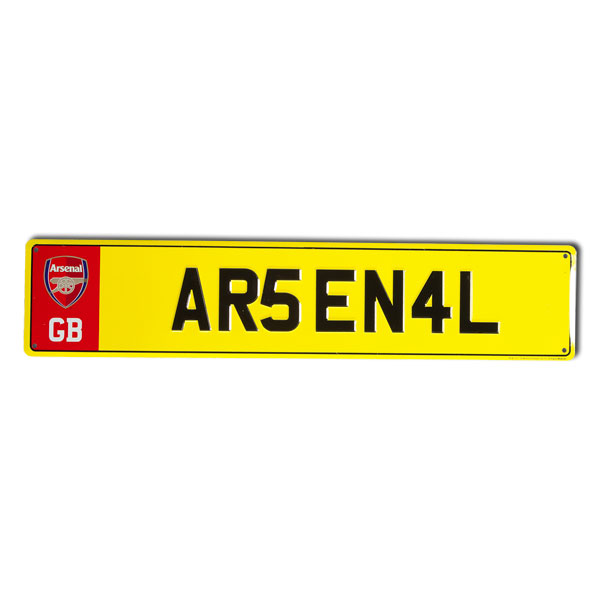 Number plates are required by law to indicate a vehicle's registration number while travelling on public roads in the United Kingdom. The current vehicle registration number format was introduced in 2001 and is as follows: two letters referring to the office where the number was issued, two numbers indicating when the number plate was issued, and three letters chosen at random. Motorists also have the option to personalise their number plate. This process must be completed through an authorised dealer or with another motorist in a private sale.
Many number plates have a surround, or frame. The surround adds character to the number plate and can be personalised. Surrounds often display favourite sports teams, an alma mater, a saying, or a funny quote. The surround can be made of plastic, steel, or another durable metal. Some surrounds come as a pair, one for the front and one for the rear, while others are sold individually. When purchasing number plates and surrounds, buyers should familiarise themselves with the history of number plates, understand the guidelines associated with them, and learn how to make an informed purchase when shopping on eBay.
A Brief History of Number Plates
Number plates have been mandatory in the United Kingdom since 1 January 1904, as required by the Motor Car Act 1903. This act stated that all motor vehicles be entered into an official vehicle register and associated with a respective number plate. The ability to trace a car helps authorities in the event of an accident or contravention of the law. There are currently two numbering and registration systems within the United Kingdom: one for Great Britain and one for Northern Ireland. The registration system for Great Britain is administered by the Driver and Vehicle Licensing Agency (DVLA), while the registration system for Northern Ireland is administered by the Driver and Vehicle Agency (DVA).
Guidelines for Number Plates and Surrounds
Every number plate and surround should abide by the following guidelines. For clear visibility, every number plate must be made from a reflective material. Number plates on the front of a vehicle must display black characters on a white background, while number plates on the rear must display black characters on a yellow background. In addition, no number plates should have a background pattern.
All road vehicles must display a number plate, including motorbikes. However, motorbike number plates include two lines of data, and must adhere to strict rules with regards to the height and size of the characters.
Information Required Before Buying Number Plates on eBay
When searching for number plates on eBay, buyers should ensure that they are purchasing from a registered number plate supplier. Every purchase of a number plate needs to have at least one document from each column in the table below.
Buyer's Identity Documents

Proof the Seller Owns the Registration Number

Driving license

Utility or council tax bill from the last six months

Bank or building society statement from the last six months

Passport

Bank or building society debit or credit card

Police warrant card

Armed forces identity card

Vehicle registration certificate (V5C or V5CNI)

New keeper supplement (V5C/2 or V5C/2NI)

Certificate of entitlement to the number (V750 or V750NI)

Retention document (V778)

A renewal reminder for a tax disc or Statutory Off Road Notification (SORN) (V11 or V11NI)

Temporary registration certificate (V379 or V379NI)

A number plate authorisation certificate (V948) with an official stamp from the DVLA, DVA, or Vehicle and Operator Services Agency (VOSA)

A letter of authorisation from a fleet operator, including a lease or hire company, quoting the document reference number from the registration certificate
These documents are used to verify the buyer's and seller's identities and to show that they are entitled to trade the registration number. At the end of the transaction, the seller should provide the buyer with the V750 certificate of entitlement or a V778 certificate of retention.
Personalised Side Badges for Number Plates
When personalising a number plate, buyers are free to choose between various side badges. These side badges are found on the left hand side of the number plate and are permitted for use in the United Kingdom. Side badges often include flags and national identifying letters. A flag must be above the identifier and neither the flag nor the identifier can be in the number plate's margin. Neither the flag nor the identifier can be more than 50 millimetres wide. Popular flags include the Union flag, the cross of St. George, the cross of St. Andrew, and the Red Dragon of Wales. Other permitted national identifying words are: United Kingdom, Great Britain, England, Scotland, Wales, and Cymru. These words can be used in approved capitalisations or abbreviations.
A side badge is optional, but motorists must have a GB sticker while travelling in Europe, unless a Euro symbol is displayed. The Euro symbol must have a minimum height of 98 millimetres, a width between 40 and 50 millimetres, a reflective blue background with 12 reflecting yellow stars at the top, and the member state of Great Britain in reflecting white or yellow.
Searching for Number Plates and Surrounds on eBay
To navigate to eBay's assortment of number plates and surrounds, buyers should start their search on the eBay home page. Using the search bar, buyers can type in any key terms related to the item that they are looking for. Buyers may choose to search for "number plates and surrounds" or to type in more specific keywords, such as "personalised number plates and surrounds". A more specific search narrows down the listings, although searching this way often skips over items that may have been of interest to the buyer.
Alternatively, buyers can use eBay's advanced search feature to narrow down item listings by price or condition. This feature also allows buyers to search by location or to limit the listings of number plates and surrounds to those sold by Top-rated sellers.
Search by Placement on Car
Searching by placement on the car is a good option for buyers who know whether they need a number plate for the front or rear of their vehicle. Each plate is required to meet certain specifications as governed by law, so correct placement on the car is crucial. Simply enter the location with the rest of the keywords to find the appropriate items.
Search by Make
Buyers may choose to browse number plates and surrounds by vehicle make. This is ideal for those who want to ensure a well fitting number plate and surround. Both number plates and surrounds come in varying sizes, which may be influenced by the make of the car.
Search by Price
Many buyers seek number plates and surrounds that are in a particular price range. This is a great search option for those on a budget as it allows buyers to tailor their search accordingly. Also, selecting the used condition may present more affordable number plates and surrounds.
Search by Seller
Searching by seller is a great option for buyers. Searching this way allows them to narrow their query to items sold by Top-rated sellers. Top-rated sellers are recognised by the eBay community for providing high levels of customer service. They have received consistently positive feedback ratings and are known for being reliable in their listings. Knowing that the seller is reputable allows for peace of mind throughout the shopping process. Alternatively, buyers can search by sellers that they have purchased from previously. Building a good business relationship helps buyers to feel more comfortable throughout the transaction.
Ask a Question
If not all of the questions regarding number plates and surrounds have been answered within the seller's item description, buyers are free to use the "Ask a question" feature on the listing page to contact the seller. This link is designed to help buyers and sellers communicate effectively. Most sellers are happy to answer any questions that a buyer may have before the purchase, whereas other do not accept questions before the transaction is complete. However, these sellers do accept questions after the item has been purchased.
Conclusion
Vehicle registration number plates are required to be placed on the front and rear of a car, or other vehicle, as governed by law in the United Kingdom. Most number plates are framed in a surround which can be used to personalise the vehicle. When searching for number plates on eBay, buyers should ensure that the items follow the required guidelines: characters and background colours are strictly regulated. In addition, buyers should make sure they are purchasing a number plate from a registered number plate supplier. This ensures that the item meets all of the criteria for use. For buyers hoping to make their number plate more individual, a personalised side badge can be added to the seven digit vehicle registration number.
Buyers should familiarise themselves with eBay's terms and conditions to help to ensure a smooth transaction between buyers and sellers. With so many number plates and surrounds to choose from, eBay can help any buyer to find the perfect item for their car.