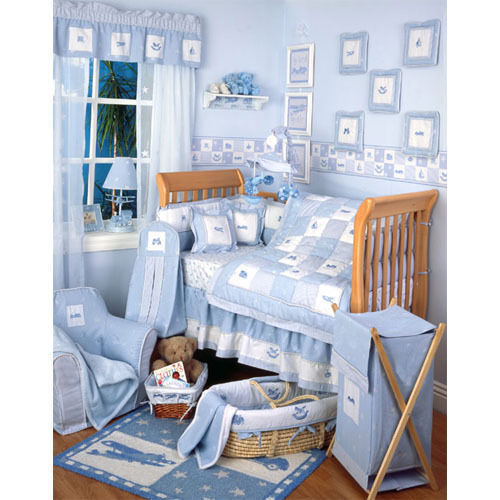 Nursery bedding sets are a fun and vibrant way for individuals to decorate a nursery. With these sets, it is possible to create an overarching theme to make a nursery the kind of bright and stimulating environment in which an infant can thrive. Today's nursery bedding sets offer a dynamic range of items and accessories that go well beyond traditional bedding sets. Sets may include everything from nappy stackers to window dressings and wall hangings.
For consumers who are in the market for a nursery bedding set, one of the most diverse catalogues of nursery items can be found on the online retail site eBay. As an aggregator of sellers, the site brings together multiple vendors to offer a large assortment of basic and elaborate nursery bedding sets. Learning how to navigate the site, along with learning about some of the specific items that may come in nursery bedding sets, can simplify the purchasing process for consumers and help them quickly and efficiently find an ideal set on this popular site.
Buying Nursery Bedding Sets on eBay
When beginning the shopping experience on eBay, one of the most direct ways to start looking through listings is to leverage the site's convenient search interface. Buyers can easily locate the search bar on every page of the site. This interface gives buyers instant access to relevant nursery bedding set listings. Buyers can enter a general search term, such as 'nursery bedding set', to begin their search, or they can use a more specific keyword term. Of course, before looking through listings, it can help to have a more thorough idea of the items that comprise the various sets that are available on the eBay marketplace.
Components of a Nursery Bedding Set
Nursery bedding sets come in basic, three-piece sets or more elaborate sets that include accessories that go well beyond basic bedding. Understanding all of the various components that can go into a nursery bedding set helps consumers find the right sets on eBay.
Basic Components of a Nursery Bedding Set
A few basic elements are usually included as part of most nursery bedding sets. These components are available in almost all nursery bedding sets on eBay. They include basic bedclothes and decorative elements.
Fitted Sheets
Fitted sheets are the bedding pieces that cover the cot bed mattresses. These sheets are typically made from cotton or a cotton blend in order to be kind to a baby's delicate skin. While a fitted sheet might be matched with a flat sheet in an adult bedding set, nursery bedding sets do not typically contain an accompanying flat sheet. Small infants could become entangled in flat sheets, and this creates a potential suffocation or choking hazard.
Duvets and Quilts
Nursery bedding sets usually come with a duvet or quilt that is decorated to match the fitted sheet and other set components. Unlike an adult duvet, a nursery duvet does not typically come with a duvet cover in order to reduce the amount of extraneous material in which a child could become entangled.
Cot Bed Bumpers
Cot bed bumpers are padded sections of material that protect an infant from bumping his or her head against the wood components of a cot bed. Cot bed bumpers often come in a three-sided design that is made to protect a child at the headboard of the cot bed and on the sides of the bed.
Cot Bed Dust Ruffles or Skirts
Cot bed skirts, sometimes referred to as dust ruffles, are long, decorative items that create an ornamental fringe at the bottom of the cot bed. They are placed under the mattress and above the cot bed surface that supports the mattress. Dust ruffles come in pleated varieties, especially in girl-oriented bedding sets, or in straight varieties, as is more commonly found in boy-oriented bedding sets.
Pillowcases and Flat Sheets
Nursery sets that are designed for older children may contain both flat sheets and standard pillowcases, as well. However, these sets are not generally recommended for children under the age of two.
Accessory Components of a Nursery Bedding Set
Beyond the fundamental components of a set, nursery bedding sets may also contain several accessory items. These accessory components serve as either decorative or functional items in the nursery, or in some cases, both.
Wall Decorations
Nursery bedding sets often contain wall decorations that showcase the design themes of the bedding sets. These wall decorations are often made of cloth and padding so that if they are hung over a cot bed, they are unlikely to harm the baby if they fall or are grabbed.
Canopies
Canopies are decorative hangings that add a touch of elegance to a cot bed. They are hung above the cot bed and draped over the sides. When using a canopy with a small infant, parents should make sure that a canopy is carefully affixed to the ceiling so that it does not fall on the baby. They should also ensure that the excess material remains outside of the cot bed and not within the baby's reach so that an infant cannot pull a canopy down and get tangled in excess material.
Hampers and Nappy Stackers
Some nursery sets also contain helpful maintenance items, such as a decorative hamper or a nappy stacker, that echo the design themes of the sets. The hampers included are often cloth hampers with wood or plastic frames. Nappy stackers are sack-like constructions that are hung on the sides of changing tables to give parents easy access to nappies during the changing process.
Curtains and Valances
Another accessory item that is often available to complement the core elements of a nursery bedding set is a valance or a curtain for the window in a nursery. A valance is a short, ruffled curtain that adds a design accent at the top of a curtain or window. As with the other accessory items, the design of the curtain or valance usually reflects the design elements of the rest of the set, and this allows consumers to create a complete look in a nursery.
Mobiles
Nursery sets sometimes come with entertaining mobiles, as well. These rotating devices engage a baby and help them work on key skills, such as focussing and distinguishing patterns. Mobiles often have dangling plushies that parents can remove for play time with larger infants.
Decorative Themes in Nursery Bedding Sets
The nursery bedding sets of today come in many diverse design schemes, and this allows parents and adults of any taste to find a complementary style. Traditional options with lace accents are available on the market, as well as classic blue and pink sets for boys and girls, respectively. More modern sets might include graphic elements and contemporary patterns and colour schemes. Kid-oriented nursery sets may feature childhood favourites, such as space themes, teddy bears, and educational basics like ABCs and 123s. Some nursery sets offer reversible designs, which give adults the option of flipping a duvet or wall hanging over to reveal a different decorative motif to change up the look and energy of a room.
The Purchasing Process on eBay
Once you have familiarised yourself with the wide range of items that are often included in nursery bedding sets on eBay and run a specific search using this information, you can begin looking through the relevant listings in detail. To do this, click on the title of any listing that catches your eye. This takes you to the item's listing page where you can review information that is essential to the purchasing process, such as shipping details, a detailed description of an item, and the forms of payment a seller accepts. Reviewing these details can help you determine if an item is the right one for you.
Getting to Know the Sellers on eBay
Your experience on eBay can be greatly enhanced by taking a minute to get to know the sellers on the site. If a particular listing seems appealing, click on the seller's name to access his or her eBay page. Review the seller's previous item listings, as well as the customer feedback, and use the information to determine whether a seller's product can satisfy your needs.
Conclusion
Today's nursery bedding sets offer consumers a diverse and charming array of decorative options that can be used to retrofit an infant's nursery or a child's room. Incorporating everything from basic bedding to designer touches, such as valances and cot bed skirts, nursery bedding sets provide an all-in-one way to decorate an entire nursery. By learning about the various possibilities, consumers can prepare themselves for an efficient purchasing experience, especially when executed in tandem with the online retail site, eBay.
The website eBay offers one of the widest collections of nursery sets available on the market today. This site provides consumers with instant access to a wide catalogue of nursery sets, including basic selections and more complex ones. By running a search using eBay's search interface and then getting to know potential sellers, consumers can leverage eBay to quickly find the perfect touches to add to a nursery to bring dynamic colours, designs, and interactive elements to a baby's life.