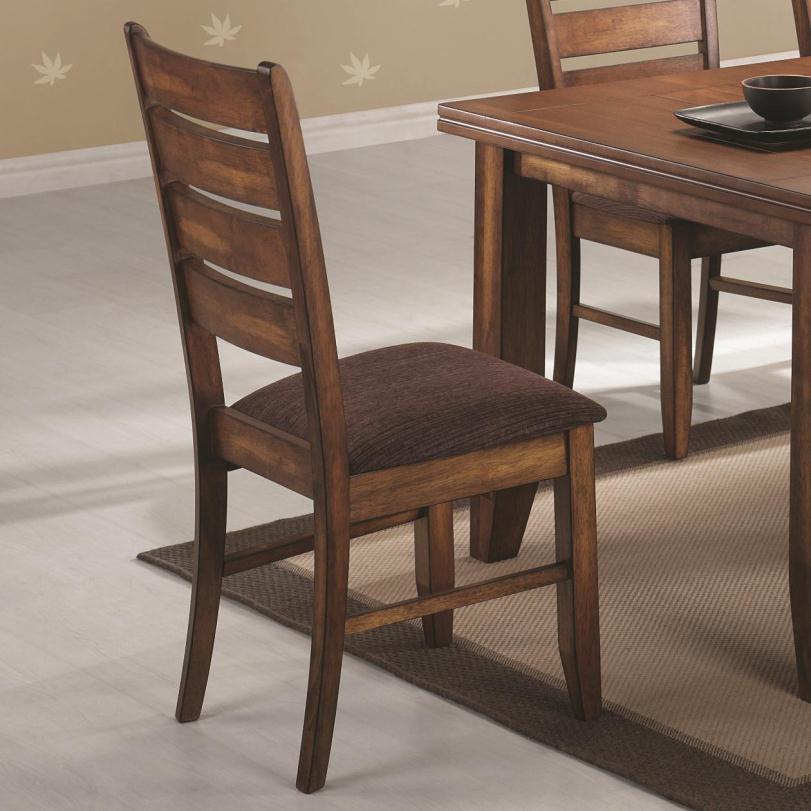 Shoppers looking for a new seating solution for a dining room have an array of options before them. Some consumers may be building their selection around an existing table, while others are looking to mix and match a new table with new chairs. Chairs made from oak represent one of the more consistent choices in dining room chairs. This eternal wood choice gives dining room chairs a classic look and brings a touch of elegance to a dining room set-up. Before buying oak dining room chairs, it can help consumers to have an idea of the range of style options available in these chairs. Incorporating a few useful tips into a search can also be of benefit, including considering stain and finish and the formality of a dining room where the chairs are to be used. It can also help to have a good idea of how one can leverage an online auction site such as eBay to find and purchase an ideal set of oak dining room chairs, or how to shop in local high street shops.
Tips for Buying Oak Dining Room Chairs
When shopping for oak dining room chairs, it can be helpful to take certain pragmatic and aesthetic issues into consideration. Knowing the styles available in wood chairs and understanding issues that relate to the look and formality of a chair can help refine the shopping process.
Consider How Formal or How Casual
Some dining rooms are seldom used, except for special events and holiday dinners. Other dining rooms are used much more consistently and, in this case, the dining room functions as more of a day-to-day room than a specialty room. Depending on its use, therefore, a dining room's decor can skew towards the more formal or the more casual. More formal chairs include fully upholstered options, such as a leather scroll back chair with oak legs. A more casual choice might be a chair with multiple slats on the backrest. Before selecting oak dining room chairs for a space, consumers should take the time to ensure that they have an idea about the space's exact use and purpose and how that relates to the room's decor.
Look for Upholstered Oak Dining Room Chairs
A wood chair does not always have to be one solid piece of wood with no accoutrements. Many oak dining room chairs can come with integrated upholstery and padding elements, making them more comfortable for guests during a long dinner party. A common option is for the seat of the chair to be padded and covered in fabric. This can create a slightly more casual look and is more appropriate for dining rooms that are used daily.
For formal dining rooms, options such as fully upholstered oak dining room chairs are a good idea. These wooden chairs are encased in a solid block of upholstery across the backrest and on the seat, creating a streamlined, minimalist look that goes well with formal decor. The upholstery used in the oak dining room chairs can be faux leather, chenille, linen, or a polyester blend that allows for easy cleaning. The oak legs of these chairs are usually left bare, exposing the natural wood texture and providing a contrast to the upholstered elements of the chairs.
Understand the Difference Between Natural Grain and Stain
Oak as a wood has a detailed and ornate grain. This means that furniture made from oak can take stain very well. Wood stains change the natural colour of wood by saturating the top layer of the wood with a thin paint. This is often covered with a protective layer or gloss to keep the stain even and consistent in the long term.
The natural colour of oak can be reddish or a pale white-grey. Many chairs can have a clear veneer placed over this natural wood to deliver the original colour to consumers. Others may have a wood stain which alters the natural colour of the wood. Consumers looking for oak dining room chairs should confirm which colour of oak they want and then make sure that they select chairs which are in line with that wish.
Different Styles of Oak Dining Room Chairs
There are a few standard style choices in oak dining room chairs that consumers can find in the marketplace on a consistent basis. Having an understanding of these options can help refine a search and streamline the purchasing process.
Slatted Back Oak Dining Room Chairs
An oak chair with a slatted back features a row of vertical, wooden slats in the backrest instead of a solid back support. This type of design is more commonly seen in daily use and more casual dining areas. Certain slat back chairs that follow a very attenuated line can appear more formal but, by and large, slats look better in more casual settings.
Oak Dining Room Chairs with Curved Inlays
Some oak dining room chairs can have ornate, curved, inlays that function as the backrest, creating a more formal and classic look for a dining room. This style of formality is a bit more old-fashioned, but it still resonates today. These types of chairs may feature curved accents at the top of the chair and on the legs as well.
Cross Back Oak Dining Room Chairs
Another variety is the cross back chair. This type of chair features two pieces of wood in the backrest placed in an "X" orientation. This is another casual look and is good for daytime dining rooms and dining areas which are set within a kitchen.
Buying Used Oak Dining Room Chairs
Since many dining rooms are used only for special occasions, dining room chairs that are in excellent condition can be found in the second-hand market. When shopping for used oak dining room chairs, a potential buyer should communicate with the seller to confirm details on condition and use. If a chair has upholstery, a consumer should ask to see photographs of the upholstery to ensure that no stains or rips have occurred. The legs of chairs should also be checked for damage to the wood, such as might happen from a cat scratching it or a dog chewing on it. By confirming the quality and condition of the product with a seller, a consumer can utilise the second-hand marketplace to find a good set of used oak dining room chairs.
Shopping for Oak Dining Room Chairs
Some traditional vendors, such as furniture shops, may have a selection of oak dining room chairs. These options, however, are often sold as a set with a dining table and cannot be sold separately. The range of choices at traditional vendors is also often defined by prevailing trends, limiting the array of offerings. Consumers who want to access a wider range of style options and purchase oak dining room chairs separately can find what they need on online auction sites such as eBay.
Buying Oak Dining Room Chairs on eBay
Beginning to shop on eBay is as simple as running a search using the search bar on any page on the website. If you have a style of oak chair in mind, use a narrow search term such as "traditional oak dining chair". If you want to get an overall idea of what is available in the eBay marketplace, run a search using a general term such as "beige oak dining room chair". If you are interested in viewing used options, include the word "used" in your search. Watch for eBay's related search suggestions as well; these suggestions can be very helpful in refining a search.
When shopping for furniture on eBay, it can benefit you to take the time to evaluate the sellers you come across. You can do this by reviewing their past auctions and looking at the feedback they have received from past customers. Another option is to search for oak dining room chairs amongst eBay's top-rated sellers. Purchasing from a top-rated seller can give you an added level of confidence in the buying process on the website.
Conclusion
Adding oak dining room chairs to an eating area can bring a touch of style and classic elegance to the space. With the wide range of options available on the market, consumers can be a bit overwhelmed by shopping for these dining room chairs at first. However, by adhering to a few useful tips and considering factors such as the colour of an oak chair and the formality of a dining room, a consumer can get through the purchasing process with ease. A vendor option that facilitates this process well is the online auction site eBay.
On eBay, consumers can look through an enormous catalogue of oak dining room chairs, accessing everything from casual slat back chairs to more ornate and formal options. By selecting relevant listings and taking the time to review the sellers on the site, a consumer can utilise eBay to find the ideal set of oak dining room chairs to create an ideal setting for enjoying meals, celebrating holidays, and hosting guests.