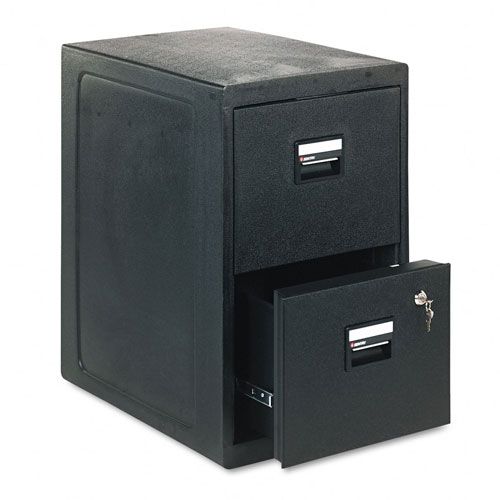 There are many solutions to the problems of office filing and storage on eBay, but finding the right solution can often seem intractable. Knowing just which product is right for the job enables the buyer to find the perfect solution for the problems of storing and filing documents, papers, receipts, and other essentials required to run an office.
Broadly speaking, there are two main areas in filing and storage. Those of permanent or reference storage, and therefore long term, and there are temporary storage solutions such as units to store short-term papers including invoices and bills.
There are also products available to allow the safe and secure storage of office paperwork, documents, even keys, and these too should be examined. Each of these storage solutions are available on eBay, and knowing just what to look for helps the buyer determine just what they are seeking and how to purchase it.
How to Find the Right Office Filing System
Traditionally, the grey or green steel filing cabinet which sat in one corner of the office was the only way to store important and vital documents. These filing cabinets normally have two, three, or four long drawers, and individual files are stored in folders or hanging wallets suspended between two steel runners going down the length of the drawers. Many of the more traditional industries still employ these filing cabinets, which often sit side by side in rows.
With the recent and ongoing changes in working practice, an increasing number of workers either work from home, full or part-time, or they have small offices in unused bedrooms, equipped with computers and telephone lines, if they are self-employed. If this is the case, then these workers do not necessarily want ugly filing cabinets in their living and working spaces, and an increasing number of office supply companies are adapting to these changing needs by offering products that are practical, but ergonomic, to fit in with the users' homes. With this in mind, the buyer needs to decide what type of filing and storage solution he or she wants by examining the different options available on eBay.
Deciding to Purchase Traditional Filing Cabinets
Traditional filing cabinets of the type found in just about every office in Britain, are abound on eBay. By searching in "Office Equipment & Supplies" in the main categories heading, then selecting "Office Furniture" will bring up hundreds, if not thousands of choices. The buyer can then choose from there subcategories to get to the proper storage solutions they need.
Learning About Traditional Filing Cabinet Sizes
Designed for A4 papers, with associated envelopes and folders, the traditional or standard filing cabinet holds thousands of sheets in one convenient place. The most popular type of filing cabinet is one where the papers are held vertically in hanging folders in a lateral manner. This makes for easy indexing with tabs on the hanging folders to identify individual files or folders.
The traditional two, three, or four-drawer filing cabinet is still the mainstay of offices up and down the land. They are usually made of steel, which is painted in usually darker or neutral colours to match the supposedly somber office-type environment. In recent years, with the surge in the number of people working from home, or at least having some kind of office space, normally in a spare bedroom, there has been a shift away from the traditional, darker colours into brighter finishes, often with wood-effect or even brightly coloured appearance. The potential buyer needs to decide if the traditional filing solution is one which suits the working environment that he or she is in.
| Number of Drawers | Approximate Width x Depth x Height (in millimetres) |
| --- | --- |
| 2 | 458 x 622 x 711 |
| 3 | 458 x 622 x 1009 |
| | |
Purchasing Solid Wood and Wood-Effect Filing Cabinets
Solid wood and wood-effect filing cabinets are increasingly being sought to enable the home worker to function from home, yet not have a bedroom or other living area of the house actually look like an office. While on the outside, they may look like a set of drawers, on the inside, these filing cabinets have the runners associated with a traditional filing cabinet.
Choosing Under-the-Desk Filing Cabinets
If the office is small, then a buyer can opt for an under-the-desk set of filing cabinets and drawers. Many of these are finished in natural wood or wood-effect, and are a convenient way of storing both A4 files and folders, but also other desk essentials, such as pens and paper. Under-the-desk drawers and filing cabinets are almost exclusively available in wood-effect finishes, either light oak effect, or in a black wood finish, so an eBay buyer has a few options in this category.
Deciding on Office Cupboards
Office cupboards are an essential place to store items and supplies that are needed on a regular basis, but are too large to store on a desk or in the cupboards beneath a desk. If purchased new, these are often flat-packed, to be assembled by the buyer, and they come in a variety of colours, with a wood-effect finish being the most common. Office cupboards come in a range of different configurations and styles, from half-height to full height. Many come with sliding or folding doors, with some models sporting glass doors to enable the office to see the contents. From the "Office Equipment & Supplies" heading, simply pick "Office Cupboards", and there will be tens, if not hundreds to choose from.
Replacing Filing Cabinet Keys
When purchasing used office filing or storage solutions on eBay, sometimes the keys for them may be lost, or the new owner wishes to change the locks for security reasons. Key companies now provide services on eBay where the user simply gives the company the lock make and key number, which is usually stamped on the front of the lock, and the user can order replacement keys, or even get whole locks and barrels.
Considering Safe Storage Choices
Where a user needs to store valuables such as important documents, keys or cash, he or she can choose to purchase a safe. These range from a small, lockable box to be kept somewhere unobtrusive and out of the way, to a large wall-mounted model which stores many thousands of pounds in cash.
There are units also on sale from eBay that offer an alternative to a safe to store keys in the form of a locking metal cupboard. This is normally a wall-mounted steel box which holds many sets of different keys, each on their own numbered hook. These are particularly useful in large offices, and save every person who works in the office from having to store their own set in different areas.
Considering Desk Storage Solutions
Temporarily storing paper on a desk has traditionally always been a big problem. Piles of paperwork start off small and neat, but then within a few days, end up as enormous piles of untidy-looking mess, where no one can find anything. There are now hundreds of different systems available on eBay, from simple tray systems, right up to multi-coloured and multi-layered devices that are designed to store sheets of paper tidily, efficiently, and more importantly, in such a way that should the owner of the desk be away for any reason, others can quickly find papers that may be needed. These systems are available in a wide range of colours, to either suit the office decor, or to be easily identified in a hurry.
Other Storage Solutions for the Desk and Office
There are also many devices available for the storage of pens, paperclips, and other odds and ends which naturally accumulate around a desk or an office. These units are usually very inexpensive to buy, and oftentimes office workers themselves purchase them to personalise their working space or to make it look a little more functional.
How to Buy Office Filing and Storage Solutions on eBay
Buying office filing and storage solutions on eBay is really very easy. Simply select the type of filing or storage solution you are looking for, then spend plenty of time looking around the many entries that are available. If the item you have selected is second hand, be sure to check out the delivery options given by the seller. Many large, used items of office furniture are advertised as 'collection only', so you should be sure that the seller is local and that you have access to a vehicle large enough to collect the item.
Many sellers of new office filing systems offer free delivery, and note should be taken of this. Large, metal items, such as filing cabinets are supplied 'as is', but many smaller items, such as cupboards and sets of drawers are sold 'flat-pack'. If this is the case, ensure that you have a screwdriver, possibly a pair of pliers, and a knack for putting these things together.
If the user is looking for more than a filing or storage system, maybe a desk or two, or other items of office furniture, they would do well to check if the seller has other items they are looking to sell. If this is the case, then the seller may be willing to negotiate further discounts if the buyer agrees to purchase filing and storage solutions as well as other related items.
Conclusion
Though the sheer choice of available office filing and storage solutions on eBay may seem overwhelming at first, with a little thought and judicious use of the site's categories, choices can be narrowed right down to merely a few. The buyer should always note whether delivery is included in the price, or whether the item is for collection only. If it is for collection only, then the buyer would be well advised to have transport already arranged.
In addition to filing and storage solutions, the buyer may need to plan for safe storage in the office for important documents or even cash. Moreover, if the buyer purchases used filing cabinets, he or she can get new keys created for security purposes, and eBay offers services for this particular need.
With the changing face of work, offices up and down the country are either shutting down, or are outsourcing their workforce, so many bargains are to be had in second-hand office furniture. The buyer would do well to take the time to study as many pages of listings on eBay as possible in order to get the keenest bargain.