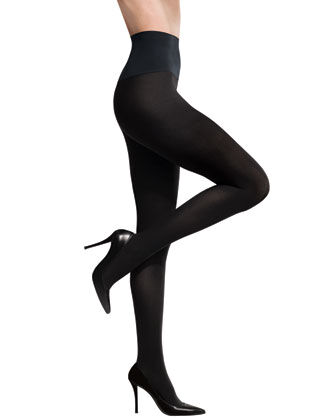 For many women, opaque tights are a basic wardrobe necessity they turn to during autumn, winter, and spring. Opaque tights may be worn with a wide range of outfits, offering warmth and support for the wearer. Women looking to buy a pair of opaque tights can follow simple buying tips that include understanding the benefits of opaque tights, the different thicknesses, fabrics, and colour options available, as well as the ideal opaque tights for different body shapes. Buyers can also benefit from information on the popular brands available, as well as how they may leverage the power of an online site such as eBay to buy opaque tights.
Opaque tights are sold at numerous women's clothing stores and department stores. Buyers who know what type of opaque tights they want to purchase can take advantage of eBay's wide selection on offer. With simple search methods, secure payment options, and useful buying tools, eBay makes buying opaque tights online simple, enjoyable, and cost effective.
The Benefit of Wearing Opaque Tights
Opaque tights are usually worn for the warmth, comfort, and support they can provide. Many women choose to wear tights under trousers to keep warm during very cold weather, while others like to team them with skirts or dresses. Because opaque tights are thick, they are ideal for wearing with short skirts and dresses, as they keep the wearer's legs warm while also covering up bare skin for modesty. The warmth that opaque tights offer depends on their thickness and fabric used. Some women like to wear opaque tights that offer support. Opaque control tights feature extra elasticised material through the thigh, buttock, and tummy areas, and they are designed to slim a woman's body shape.
Women wearing low waist pants or skirts who do not want their tights coming up too high over their waist may benefit from trying hipster opaque tights. Designed with a short waist, they sit either on or just below the hip bones, meaning one can wear low waist pants or a skirt without worrying about the waistband of the tights being visible.
Different Thicknesses of Opaque Tights
One of the main variations among opaque tights is in their thicknesses. The thickness of tights is described as denier, which refers to the weight of the yarn used as well as the thickness to which the tights are knitted. Tights less than 40 denier are generally referred to as pantyhose or stockings. The higher the denier number, the thicker the tights. Opaque tights are commonly available in 50 denier, 60 denier, and 70 denier thicknesses. However, they are also available in higher denier fabrics, including 150 denier and 180 denier. Tights less than 100 denier are often referred to as semi-opaque, while tights 100 denier or above are considered opaque.
Fabric Choices in Opaque Tights
Women have a few options when it comes to fabric choices for opaque tights. Fabrics vary in terms of durability and the level of warmth provided. Some fabrics are also more expensive than others.
Nylon
Most opaque tights are made from nylon. Nylon opaque tights usually feature some amount of Lycra in them for added stretch and support. Tights designed to slim the figure usually feature a greater amount of Lycra in them in order to give the strength and support the wearer requires.
Microfibre
Microfibre opaque tights are comfortable to wear, durable, and come in a wide range of colours. Tights made from microfibre are also very soft and stretchy and can be very warm. Microfibre tights tend to be a little more expensive to buy than nylon tights.
Wool
Wool opaque tights tend to be quite thick, and they are ideal for those who want tights that offer the most amount of warmth. Care should be taken when washing wool tights as they can be quite delicate to launder. Some women find wool opaque tights uncomfortable and itchy. For this reason, many women choose wool blend tights.
Cotton
Cotton opaque tights are quite common and are a good option for those who want warm tights, but without the feel of wool tights on the skin. Among of the benefits of cotton tights are breathability and comfort. Tights made from cotton are also durable and easy to clean.
Lace
Lace opaque tights can be quite expensive and delicate. Tights made from lace tend to be interestingly and intricately patterned. Many women choose to wear lace opaque tights with short skirts or dresses. Lace tights are usually made from a blend of cotton and Lycra for added durability.
Choosing a Colour for Opaque Tights
The most common colour choices when it comes to buying opaque tights are black tights, grey coloured tights, or beige coloured tights. Black and grey tights are popular for their flexibility and may be worn with a wide range of outfits of varying colours and styles. Beige tights are great for those women looking to cover up bruises, hair, or veins on their legs, without looking like they are wearing tights.
Opaque tights are also available in a wide range of bright and vibrant colours, including pinks, oranges, yellows, blues, and purples. Wearing brightly coloured opaque tights can be a great way to add colour to any outfit, and can look very striking when worn any time of the year, if coordinated with an outfit appropriately.
Finding Opaque Tights That Fit
Tights are often worn for long periods of time, such as an eight-hour work day or from morning to evening. Therefore, they need to fit comfortably. A woman who wears tights that are too short may find herself continually hoisting them back up her legs and waist. The woman wearing tights that are too long is likely to find her tights gathering around her ankles. Opaque tights are best sized by taking one's height and hip measurements. By knowing these measurements, women are better able to identify the appropriately sized tights for the body shape. The following table provides a list of the common sizes in tights and their corresponding measurements in centimetres.
| Hip Measurement | 90-95 cm | 95-107 cm | 107-122 cm | 122-137 cm |
| --- | --- | --- | --- | --- |
| Height 150-160 cm | small | small | large | x-large |
| Height 160-167 cm | small | medium | large | x-large |
| Height 167-178 cm | medium | medium | large | x-large |
Sizes and measurements vary between brands, so buyers should always refer to the sizing chart on the back of the packaging for more accurate measurements.
Popular Brands of Opaque Tights
Women have a wide range of choices on websites like eBay when it comes to choosing a particular brand of opaque tights. Opaque tights can vary significantly in price and quality. Top quality brands that are very expensive include Wolford, Falke, and Aristoc. They offer very natural looking tights that are comfortable and durable. Women looking for mid-range opaque tights can consider such brands as Pretty Polly, Charnos, and Marks & Spencer. These brands offer good value for money with quality tights at reasonable prices. Women who are looking for inexpensive opaque tights may like to try brands such as Primark, BHS, George, or Dorothy Perkins.
Buying Opaque Tights on eBay
Buyers looking to purchase opaque tights online find a plethora of choices on eBay. You may begin a basic search by typing "opaque tights" into the search bar on the homepage. This search presents you with a long list of items for sale on the website. To further refine this search, you may use the advanced search option on eBay with which you can search by specific parameters such as price and location. You may also choose to refine the search by typing a term with a particular size, brand, colour, or material. Buyers who know exactly what type of opaque tights they are looking for, such as size medium black opaque tights or Pretty Polly grey opaque tights, simply need to type either of these terms into the search bar.
To make the buying experience as smooth as possible, eBay lists top-rated sellers. Buyers choosing to buy from a top-rated seller can purchase with confidence, knowing the seller has been awarded this rating based on quality service and excellent customer feedback. Sellers who are rated with top seller status are easily identified by the gold badge located next to their sale item.
Conclusion
Opaque tights are very similar to pantyhose. They extend from the waist, down over the legs, enclosing the feet and toes. The difference between opaque tights and pantyhose lies in thickness. Opaque tights are thick and are not sheer and see-through like pantyhose. When buying a pair of opaque tights, a woman is well advised to be aware of the thickness she wants as well as the fabric and colour she prefers. To get the right look, feel, and comfort from a pair of opaque tights, it is important to purchase the right size tights for her body's height and shape. Opaque tights come in different popular brands that represent a range in quality and pricing. The online auction website, eBay, offers a great way for buyers to find a diverse selection of opaque tights that cater to different needs. With eBay's easy-to-use functionalities and extensive selection, one can expect to find just the right opaque tights at competitive prices.