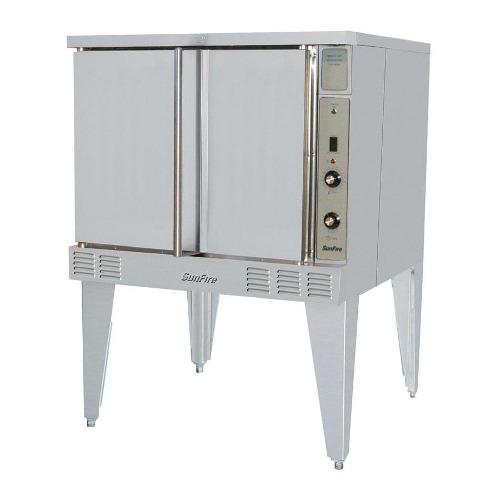 Buying an oven for a restaurant or other catering enterprise need not be as arduous as the buyer might think. With careful thought and a little planning, the purchaser can be confident of buying the right oven for the right job. Choosing the right brand is important with brands such as Miele available. Whether the buyer is looking for an oven for a new enterprise or a replacement for a worn out existing model, learning about the different models, the specifications, and possible uses benefits the user, and enables him or her to make an informed decision in what is likely to be a major purchase for a restaurant or other catering venture.
If the oven is for an existing restaurant and is a replacement for an existing, worn out model, then one of the first things the buyer should consider is the space available for the oven. Accurate measurements should be taken of the area where the new oven will sit. Once this is determined, the other major question is whether the new oven should be gas fired or electrically powered.
Deciding Between Gas and Electric Ovens
If the user is looking to replace an existing oven, then obviously the choice has already been made by the existing fixtures and fittings, but he or she may want to change the type of oven employed in the catering establishment. If this is the case, then a fully qualified electrician or gas fitter should always be employed to make the necessary fixtures and fittings suitable for the new oven.
For the fitting of a gas oven in particular, the services of a suitable gas fitter may be considered essential, both for the certification process, because for insurance purposes, a proper gas certificate is needed, and for health and safety reasons for the staff working in the kitchen. Failure to obtain a valid gas certificate nullifies any insurance policy, and may leave the restaurant owner liable for any lawsuits brought.
Conventional Gas Ovens
Gas ovens are by far the most popular type of restaurant oven. They are relatively inexpensive to run and maintain, and many chefs prefer them over their electric counterparts. If the buyer is interested in a second-user gas oven, then he or she may do well to ask the vendor questions about the heritage of the oven. These should include how old it is, if any major parts have been replaced, and other questions that may be helpful in making the buying decision. All reputable sellers and dealers are more than happy to answer any questions a potential buyer may have.
Conventional Electric Ovens
If the potential buyer is looking to purchase an electric oven for a restaurant or catering outlet, the first thing to ascertain is whether he or she is looking for a single-phase or three-phase oven. Single-phase ovens tend to be for smaller kitchens, while three-phase ovens are larger ovens for larger kitchens. If the buyer is in any doubt, then he or she should check the main socket in the kitchen, or failing that, consult a qualified electrician, who should be able to advise accordingly.
One advantage of electric ovens over gas-fired ovens is that many electric ovens for restaurants are fan assisted. This means the ovens tend to be at the same temperature whenever food is placed in them, and fan assisting reduces cooking times, therefore saving time and money.
Combination Ovens and Hobs
While larger ovens may be stand-alone units, many conventional ovens have hobs with burners or rings already fitted to the tops of them. If the kitchen is of smaller proportions, then the buyer should consider purchasing a combination oven and hob to save space.
Buying Specialist Ovens
Aside from the regular oven or ovens in a busy kitchen, the buyer may be considering a specialist oven for cooking a particular type of food. While these ovens may not be used as much as the regular ovens, they can be seen as essential for preparing certain types of food for that authentic taste.
Pizza Ovens
With the inexorable rise in fast food and convenience food establishments, pizza ovens can almost be seen as 'must have' items for certain types of establishments. With their increasing popularity, there are now many different choices for the restaurant owner, and each choice has advantages and disadvantages.
Gas Pizza Ovens
Gas pizza ovens tend to be for larger establishments, and are generally double or even triple level, allowing two or three sets of pizzas to be cooked at once. Most multiple-deck pizza ovens have temperature controls of each level. This allows the ovens to run at independent temperatures, so cooking a dish requiring a lower or higher temperature is just a choice of which oven to use.
Electric Pizza Ovens
Electric pizza ovens are the most popular type of oven, often used in fast food outlets. These too can come with multiple oven arrangements, with independent control of the temperature of each oven. As with conventional ovens, a check must be made to be sure that the chosen oven runs off single-phase or three-phase supplies.
Counter Pizza Ovens
Counter pizza ovens are normally for light to moderate usage, and designed for cafes and bistros that while pizza is on the menu, pizza does not consist of the main dish. These are often designed to look good on counters where the customers can actually see their pizzas being cooked. Counter pizza ovens are almost exclusively electric and single phase in operation.
Conveyor Pizza Ovens
These are normally exclusively for Italian restaurants or takeaways, where many pizzas need to be cooked often and at the same time. These are either electrically or gas fuelled, and they require large kitchens to operate in. If conveyor pizza ovens are electrically powered, they are almost certainly to be of three-phase operation.
Second-Hand Pizza Ovens
If the purchaser is looking to buy a second-hand pizza oven and it is advertised as having a stone base, then the buyer should check the base before purchase to ensure the stone surface has no cracks or blemishes. Cracks or blemishes in the stone surface can make the cooking of pizzas uneven, resulting in pizzas that are cooked in one area, but not in others. If the potential buyer is unsure, then he or she should ask questions of the vendor.
Tandoori Ovens
Often seen as essential for restaurants or catering outlets serving mainly Indian or Asian food, tandoori ovens are gas or electrically operated. There are also gas burners available to place under Tandoor pots to heat food within them. Some tandoori ovens are fired with natural charcoal, and many customers can testify to being able to taste the difference with a charcoal-fired tandoor oven.
Kebab Machines
While not strictly speaking ovens, no self-respecting takeaway is complete without a kebab machine. These are gas or electrically powered, and often have individual settings for the heaters to allow the operator to control one, two, or three heating elements.
Baked Potato Ovens
Potato ovens are becoming an increasing sight on many high streets in towns and cities throughout Britain. They offer a healthy alternative to lunch for city office workers and shoppers alike. Baked potato ovens are gas or electrically operated, with gas versions, normally butane powered, being popular with the high street vendors. They are often kitted out in 'black lead' effect with bright brass trim to stand out from other street vendors. If the potential buyer is a street vendor, this may be the best purchasing decision for an oven.
How to Buy Ovens for Catering and Restaurants on eBay
Simply typing "restaurant oven" into the search bar on an eBay page will give many results, so it is always best to know just what type of oven you want and for what type of establishment it will be for. From there, using the categories and subcategory listings, it is a simple matter to filter out to just what you are looking for.
When you have three or four possibilities available, then you should look further to see that it is exactly what you are looking for. If the oven is an electric model, you should check that it will run on your electricity supply, whether it is single or three phase in operation.
You should also check to see a seller's previous ratings, and what other customers have said about him or her. You might also check to see if the seller has any other equipment for sale that he or she may be willing to bundle in to give you a better price. Finally, you should check to see whether the oven can be delivered, or is offered as 'collection only', and arrange suitable transport if necessary.
Conclusion
Buying an oven for a restaurant or other catering business need not be as difficult or painful as the buyer may at first think. With careful research, both into what type of oven the buyer requires and whether the kitchen it is intended for will take the oven, is time well spent.
If the oven is simply a replacement for an old or worn out model, then the correct physical dimensions need to be taken to make sure the new one fits. If the oven is for a new kitchen enterprise, then careful planning should be undertaken to ensure that not only will the new oven fit into its intended place, but also such things as staff movements and placement, and whether the oven is be able to be used without causing obstructions to main thoroughfares in a busy kitchen.
Finally, any seller on eBay should be more than willing to answer any questions the buyer may have prior to purchase. The consumer should remember that customer ratings are very important to sellers, so a supplier should answer any questions the buyer may have and even publish additional photographs if need be.