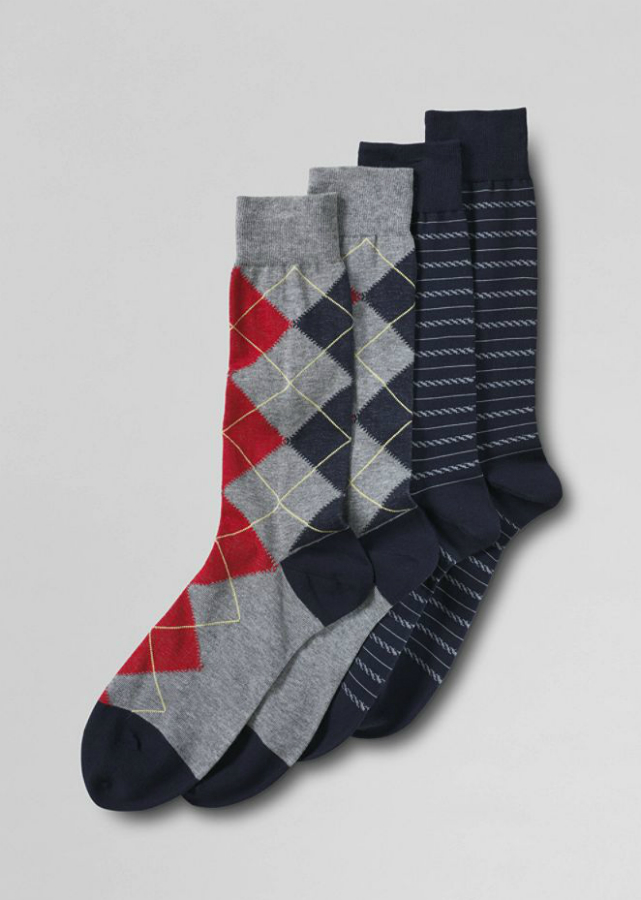 Historians have discovered that socks were first worn by Egyptians as far back as the third century AD. For centuries, manufacturers produced socks to cushion the feet against constant pounding and prevent the type of moisture buildup that causes blisters and bacteria growth. It was not until the 18th century that manufacturers began to experiment with different types of sock colours, mostly in an attempt to heighten the visual appeal of men's formal wear. Continued experimentation finally led to the development of patterned socks, which are the most difficult type of socks for men to match with the rest of their wardrobes.
Men can find patterned socks in the men's clothing section of large department stores or at shops that specialise in selling men's clothing. The best deals on patterned socks may be on the leading online auction site, eBay. Inexperienced shoppers should consider argyle socks, since they represent the easiest type of pattern to match with a wide variety of clothing styles. Nonetheless, before any man jumps into the complicated patterned socks water, he needs to review how to buy socks, the materials used to produce patterned socks, and how to match patterned socks with other types of clothing.
A Review of Buying Men's Socks
Most men treat buying socks as a mundane, yet necessary, part of selecting a wardrobe. Before men consider which type of patterns to mix and match with their sock collection, they should first review some standard sock buying precepts.
Shoes
Take an inventory of every pair of shoes that can potentially be worn with a pair of patterned socks. This means eliminating most trainers and sandals. Pull out the pairs of patterned socks currently owned and begin to match patterns with shoe design and construction. Most men discern that a bright pair of multi-coloured polka dot socks do not go well with a pair of supple brown leather dress shoes. Blue and yellow patterned socks may be worn with black dress shoes, and light brown patterned socks complement darker casual wear shoes.
Purchasing
Utilise the professional acumen of a men's shoes salesperson. Most large department stores employ at least one shoe expert in their men's clothing section. Brick and mortar shops that specialise in selling men's shoes are even better options for receiving shoes and sock expertise. Men's shoes salespeople provide accurate sock measurements for corresponding shoe sizes. Moreover, these professionals possess a trained eye to match patterned men's socks with shoe types and styles. Even if a man wants to purchase patterned socks online, he should at least make one visit to a brick and mortar shop to learn more about buying patterned socks.
Bargains
Most brick and mortar shops run sock promotions, especially for sock styles that have fallen out of favour with men. These shops typically bundle patterned socks, and they may also bundle patterned socks with specific shoe brands. Men can also find sock discounts online at eBay. Some eBay sellers offer discounted socks because they either bought the wrong size or changed their minds about the type of pattern. Since socks are relatively cheap, many men make impulsive purchasing decisions that turn into unused socks that sit at the bottom of a dresser drawer.
Bulk
Patterned socks mostly fall in the dress shoe genre, and thus, cost more than most pairs of casual socks. Price should not deter men from buying patterned socks in bulk. As with other types of socks, men can count on patterned socks lasting a long time. Therefore, buying multiple pairs of socks, especially during sales, allows men to avoid the mundane sock buying process for a few years.
Recommended Materials for Patterned Men's Socks
A man can possess an uncanny eye for matching patterned socks with his wardrobe, but purchasing a pair of perfectly matched patterned socks means nothing if the socks do not provide comfort. The feet work harder than any other part of the body because they wear the entire weight of the body. Feet sweat, and socks that do not absorb and expel moisture can cause fungus growth and other foot health issues, such as painful blisters. Many men mistakenly believe cotton socks provide excellent breathability properties. However, cotton tends to stretch and flatten when it become moist, which reduces the amount of cushion a pair of socks provides to the feet. Men should avoid cotton socks to ensure that their feet remain dry and healthy. They should consider other patterned sock material options.
Wool Socks
As an excellent moisture-repellent natural fibre, wool is sometimes given a nylon coating to extend its product life. Wool provides superior insulation from the cold, and it absorbs up to 30 per cent of its weight in water before the feet begin to dampen. Some manufacturers knit loops inside of wool socks to improve the ventilation required to transport sweat from the feet to the air. Most foot experts agree that wool provides more moisture absorption qualities if it is blended with synthetic fabrics.
Alpaca Socks
Alpaca is a synthetic fibre that manufacturers can alter so that it is stronger than wool. The hollow-cell construction insulates feet from extreme cold and heat. Since Alpaca fibres resist compression, socks made with this material can absorb above average amounts of moisture. In addition, the very smooth material reduces friction between feet and the ground, which also reduces the incidence of blisters, especially the blisters that form on the heel and around the sides of feet.
Acrylic Socks
Acrylic is a lightweight, man-made material that provides both softness and warmth. These high-durability socks possess the capability to retain bright colours, which makes acrylic a popular material choice for argyle socks. Acrylic dries quicker than any other material used to produce socks, and it provides the type of resilience that prevents long-term compression. Men should consider acrylic socks since this material expels moisture straight from the feet, instead of absorbing moisture and allowing it to build up within the socks.
Polyester Socks
As hydrophobic fibres that possess high durability and the capability to hold most colours, polyester is often blended with other fibres to maximise the material's effectiveness. Four-channel polyester is a special fibre blend that increases the movement of perspiration from the foot to the sock to the air. This type of fast drying is referred to as wicking, a concept that men must be familiar with when they buy any type of socks.
Coolmax Socks
Coolmax is a trademarked, four-channel polyester blend that promotes fast drying. However, some men have reported that their feet feel a bit warm after wearing Coolmax socks for lengthy periods. Coolmax-produced patterned socks should be worn for fewer than six hours at a time and washed immediately after wear.
How to Match Patterned Socks with Men's Wardrobes
The overwhelming combination of colours and styles make it difficult for men to buy the right pair of patterned socks. Moreover, many men perceive buying socks as the most trivial part of the wardrobe buying process. Men can defeat both barriers to buying the right pair of patterned socks by being serious about shopping for socks and understanding how to coordinate colours and patterns with other articles of clothing.
Patterned Socks Matching Guidelines
As with most types of socks, men should first match patterned socks with the type and style of shoe that blends the patterns, instead of loudly displaying the colours and designs. Patterned socks should present a flawless visual from the collar of a shirt to the tip of a shoe toe. Choose a colour pattern that blends or contrasts with a suit. If a man wears a dark blue or black suit, he should consider darker sock patterns to blend with the suit, or brighter yellows and reds to contrast with the suit.
Adventurous men can match sock patterns with a shirt, tie, or pinstripes. For instance, a man can wear a darker suit, a red tie, an off-white shirt, and a subtle pair of dark red argyle socks that include secondary colours, such as light blue and dark yellow. Men who attempt to coordinate multiple articles of clothing with their patterned socks should consult with a men's shoe and sock professional who works in a men's clothing shop. The salesperson may suggest such out-of-the-box combinations as a tweed jacket and earth-coloured pattern socks. Some online men's clothing shops offer an application that allows men to mix and match patterned socks with other articles of clothing until they come up with their optimal combination.
Men's Argyle Socks
Argyle socks have historically been the most popular style of patterned socks. This type of patterned sock became popular in the United Kingdom and the United States shortly after World War I. Manufacturers design and construct Argyle socks with diamond or lozenge patterns. Most argyle socks contain layers of overlapping designs that present a uniform appearance. Uniformity is a key concept in establishing a more conservative look. The overlay typically consists of intercrossing diagonal lines on solid diamonds. Men who are shopping for patterned socks for the first time, or do not have much experience matching patterned socks with other articles of clothing, should consider buying argyle socks. The consistent patterns provide men more room for error in selecting colours and designs.
Buying Patterned Men's Socks on eBay
The patterned socks shopping experience begins on eBay when men input a few keywords into eBay's search engine. Men have two options for finding the right patterned socks. They can either search within eBay's categories or type specific keywords into the search engine, which reduces the number of search result pages. For instance, typing "men's red argyle socks" or "patterned men's socks" reduces the amount of time you spend on an eBay seller search. Once you find a seller that meets your purchasing criteria, navigate to the seller's product page to review delivery terms and accepted payment methods.
Men should seriously consider buying patterned socks from eBay's Top-Rated Sellers. These sellers have established strong reputations for selling superior quality products and offering generous return policies. A seller's return policy may make the difference between you making a bid or moving on to other sellers. Return policies for patterned socks should span at least 14 days. You can also review seller customer feedback on seller product pages. Look for sellers who have earned positive feedback for the past year and preferably have some experience selling men's dress socks.
Conclusion
Men should always place functionality above fashion when they shop for socks. A durable pair of socks can provide the amount of cushion needed for feet to absorb the countless blows they take during a typical day. Socks also assist in the moisture evaporation process, thus preventing feet from receiving blisters or growing harmful bacteria. Virtually every pair of contemporary socks possess the type of functionality that supports and comforts. Therefore, sock manufacturers differentiate their socks by the designs used to produce the socks. Choosing the right patterned sock to match other articles of clothing present most men with a difficult decision.
Fortunately, men have options to ensure that they choose the right types of patterned socks for their wardrobes. Brick and mortar sales professionals have the expertise and trained eye to coordinate patterned socks with the designs of suit coats, trousers, ties, and shirts. Online men's clothing shops provide men with an application that calculates the right patterned socks for the articles of clothing input into the application. Men can always take the safe route and buy uniformly designed argyle socks, but with the introduction of more flamboyant patterned socks every year, men should learn as much as they can about how to match patterned socks with other types of clothing.