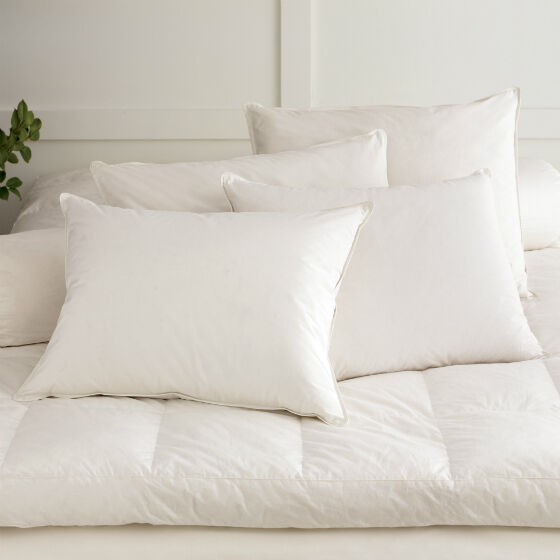 Pillows for a bed function to provide a quality night's sleep as well as add to the overall decor of the room. Shapes, sizes, colours, and quality of pillows can vary greatly, so shopping for just the right pillows can be a bit of a challenge. With so many choices, shoppers might have a hard time determining which pillows will best suit their needs. Knowing what to look for before heading to the shops is essential to finding the best deals and cutting down on the time taken in shopping for pillows.
Before heading to the store, shoppers should know how much they are willing to spend. From there, shoppers need to evaluate the types of pillows and choose the ones that meet their needs based on fillers, and firmness or softness. Since pillows don't last forever, it is important for shoppers to choose pillows that can be easily cared for so that they can get the most use out of them. Whether shopping for a quality down pillow for a restful night's sleep or a small throw pillow to accent the bed, shoppers will find everything they need on eBay.
Set the Pillow Budget
Pillows, like any other item, can range considerably in price. Shoppers will find that some pillows are relatively inexpensive while others cost way more than they'd ever be willing to spend. Those shopping on a small budget can find pillows for only a few pounds that serve their purposes just fine. Shoppers looking for top quality pillows will find that pillows can cost over 100 pounds. In order to avoid spending too much on pillows or being discouraged with the pickings, shoppers need to set the budget for pillows before shopping. They should also have a good idea about the type and number of pillows they'll need for the bed.
Throw Pillows vs. Bed Pillows
When shopping for pillows, it is important for the shopper to identify which types of pillows they'll need for their beds. Different pillows have different purposes, and shoppers should invest in the types of pillows that will meet their needs, rather than the type that is the most attractive. Throw pillows are used for decoration, and don't provide the necessary support for a comfortable night's sleep. Head, neck, and body pillows provide a restful night's sleep, but might not do much to liven up the decor of the room.
Choosing Throw Pillows
Shoppers who want to decorate their beds or add decorative accents to their bedrooms should consider throw pillows. These pillows are usually smaller, come in a variety of shapes, and have decorative outer coverings. Choosing pillows in several sizes and shapes adds interest to the bed to make it more visually attractive. When chosen carefully, accent pillows can tie the decor of the entire room together. Unfortunately throw pillows are not designed for sleeping. They are usually not large enough to offer support for the head and neck. Also, they are harder to clean due to their decorative outer coverings.
Choosing Pillows for the Head and Neck
Shoppers looking for a place to rest their heads should shop for standard bed pillows. These pillows are usually rectangular in shape and measure 51 cm in width by 66 cm in length. Other sizes are available depending on the type of pillow. Continental pillows are square in shape and provide less cushioning around the head. Continental pillows measure 41 cm on all sides. The largest pillows are known as king pillows. These oversized pillows provide maximum coverage around the head and are designed to be used with king sized mattresses. Measurements for king pillows are 51 cm in width by 91 cm in length. Specialty pillows that are designed to provide extra support to the head and neck often have smaller dimensions and different shapes.
Choosing Body Pillows
Side sleepers and those who require cushion and support for parts of the body other than the head and neck should consider body pillows. These pillows are very long so that they can provide head and neck support on one end and support all the way down to the knees and legs along the side. Body pillows are more than twice the length of a standard bed pillow and measure 40 cm in width by 140 cm in length. Pregnant women who are having trouble adjusting to side sleeping should try a body pillow or wedge pillow to provide extra support to their growing bellies.
Consider Pillow Filling Options
The filling of a pillow is perhaps its most important feature. The pillow dictates how soft or firm a pillow is, its hypoallergenic and therapeutic qualities, and how long the pillow will last. The type of filling also affects the price of the pillow. While the filling options might not be as important for throw pillows, these fillers should be considered carefully when shopping for head and body pillows. The table below lists and describes some of the most common fillers used in pillows.
| Filling | Description |
| --- | --- |
| Polyester Fibre | Most common type of pillow filling; inexpensive; synthetic material that is free of allergens and odours; holds shape to provide support to the head, neck, and shoulders; needs to be laundered regularly |
| Memory Foam | Made from synthetic materials; cushion allows for even weight distribution across the head and neck; conforms to the shape of the user's head; has ample air circulation, so dust mites and microbes can't survive; hypoallergenic |
| Gel Fibre | Type of polyester filling; extremely soft and cushy; don't lose their shape over time; easy to care for; do not provide much support for the head and neck due to their softness |
| Feathers | Also known as down pillows; filled with soft feathers from ducks and geese; work as an insulator to keep the head warm; very durable and are able to retain their shape for a long time; have a longer lifespan than synthetic pillows |
| Buckwheat | Filled with hulls from buckwheat; provide relief for those suffering from migraines, snoring, and neck pain; have ample airflow to keep the head cool during sleep; can be cooled in the freezer or warmed in the microwave to achieve a more comfortable temperature for the sleeper |
Polyester fillers are the most common and the least expensive. They are also available in a variety of densities depending on the type of polyester filling used. For this reason, they are useful for most people. Unfortunately, their lifespans are not nearly as long as pillows filled with down feathers. When deciding between the two, price is usually the determining factor. Other pillow fillings have specific uses, and shoppers may choose memory foam, gel fibre, or buckwheat depending on their specific sleep needs.
Firm vs. Soft Pillows
The firmness of a pillow can have a huge effect on the quality of a person's sleep. Many people don't know whether they need a soft or a firm pillow and choose the softest one thinking that it will be the most comfortable. This is true for back and stomach sleepers. The soft pillow cradles the head without putting the neck in an awkward position or forcing it out of alignment. Stomach sleepers should stick with a soft pillow, but back sleepers can choose between soft and medium pillows depending on their personal comfort levels.
Side sleepers get better sleep with a firmer pillow. A firm pillow provides ample support for the neck to reduce strain and soreness. Firm pillows have the ability to keep the spine aligned by filling the space between the neck and the pillow.
Care for Your Pillows
A pillow needs to be cleaned and fluffed on a regular basis to ensure that it provides a restful night's sleep for many years. Some pillows can be washed in a washing machine while others need to be hand washed or dry cleaned. A shopper should be sure to check the care instructions prior to purchase to ensure they'll be able to care for the pillow properly. If not, the lifespan of the pillow will be drastically shortened. The care instructions for a pillow vary depending on the type of filling it has and other materials it is made from. It is important that a washable pillowcase or cover be used with pillows to protect the outer cover of the pillow and extend the life of the pillow.
Washing pillows removes dead skin cells, dust mites, and other spots from the outer covering and the inner filling. This is important for health reason, especially for those who suffer from allergies or have breathing problems. Putting pillows in the dryer on low heat helps to remove any other dust mites and bacteria. Additionally, the dryer fluffs pillows to help them return to their original shapes.
When to Replace Pillows
Lower quality pillows have a lifespan of about two years. After this point they may not hold their shapes well. Additionally, pillows made from polyester fibre filling offer a good habitat for dust mites, so they should be replaced after two years for reasons of hygiene. Pillows made from down feathers or other high-quality materials might have longer lifespans. It is important to care for them properly to ensure that they can achieve their maximum lifespan. Users should examine their pillows for lumps, flat spots, and fluffiness to determine if their pillows should be replaced sooner.
How to Buy Pillows on eBay
Use the search bar to perform a basic keyword search for the type of pillow you're looking for. A simple search for a buckwheat pillow returns all of the listings that contain those keywords. This saves you the time of having to sort through different categories and select each feature individually. Additionally, the Advanced Search feature allows you to perform a refined search when you are looking for something very specific.
Selecting a Seller
Once you have narrowed down your search to a few pillows that you're interested in, be sure to check out each seller to see what kind of reputation they have. The seller's feedback score and total number of transactions completed are displayed in each listing for easy viewing. Sellers who have provided great service to their customers time and again are recognised as Top-Rated Sellers. This feedback system is in place so that buyers have the ability to rate sellers and the quality of service they provide.
Conclusion
The right pillows for a bed are crucial for a person to get a good night's sleep. Pillows come in a wide variety of shapes, sizes, and densities. While some bed pillows are designed simply for decoration, many are designed to provide comfort and support to a person while they are sleeping. Determining which type of pillow is needed can be difficult because there are so many different pillows to choose from. Because of the variety of prices, shoppers should know how much they're willing to spend prior to heading to the store. Then they will be able to choose a quality pillow that bests suits their needs without breaking the bank. When choosing a pillow, shoppers need to base their purchase on their own unique needs and sleeping habits. Investing in pillows that provide the right amount of support for their heads, necks, and bodies ensures that they will be well rested night after night. To find a large selection of pillows without having to travel to several shops, people can shop online from the comfort of their own homes, on eBay.