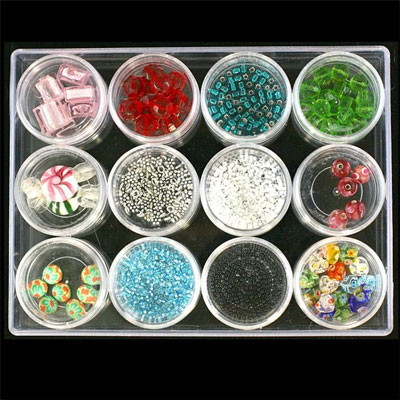 From jewellery making to hair braiding, beadwork dates back many centuries and has remained popular throughout the years. Plastic beads are widely used in arts and crafts. They are well suited for everything from children's crafts to more intricate beadwork. Plastic beads are used in a number of different applications and they are available in a wide array of colours, shapes, and sizes. The types of plastic used varies, ranging from hard to soft. The texture also varies depending on the purpose of the beads. Plastic beads are affordable, durable, and versatile.
Plastic beads are available in different types for different purposes. Spacer beads are the most common type and are usually very simple in design. Accent beads are unique in their appearance and are used more sparingly, often when detail is required. End beads, as their name implies, are used to hold the beads in place once a project is complete. When purchasing plastic beads for making crafts at retailers such as eBay, buyers should consider the various types of plastic used to make the beads, familiarise themselves with the various features of beads that distinguish them from each other, and learn how to differentiate the types of beads.
Types of Plastic for Making Beads
There are various types of plastic used for making beads. Each type differs in weight, appearance, and overall cost. When searching for the best type, buyer should consider the type of craft that the beads are used for. The most popular types of plastic used for beads are shown in the table below along with their characteristics.
Type of Plastic

Characteristics

Lucite

Very refined and more expensive than other types of plastic

Developed in 1931

Popularly used to make beads following the end of the Second World War

Has a soft lustre and is often translucent

Easier to use for fine jewellery than other types of plastic

Resin

Set into a mould while in liquid form

Often has detailed shapes

Diverse and well suited for accents for designs

Bakelite

More traditionally used in the early 1900s

Often carved and inlaid with other colours

Catalin, a specific type, can be used in fine jewellery

Has a formaldehyde smell when run under hot water or in hot conditions

Acrylic

Commonly used for plastic beads

Looks like glass
Unlike Bakelite, lucite, resin, and acrylic do not have a distinct odour when subjected to heat. So they displaced Bakelite in the 1950s.
Features to Consider when Buying Plastic Beads
When purchasing plastic beads for making crafts, buyers should consider the various features that they have. The beads' overall appearance can help buyers to narrow down the right type for the intended application.
Colour of Plastic Beads
Plastic beads are available in a wide array of colours, ranging from bold primary hues to softer pastels. They can also be found in muted earth tones, as well as neon colours and clear plastic. The range of colours allows buyers to find the right shade for any craft project.
Shape of Plastic Beads
The shape of plastic beads is only limited by the manufacturer's imagination. Plastic beads are easily manipulated when they are made. Therefore, they are crafted without difficulty into multiple forms. From simple round beads to intricately designed butterflies and flowers, buyers are able to find plastic beads shaped to fit any design.
Texture of Plastic Beads
Plastic is often set in a mould, making it easy to add texture to the beads. Although smooth plastic beads are often preferred, texture can further distinguish some beads from others, giving them a unique surface. Textured beads may be indented or raised.
Size of Plastic Beads
Plastic beads vary in size. Smaller beads may be better suited for dressmaking and intricate beading projects, while larger beads are often used for scrapbooks and children's crafts. The size of the beads, as well as the quantity of beads used, heavily influences their weight. Most plastic beads, when used for making crafts, are made between four millimetres and eight millimetres in diameter. However, beads can be found easily in an array of sizes outside of this range.
In addition to the size of plastic beads, buyers should consider the size of the hole in the middle of the bead. Beads are attached by threading through the hole. The size of the hole varies according to the type of bead. So, this limits the type of material that can be used to string the beads together. Also, the placement of the hole on the plastic bead can influence the way that the bead looks when attached.
Characteristics of Plastic Beads
It is often difficult to distinguish a plastic bead from a glass bead. However, by becoming familiar with the properties of each type, buyers can be better able to differentiate between the two.
Hardness of Plastic Beads
Although there are varying degrees of hardness, most types of plastic are softer than glass. So, plastic beads are typically used for clothing because they offer greater comfort, especially when used on areas where the wearer is likely to sit or lie.
Texture of Plastic Beads
In addition to hardness, the texture of the bead can indicate the type of material used in its creation. Plastic beads are more porous than glass. Therefore, their surface is not as smooth to the touch.
Weight of Plastic Beads
The total weight of a plastic bead is dependent on the type of plastic used to make it, as well as whether it is hollow. At their heaviest, plastic beads weigh less than those made of glass. The beads' weight alters the way in which it dangles. When working with a large quantity of plastic beads, buyers should consider the type of beading cord or wire used. The beading cord or wire should be strong enough to support the weight of the beads.
Heat Resistance of Plastic Beads
Plastic beads are not as heat resistant as their glass counterparts, making them highly susceptible to heat damage if exposed to high temperatures. This means that plastic beads should be avoided when working with craft beads that may be exposed to heat treatments such as soldering or sculpting with polymer clay as this can cause the plastic to melt or change colour.
Buying Plastic Beads for Making Crafts on eBay
eBay has a wide range of plastic beads available, from small round beads to large plastic heart shaped versions. These plastic beads can be purchased either new or used. Buyers should start their search on the eBay home page and type in any related keywords into the search box. If you do not exactly know what kind of plastic bead you require, then you can start with a general search, such as "plastic beads" and then get inspiration from the list of related searches that you are offered once you receive the initial results. All of the results can be sorted by price in order to find items that fit your budget. Alternatively, buyers can use eBay's advanced search feature to narrow the results by price or condition.
When purchasing plastic beads, buyers should read the description of the beads and look at all of the available photos. If the plastic beads are used, then buyers should look for signs of wear, including discolouration and deformation from being exposed to excessive heat. These imperfections can prevent the buyer from using the beads for making crafts. If there is any doubt, buyers can ask the seller for more information or more photos by contacting them via the "Ask a question" link.
Buy with Confidence
Before finalising any purchase, investigate the seller thoroughly. On eBay, this is simply a matter of reading a seller's feedback comments and checking their rating. Sellers with consistent positive feedback are recognised by the eBay community for their high levels of customer service. These sellers are known for being reliable in their listings. Many have "Top-rated seller" badges which are meant to help buyers to find the best sellers.
Conclusion
Plastic beads are popularly used in arts and crafts. Whether making jewellery, decorating furniture, or embellishing clothing, plastic beads are a versatile accessory. Since the advancement in manufacturing, plastic beads have displaced their glass counterparts, although the two are often indistinguishable. However, plastic beads can be recognised by their light weight and porous texture.
When purchasing plastic beads, buyers should consider the various types of plastic. Each type varies slightly in weight and hardness. Buyers should also bear in mind the type of craft they will be engaging in. The texture, colour, and shape of the plastic beads should all be appropriate for the particular application. The size of the beads should be proportional to the craft, so the beads should not be too large or too small. Buyers may decide to use smaller beads for bracelet making or embellishing an item of clothing and larger beads for making a necklace. With so many plastic bead listings to choose from, eBay can help every buyer to find the perfect style for making crafts.