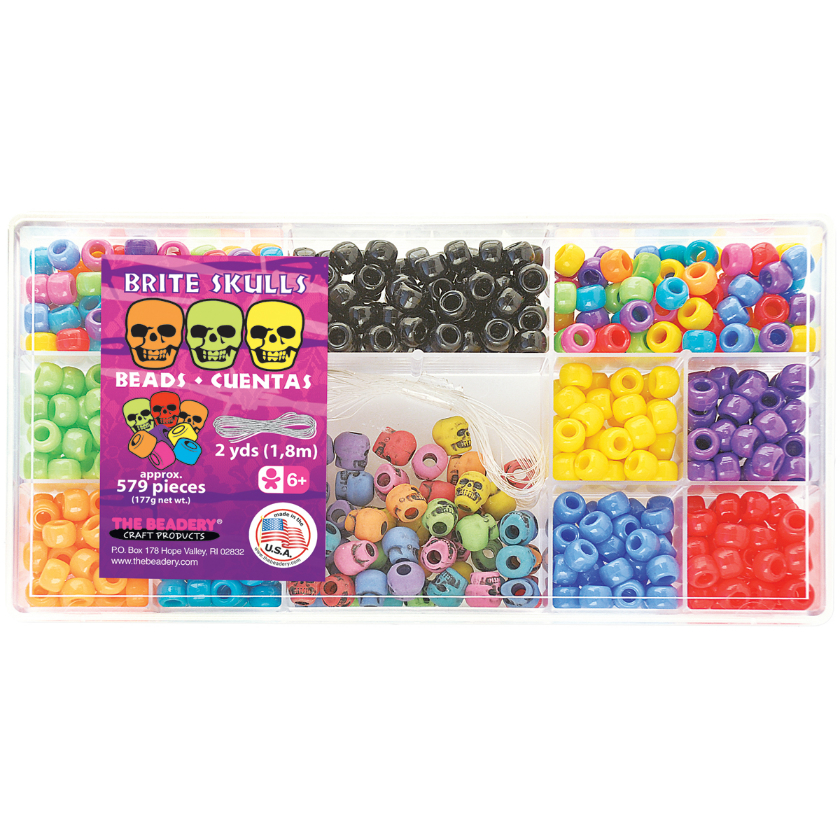 Beadwork has been a popular pastime for many centuries. When used for creating jewellery, plastic beads can take many forms. Buyers may incorporate the beads in loom and off loom weaving, stringing, embroidery, crochet, or knitting. Plastic beads are available in various designs, sizes, and colours. This allows for much creativity. Plastic beads also come in different types of plastic that vary in their malleability and texture. The material they are made of makes plastic beads ideal for everything from children's jewellery to more intricate designs. Plastic beads are known for their durability and versatility. They are also affordable.
Plastic beads vary by type and can include spacer, end, and accent beads. Each type of bead best suits a specific application. Plastic spacer beads are simple in design. They are the main component of jewellery. Plastic end beads are used to secure the beads in place once the jewellery is complete. Plastic accent beads are unique in their appearance. They are used sparingly to add some interest to the detail on the jewellery. When purchasing beads for making jewellery at retailers such as eBay, buyers should consider the various types of plastic used to create the beads, learn how to differentiate plastic beads from other materials, and familiarise themselves with the various features of plastic beads.
Types of Plastic Used for Beaded Jewellery
There are various types of plastic beads used for making jewellery. Each type differs slightly in weight, appearance, and overall cost. When searching for the best type, buyers should consider the type of jewellery that they will be making with the beads.
Lucite for Beaded Jewellery
Lucite beads tend to be more expensive than other types of plastic bead. These beads were developed in 1931 and became popular after the Second World War. When used to make beads, lucite has a soft lustre and is often translucent. Lucite beads are best used for making fine jewellery.
Resin for Beaded Jewellery
Resin is often used to create plastic beads. The resin is set into a mould while it is in liquid form, allowing the beads to take on intricate shapes and details. Resin, when used in the creation of beaded jewellery, is well suited to accent pieces.
Bakelite for Beaded Jewellery
Bakelite was more frequently used in the early 1900s to create beaded jewellery. The material has a formaldehyde smell when run under hot water. Bakelite also tends to emit a distinct odour when it is exposed to sunlight. So, this type of plastic went of fashion in the 1950s and is rarely used today. However, Catalin, a specific type of Bakelite, is still found in fine jewellery. Bakelite beads are often carved and inlaid with other colours.
Acrylic for Beaded Jewellery
Acrylic is a commonly used material for plastic beads. This material is often preferred as it mimics the appearance of glass beads, while still maintaining the much sought after characteristics of plastic.
Characteristics of Plastic Beads
It is often difficult to distinguish a plastic bead from a glass bead. However, by becoming familiar with the properties of each, buyers can differentiate between the two.
Hardness of Plastic Beads
Most types of plastic are softer than glass. Plastic beads vary in their level of hardness depending on the material that they are made of.
Texture of Plastic Beads
The texture of the bead can indicate the type of material used for its creation. Glass beads are less porous than plastic beads. This means that glass beads have a smoother texture than their plastic counterparts.
Heat Resistance of Plastic Beads
Plastic beads are not as heat resistant as glass beads, which makes them highly susceptible to heat damage if exposed to high temperatures. So, plastic beads should be avoided when working with craft beads that may be exposed to heat treatments, such as soldering or sculpting with polymer clay, as this can cause the plastic to melt or change colour.
Weight of Plastic Beads
Each type of plastic varies slightly in weight. The weight of the bead can affect the way that it hangs from jewellery, so bead weight is an important factor to consider. Whether or not the plastic bead is hollow also influences the bead's overall weight. In general, plastic beads weigh less than those made of glass, regardless of the type of plastic that they are made of. The overall weight of the final piece of jewellery helps to determine the type of bead wiring used. Heavier jewellery should be held together by wiring that can carry sufficient weight.
Features to Consider when Buying Plastic Beads
When purchasing plastic beads for making jewellery, buyers should consider the various features that the beads offer. The overall appearance of the beads can help buyers to narrow down the right type for a given application. Popular features to consider are given in the table below.
Feature of Plastic Beads

Description

Colour

A wide array is available

Ranges from simple reds and blues to more intricate multicoloured hues

Shape

Only limited by the manufacturer's imagination

Easily manipulated during the manufacturing process

Multiple forms crafted without difficulty

May be simple round shapes or more intricate hearts and flowers

Texture

Easy to add texture to plastic beads as they are often set in a mould

Smooth plastic beads are often preferred

Use to distinguish one type of plastic bead from other

May be indented or raised

Size

Varies

Influences the weight of the jewellery when considered with the quantity of plastic beads

Size of hole in the plastic bead should be considered as it limits the type of material that can be used to string the beads together

Placement of the hole on the plastic bead influences the way that the bead looks on the jewellery
Most plastic beads used for making jewellery are between 4 and 8 millimetres in diameter. However, beads can be found in a wide array of sizes outside of this range with little difficulty.
Buying Plastic Beads for Making Jewellery on eBay
If you want to buy plastic beads for making jewellery on eBay, it is easiest to start browsing the beads by typing "plastic beads" into the search box that is visible at the top of every eBay page. If you have a more specific idea of the kind of plastic beads that you desire, then you can also include these keywords in your search. For example, you could include the material or colour: "pink flower plastic beads". However, if you are unsure of the specific type of bead needed, then you can browse through the listings that resulted from the wider search.
In order to narrow the results, you can sort them by price or condition. This option is useful if you have a budget in mind or if you are happy to use beads that may have been used for a previous project. This may be a good way to find rare or unusual plastic beads. You should pay close attention to the details in the item listing and ask the seller if you have any questions about the plastic beads. The seller can be contacted directly by using the "Ask a question" link. By choosing Top-rated sellers with positive feedback and high ratings, you can be sure that you are getting the best service. Top-rated sellers are recognised by the eBay community for their high levels of customer care and reliability.
Item Specifics
Sellers must use standard terminology to describe the condition of their items, as outlined in eBay's guidelines. Every listing includes a brief definition of the item's condition in the Item Specifics section. Buyers should pay special attention to this condition as it offers information about the beads' ability to function as intended. Most beads can be found in a new condition at an affordable price. The item listing should also indicate the quantity and colour of plastic beads available within a single transaction. Buyers may choose to contact the seller if this information is not readily available.
Conclusion
Plastic beads are available in large quantities on the eBay website. The small cost of plastic beads, along with their versatility, makes them the ideal material when it comes to jewellery making projects. When searching for plastic beads for making jewellery, buyers should consider the beads' features. The size of the beads and the size of the beads' hole can affect the appearance and functionality of the beads greatly when used for making jewellery. The shape of the plastic beads should also be taken into account. All of these features affect the jewellery's final weight and dimensions.
In addition to the features of plastic beads, buyers should consider the type of material that the beads are made of. Resin beads are often preferred for their intricately detailed designs, while acrylic beads are a favourite because of their glass-like appearance. Whether creating a necklace, earrings, or bracelet, with so many plastic beads available on eBay, buyers are sure to find the perfect beads for making jewellery.