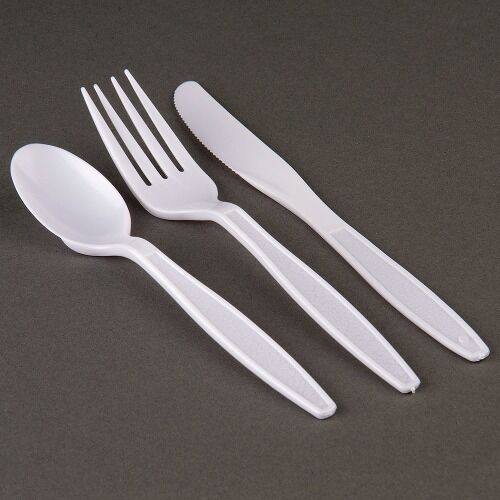 There are many uses for plastic cutlery – it is ideal for parties, children's meals, and outdoor use. Plastic cutlery can be used to prepare, serve, and eat food, and is also available in a variety of designs, so it can also be used to decorate the picnic table. Plastic cutlery can be bought very cheaply, from websites such as eBay, and traditional brick and mortar stores.
About Plastic Cutlery
Plastic cutlery was originally designed to be used just once and was then thrown away. These days we are all more environmentally conscious to the extent that plastic cutlery is now washed after use and is used again at a later date. It is popular for al fresco eating, for example, at barbecues and picnics, as it reduces the amount of washing up and can be taken to the venue easily without taking up much space in a vehicle, plus it is extremely light when carried in a cool bag or rucksack. Plastic cutlery has become quite popular, and it is now used by fast food restaurants, by people taking a packed lunch, and by individuals that are catering for large numbers of people, perhaps at a party.
Contents of Plastic Cutlery Sets
Plastic cutlery sets are usually quite basic and feature small-sized knives, forks and spoons. Throwaway versions are usually made of very lightweight plastic, and are not suitable for eating all types of food – for example, they may not be suitable for eating thicker meats, such as beef steak, as plastic knives are not normally strong enough to cut through it. Throwaway plastic cutlery usually comes in large packs, of 20, 50, or even 100 items. It is also possible to buy reusable plastic cutlery, which can be used to serve children's meals, and is also ideal for outdoor use, for example, on camping trips. Reusable plastic cutlery is often a little more expensive than disposable varieties, however, it is possible to quickly get the money back if it is used several times. Plastic cutlery can be more suitable for children's meals than traditional metal cutlery, as it is lighter to use and is unlikely to damage furniture or floor coverings if it is dropped.
Varieties of Plastic Cutlery Available
Traditional disposable plastic cutlery is normally made out of thin, white plastic. It is also possible to buy disposable plastic cutlery in different colours, such as black or clear. The cheapest disposable plastic cutlery is normally very thin and is not very strong, however, it is possible to buy thicker or stronger versions, which will cost slightly more. There is significantly more choice when it comes to reusable plastic cutlery. Many reusable sets are aimed at use by children, and have chunky handles and bright colours. They are often decorated with cartoon characters such as Thomas The Tank Engine, or Hello Kitty. Adult reusable plastic cutlery also comes in a variety of different colours, including white, black, neon colours, and even silver to imitate metal cutlery.
How to Buy Plastic Cutlery
Buying plastic cutlery might seem simple, however, there is more to consider than just colour. Be sure that the cutlery picked is suitable for its intended purpose and is worth its asking price. If the cutlery is for use at an event, also buy enough plastic cutlery for everyone attending - as it can be bought very cheaply, and in large quantities, it is always better to buy more than less.
Considering Whether to Buy Disposable or Reusable Plastic Cutlery
The first thing that should be considered when buying plastic cutlery is whether or not it is intended for reuse. If the only purpose is for one time use at a party in order to save on washing up, disposable plastic cutlery should be sufficient. There is really no point in spending extra money on more expensive reusable cutlery if it will only be thrown away anyway. However, if a lightweight alternative to metal cutlery for a camping trip is desired, it is worth considering reusable cutlery, especially if such camping trips are frequent, or the cutlery is regularly needed at picnics or barbecues. Also, reusable cutlery can be washed while on the camping trip, which means that it is necessary to pack only one set of cutlery per person, saving space.
Considering Food Type When Buying Plastic Cutlery
Plastic cutlery is normally smaller than standard metal cutlery, and is never as strong. Disposable plastic cutlery is likely to be suitable for a buffet of mainly finger food with jelly and ice cream for dessert, however, it probably won't be suitable for a sit down meal of beef steak and jacket potato. If the food will require some cutting, consider buying slightly more expensive plastic cutlery, either reinforced disposable cutlery or reusable plastic cutlery, as there is less chance of the cutlery breaking while it is being used to cut food. Customers researching plastic cutlery on eBay should be able to find out from the listings what sort of food the cutlery is suitable for use with.
Considering Budget When Buying Plastic Cutlery
Budget is unlikely to be an issue when buying plastic cutlery as it can be bought so cheaply, however, when buying disposable cutlery keep in mind that the cutlery will be used once and then thrown away, so spending more is not really worthwhile. Although brightly coloured varieties may look more interesting, they are likely to cost a lot more than the traditional white plastic versions so consider carefully whether it is really worth spending the extra money for the sake of colour. Guests are unlikely to take as much notice of the cutlery as they are of the room decorations, and it may be worth spending the extra money on something to enhance the venue or the party itself.
Considering Appearance When Buying Plastic Cutlery
If the cutlery is to be used for a themed event, such as a Caribbean barbecue, perhaps try to reflect this in the choice of cutlery. Try to find cutlery in colours that suit the style of the event; similarly, choose cutlery that is decorated with a pattern that matches the theme. If the cutlery is to be bought for children, appearance is particularly important – meal times might be a lot easier if the child has cutlery with their favourite cartoon character depicted on it. This could help to encourage the child to eat.
Finding Plastic Cutlery on eBay
One of the best places to find plastic cutlery for a reasonable price is eBay. The site can also be extremely useful in showing all the different varieties of plastic cutlery that are on offer, and can provide a quick and easy method of purchasing the cutlery if something suitable is found. Finding plastic cutlery on eBay is simple – there are two options: either type 'plastic cutlery' in the search box on the homepage, which brings up a list of results, or, if more specific results are preferred, type in a phrase such as 'children's plastic cutlery'. Once the list of results is displayed, they can be scrolled through, or alternatively the list can be further cut down using the tick box system on the left hand side of the page – items displayed can be narrowed down, for example, to whether they are new or used, between a certain price bracket, and depending on which postage options are available. Another way to find plastic cutlery on eBay is to explore the category Party Tableware, which can be found by displaying all categories on the homepage, clicking on Home, Furniture & DIY, followed by Celebrations and Occasions, followed by Party Items & Supplies, followed by Tableware. Plastic cutlery for babies can be found by selecting Baby, followed by Feeding, followed by Plates, Cups and Utensils.
Conclusion
Plastic cutlery is available in disposable and reusable varieties, and can be extremely useful for parties, outdoor eating, and children's meals. Choose from a huge variety of different plastic cutlery, including different colours and designs, such as white, neon colours, and children's characters. Before buying plastic cutlery, consider whether the cutlery is to be reused, what food it is intended for, and also budget and appearance. Considering these factors can help to choose plastic cutlery that suits individual needs well. Using a website such as eBay can assist in research and make the choice between different varieties of plastic cutlery easier.