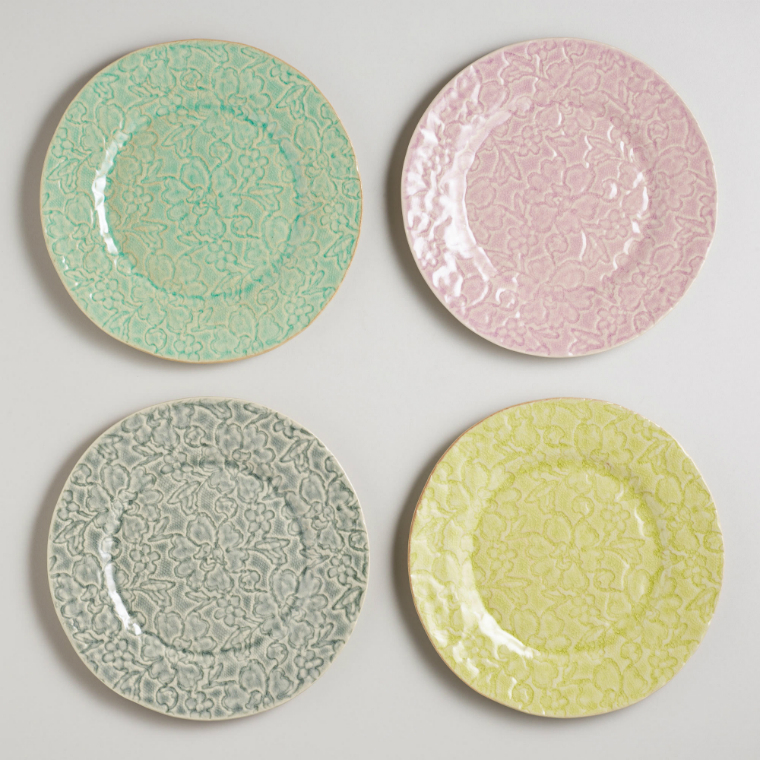 It would be a difficult meal time without a few key items, plates being one of the most important. Plates aren't only for dining, however, as they're very popular as decorative items and for other uses. Since their first use, they have slowly made their way out of the dining room to become important items all over the home.
About Plates
Plates have been used for hundreds of years, but didn't grab public popularity until porcelain began to be used in Europe in the 14th century. Developed and honed to become instruments of catering, plates quickly became the staple surface from which to eat. Plates number in their millions around the globe, from the smallest teacup saucer to the largest platter. From paper to porcelain, plates are a practical and often beautiful item from which to serve food from. The cultured history of plates has meant that today, there are thousands of different styles and hundreds of materials to choose from. Searching on eBay is a fantastic way to find the perfect plate for any occasion.
Choosing Plates
There are many factors to consider when searching for and purchasing a plate, from the function to floral pattern. Conducting the right research is essential to finding a great price and the right plate.
Type of Plate
Plates are used, mainly, for eating and as such there are a great many of plates for different types of food and stages of the meal. The main types of plates are listed below;
| | |
| --- | --- |
| Main | Mains plates are large, normally circular plates designed for the main dish of a meal. Most mains plates have raised borders and a slightly dipped middle, though some will simply have a slightly bevelled shape to achieve the same effect. It is very rare to see a completely flat mains plate, so help contain food with gravy or thin sauce. |
| Side | Side plates are much smaller, but follow the same pattern as mains plates. Used for sides, bread, or as starter courses; side plates from a set normally mimic the mains plate. |
| Serving | Serving plates are larger platters, designed to hold a large quantity of food from which people can be served or serve themselves. Serving plates vary wildly between styles, some have handles for easier carrying, but most are simply plates with a more dramatic bowl shape to protect and contain the food within. |
| Saucer | Saucers are some of the smallest plates made, designed for use with teacups. Saucers have a lowered section in the middle which is normally the exact diameter of the accompanying teacup's base, so as to easily carry it. Saucers also have raised edges to contain any spilled liquid, but they are also for the purpose of resting biscuits and other small snacks on. |
| Decorative | Whether through artwork or novelty souvenirs, plates are often made for the express purpose of being decoration. Wall plates are the most popular form, which hang on special brackets designed to house them, though there are decorative plates designed to be laid out on a display table or in a bureau or cabinet. |
Material of Plate
The material of the plate defines a lot of its uses, its appearance, and the maintenance involved. Many decorative plates are made from materials which couldn't ever be used for the purpose of eating and serving.
| | |
| --- | --- |
| Porcelain | Porcelain is a composite of fired earth materials, normally different types of clay. When treated at high temperatures, the materials fuse and become very hard. Despite being the earliest material that plates became popular with, porcelain is still the most common type of plate to be found. Porcelain plates, once finished appropriately, are very hard and can resist extreme temperatures. Most porcelain plates are finished with a glaze, for aesthetic and protective purposes. |
| Wood | Many serving plates are made from wood, though more as an aesthetic function rather than anything else. Wood must be sealed before being used with food, as it is a permeable material which can absorb material and encourage the growth of bacteria. Many decorative plates are made from wood; these can be left unsealed. When buying wooden plates on eBay, check to make sure that the seal is still strong and present to avoid the risk of any bacteria growth. |
| Glass | Glass plates are a very popular form of modern eating, though they have existed as decorative plates for many years. Advancements in modern glass making has made them strong enough to be used on a daily basis, as previously they were very brittle and vulnerable to high temperatures. |
| Plastic | Plastic plates are also incredibly common, especially for children's use. The light material which is both strong and rarely snaps presents a very low risk to children. For this reason, plastic is also the best material to use for temporary or picnic plates and bowls, as it can be transported much easier, and there is little chance of it breaking in transit. |
| Paper | Paper plates are popular for picnics also, but mainly serve as temporary, one-time use plates. Paper plates are not actually normally paper, though a type of card with a gloss finish. This finish protects the card from water absorption, which would make it unsuitable to eat from. It goes without saying that disposable plates should only be bought from brand new. |
Style of Plate
There are many different styles of plates, each designed to fulfil a certain function or aesthetic décor.
| | |
| --- | --- |
| Traditional/ Classic | One of the most traditional designs found on plates is the floral pattern. Whether this is a collection of flower prints, trees, or simply some vines around the raised edge of the plant; floral patterns are very popular even to this day. Other traditional designs include basic scenes of life and also oriental depictions. If buying used plates of this style, check the age and the condition of the item. |
| Minimal/ Modern | Modern plates are normally very minimalistic, doing away with the popular patterns of previous years. Modern plates are normally made from metal or glass, though high gloss porcelain is sometimes used. Modern plates normally have reduced shapes, so plates would not have the ridges and would instead simply have a gentle curve to fulfil the same end. |
| Novelty | Novelty plates are very common to see nowadays, with the popularity of children's televisions and characters. Other novelty plates might include those given as birthday presents with ages on them or simply themed for special occasions like Christmas and New Year. |
Choosing New or Used Plates
| | |
| --- | --- |
| Used | Used plates are very common to see on eBay, especially wall plates which are not used for dining. When buying a used plate, consider asking the seller for more photos or for details on the condition of the plate itself. Check for chips and scratches which can both impair the beauty of a plate but also represent a hygiene risk. Used plates are often cheaper, though a lot of people won't like the idea of eating from somebody else's plate. A good wash should normally suffice to eliminate any risks of this sort, however, don't let it discourage the search for some great used plates. |
| New | New plates obviously come without the headache of finding out the condition and history of the item. Remember to let new products air out for a while before use to reduce the scent of packaging and manufacturing. Expect to pay more for new plates, but the assurance of safety and originality is more than enough to justify this price. |
Finding Plates on eBay
From the eBay Home Page, click All Categories and then Pottery, Porcelain & Glass.. From this category, select Porcelain/China and click the appropriate Product Type in the left hand side navigation bar. A variety of options here include Side Plates, Cups & Saucers, Platters, Dinner Plates, and more. Plates can also be found in the Home, Furniture & DIY category. Clicking on Cookware, Dining & Bar and then Tableware, Serving & Linen will allow access to the Plates category. Whichever category plates are found in, the search results can be refined further by using the buttons on the left of the page. Toggling these on and off can filter results by Type, Material, Condition, Date, Manufacturer and more.
Conclusion
Choosing from the thousands of plates on the eBay marketplace is an exciting journey, made much easier with the information provided above. Hopefully with the research, it will be a much simpler affair to find the right plate for the task. Whether looking for the smallest saucer to complete the teacup set or the largest platter to serve a family of 8, eBay is the perfect place to find the ideal plate.