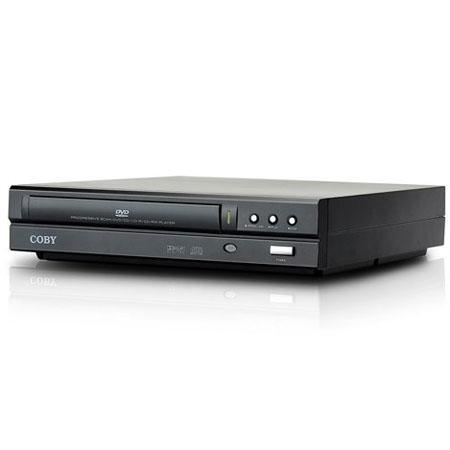 The portable DVD player is not new, but neither is it old. It is a continually evolving media format that provides great viewing and listening satisfaction to those travelling or to those who simply have to sit and wait for a while. The portable DVD player may not be the format of choice for home use, but it is of the utmost convenience when temporarily away from an AC power source. Being light and compact with a long battery life, the device far outperforms most comparable products when used for widescreen movie playback on the go. Not limited to DVDs only, the portable DVD player consolidates other media needs into one compact unit and is therefore a handy space-saving device.
These popular items are widely available, and eBay contains a comprehensive listing that customers should carefully consider when determining the best purchasing option. With many cheap players on the market today, a customer needs to be circumspect because less expensive may also mean a shorter operating life or could otherwise prove inadequate in the long term. The purchase of a high standard player from the outset may most likely give the most rewarding experience, and buyers should factor this into their purchasing decision.
Quality Equals Economy
The portable DVD player has been a popular item for quite a few years now, and current prices reflect that. Being so cheaply obtainable, it is easy to fall for a perceived bargain whilst oblivious to the impending doom. This electronics item is particularly prone to screen-related faults, which means its life likely comes to an untimely end within weeks after frequent use. It is recommended, therefore, that the buyer purchases a quality player that has been manufactured to the highest standards.
There are a few notable companies that produce great quality portable DVD players, Sony being a classic example. The customer should become wary when retailers select certain models and consign them to their bargain basement bin. They are usually the lowest-sellers, the poorest performing, or both.
Important Considerations
Before choosing a portable DVD player, a customer should note a few particulars about the players they have in mind. This pertains to weight, portability and convenience, durability, screen viewing angle, and screen size.
Size and Weight
The portable DVD player is available in various sizes that are designed to suit different purposes. Larger players usually operate on larger batteries, making the item both heavier and bulkier in shape. Smaller players with 15 to 18 centimetres screens that take smaller batteries are perfect for the highly mobile individual user. Such players are lightweight, compact, and come with headphones, which makes them ideal for daily commuters on public transport. The screen folds neatly, and the smaller size assists the mechanical sturdiness of moving parts. Being both small and light makes the player particularly convenient to carry and fit easily into a briefcase.
Screen Size and Viewing Angle
Children make up some of the most typical portable DVD users. This is because many families find this item particularly useful in keeping children occupied when on long road trips. An 18 cm screen is fine for the individual user who can view up-close, but for multiple users, a larger screen of between 23 and 30 cm is preferable. Moreover, the screens on some units are also more flexible than others, with a possible rotation of up to 180 degrees on some models. This may also assist in circumstances where there are multiple viewers.
Whether the player is mounted in a fixed position, or sits in different places during travel, all viewers need to be able to see the screen properly. Flat screens are notoriously problematic for side angle viewing, so a player with a wide screen viewing angle is essential to the satisfaction of all users. Screen viewing angles vary between different manufacturers and models and should be checked before making a purchasing decision.
Dual-Screen Players
Some portable DVD players have dual screens. This overcomes the problem of side viewing, and it is the perfect solution for two simultaneous users. In this case, the unit is divided between the DVD playing component and the monitors. A smaller screen size is usually adequate in this format as the screens can be handheld.
Anti-Skip Technology
The portable DVD player with anti-skip circuitry is more serviceable when used on the road as units with this built-in feature handle bumps more effectively than those without. This proves to be a significant advantage for the customer who travels extensively with their player.
Durability
Portable DVD players are designed to be moved about a lot, and so, they are made with some of extra padding to allow for the occasional knock, which is inevitable in the hands of young children. The amount of protection again depends on various manufactures and models, so the purchaser with children's use in mind should look for models with the sturdiest structures that can withstand some potential rough handling.
Power Usage
In portable DVD players, power consumption rises with screen size and resolution. Long-lasting, continuous play can be essential for road trips when isolated from a battery charger; some models, therefore, come with rechargeable batteries for the car, which is highly recommended for those with children and planned long trips.
Appliance Adaptability
One of the great selling points of the portable DVD player is its adaptability with other media. Like regular DVD players, the portable version is compatible with the CD Rom disc, and so can double as a portable music playing device. Many of the better versions of the player also include a USB connection and SD card slots, so MP3s can be played and JPEG photos displayed on the monitor.
Perhaps the best feature, however, is its ability to connect with TV, gaming machines, and video camera equipment. When connected to a HD TV, the playback quality is the same as any other DVD/TV configuration. It can be enhanced even further, however, if the unit has an S-Video, Component or digital outputs. Of course, all this means that it is not only perfect for travel, but just as perfect for the holiday destination itself.
Screen Resolution
The portable DVD player LCD screen is relatively small, and most range between 18 and 31 cm with some up to 41 centimetres. On screens this size, resolutions do not need to be as high as 1080 pixels to look sharp. This chart outlines the optimal screen size for each screen resolution. Some portable DVD players have 23cm screens with a resolution of only 480 x 234 pixels. Although this resolution provides an adequate picture on an 18 cm monitor, it is not recommended for the avid videophile.
| Resolution | Screen size |
| --- | --- |
| 480 x 234 pixels | 18 cm screen |
| 640 x 220 pixels | 18 to 23 cm screen |
| 800 x 480 pixels | 18 to 41 cm screen |
Picture quality does not improve with larger screens as higher resolutions need to accompany them. As of now, the highest resolution available is 800 x 480 pixels.
How to Buy Portable DVD Players on eBay
eBay has an extensive assortment of portable DVD players on offer at great prices. When you have done your research and ascertained the specifications you need in a player, a search on eBay should be easy. If you know the brand you want, you can make search-specific enquiries that narrow down your selection with a search request, such as "Panasonic portable DVD player&".
With new and used players available, each listing gives you most of the information you need. However, if you need more information or have any questions, then engage with the seller until you are satisfied with the answers. Furthermore, since there are both amateur and professional sellers on eBay, you should determine who you are more comfortable purchasing from while looking for your preferred portable DVD player. A professional seller likely represents a business and may have an eBay store. A seller's professional presence on eBay can sometimes help imbue buyer trust, but nonetheless, it is wise to review each seller's feedback and ratings score regardless of who they are. Lastly, always give first preference to a top quality brand that you are confident can deliver what it promises.
Conclusion
The portable DVD player has become a favourite item for many people on the go. Whether for individuals, couples or families, it presents an array of media-viewing options that are ideal for circumstances that necessitate some environmental improvisation. Being somewhat more resistant to damage than much other media, they provide a great alternative to the relatively fragile laptop when computer use is not otherwise needed.
As previously discussed, the desired screen size and overall dimensions of a potential portable DVD player can be determined by ascertaining who the unit is for. Once this is established, the following set of considerations should fall into place. With such a high degree of adaptability, the portable DVD player is one of the most convenient entertainment appliances to take on any trip, and new models are becoming increasingly multi-media. With continued developmental possibilities, it may be interesting to see how it evolves in the future.