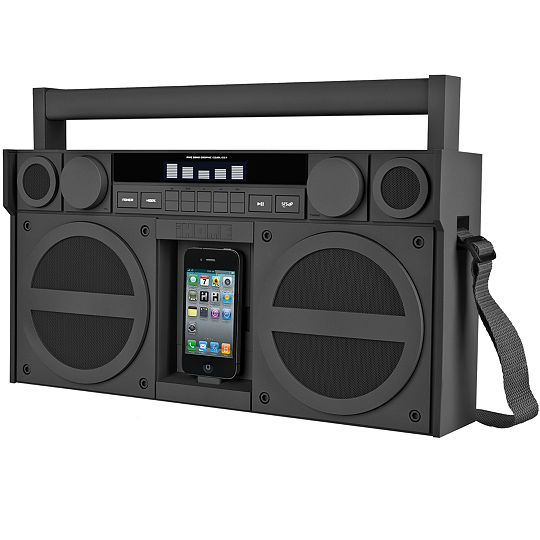 Portable stereos, sometimes called boom boxes, are convenient, easy-to-carry devices that allow users to enjoy music wherever they go, thanks to their light form factors and handles. A prevalent choice since the 1980s, portable stereos have evolved to become more entertaining and user-friendly and incorporate a wide range of features that can appeal to an array of consumers.
For a consumer who is looking for a new portable stereo, a great resource for finding any one of the several types of portable stereos on the market is the online auction site, eBay. This aggregator website compiles vendors from all over, providing access to a diverse catalogue of choices ranging from child-oriented stereos to more advanced options with multiple features. By following a few basic guidelines that include running a relevant search for an item and reviewing the quality of sellers, a consumer can use eBay to find and purchase the desired portable stereo.
Buying Portable Stereos on eBay
When you first visit the eBay homepage, one of the first things you might see is the search bar, conveniently located on every page on the site. Utilising this search interface is an easy way in which to start shopping for an item such as a portable stereo on the website. You can begin your search by entering as general or as specific a term as you like, such as "portable stereos" or "used Sony portable stereos". These searches yield results that show the relevant items on sale at eBay. Note that the more specific your search term, the closer you can get to the item you are looking for.
Before running a search, however, it can help if you take some time to familiarise yourself with the history of boom boxes, as well as the types of portable stereos available on eBay.
Brief History of Portable Stereos
The first portable stereo was invented in the late 1960s and was created to facilitate the recording of radio broadcasts directly to cassette media. This radiorecorder was the first device capable of recording a radio broadcast without the help of external microphones or cables. Japanese manufacturers soon caught on and started developing their own versions of the portable stereo.
The market for portable stereos really exploded with increased demand for these devices in the North American urban market. As rap music and breakdancing became more popular in cities such as Los Angeles, New York, and Washington D.C., these devices garnered the status of essential audio accessories amongst much of the youth culture in the United States and around the world.
Design of Portable Stereos
The classic design of a portable stereo involves two speakers, an integrated amplifier, a radio tuner, and a player and/or recorder that works with removable media such as cassettes or CDs. In some types, the speaker components in a portable stereo can be detached from the main body for more ideal sound positioning in a space.
While early portable stereos were often coveted for having an oversized design, the present day's portable stereos stress ease-of-use and more streamlined designs. The lines of contemporary portable stereos are also less rectangular, with the majority of portable stereos featuring curvilinear silhouettes.
Components in Portable Stereos
Portable stereos of the present day can feature a much wider array of integrated components than the portable stereos of yesteryears. Each of the features has its own advantages that can make it appealing to different preferences.
Digital Media Player Interfaces
Many modern portable stereos include an integrated port which a consumer can use to connect a digital media player with the stereo, allowing the stereo to act as a speaker for the digital device. These ports are often docks designed for a specific type of digital media player, or they may be USB ports which require a cable for the device to communicate with the stereo.
CD Players
Integrated CD players are a common feature on portable stereos. The CD drive on these units are typically top-loading, featuring a lid that tilts up to allow the user to place the disc in the drive. Given that much of the music on CDs might be recorded from digital sources off a user's computer, consumers should pay special mind to what type of CD a stereo can read. For example, a portable stereo may only be able to read professionally recorded CDs, while others might be able to read CD-Rs, CD-RWs, and MP3-compatible CDs. Consumers should consider the type of CD media they are most likely to play on the device and then use that to make a selection.
Bluetooth Interfaces
A Bluetooth interface is another useful feature which consumers might find in a portable stereo. Bluetooth compatibility means that a stereo can port with external accessories such as headsets and additional speakers via a wireless interface. Users should keep in mind that the accessories need to be Bluetooth-compatible as well.
Radio Tuners
Boom boxes often include classic AM/FM tuners for listening to live radio broadcasts. The display element of an AM/FM tuner is often digital, however, and no longer uses the analogue style of older portable stereos. Another radio feature found in portable stereos is a digital radio tuner. Digital radio tuners allow consumers to tune into satellite and digital radio feeds, such as the DAB network.
Digital Clock and Alarm
Some consumers may choose portable stereos that include a digital clock and alarm component. These units can serve as nightstand items, waking a user up in time for work, in addition to being put to use as portable players.
Shoulder Straps
Some portable stereos come with shoulder straps, in addition to a handle, making it extra easy to carry a stereo for long periods of time. The straps can be attached or removed as needed and feature adjustable levers to allow the consumer to adjust the strap's length.
Remote Controls
A portable stereo may also come with a remote control for convenience. Users can adjust the volume, switch modes, and initiate play from across the room, adding an extra level of user-friendliness to these stereos.
Cassette Decks and Recorders
Although considered older technology, cassette decks and recorders are still in use. Consumers can still find boom boxes with cassette decks that facilitate both playing of cassettes and recording of other media to cassettes.
Vintage Portable Stereos
For consumers who love the look and style of classic boom boxes, vintage portable stereos can be found in the second-hand market. There are choices that represent the classic ghettoblasters of the 1980s with their oversized frames and dual cassette decks. New portable stereos that mimic the look and style of vintage portable stereos are also available in the marketplace, giving consumers a classic look with upgraded electronics.
The vintage marketplace on eBay is diverse and ever-changing, so consumers can always find different options any time of the year. When shopping for vintage portable stereos on eBay, the consumer should take time to communicate with a seller to confirm the condition of a unit he or she is interested in purchasing.
The Purchasing Process on eBay
Once you have reviewed the various features available in portable stereos and run a search, you can begin looking at individual listings in detail on eBay. If a listing catches your eye while reviewing your search results, click on the listing title to access its detail page. On the listing's detail page, you can find essential information about the item, including its range of features, the payment methods a seller accepts, and the delivery costs associated with the stereo. Reviewing all of these details in depth can make sure that you find the right portable stereo for your needs.
Whether you are buying a new or a vintage item, it is important to take a moment to review a seller's past auctions and look through feedback that seller has received from other customers. This can give you a good idea of the seller's quality and ensure that you receive just the stereo you are looking for with the features that answer your needs.
Conclusion
Portable stereos are a great way for consumers to share music anytime in any setting. With their easy-to-tote designs, portable stereos can be carried to a day out at the beach, a picnic, or a party. Thanks to their suite of integrated features, portable stereos also extend enhanced performance to consumers, allowing them to listen to everything from digital radio to their own digital music players.
When shopping for portable stereos, the extensive catalogue available on eBay can be a great resource for consumers. The online auction site carries a large number of portable stereos that incorporate many features. Consumers shopping on the site only have to run a search using the search interface and then begin reviewing listings in detail to zero in on a choice. By taking the time to evaluate the sellers, a shopper on eBay can quickly and easily find a portable stereo with all of the performance capabilities that he or she is looking for.