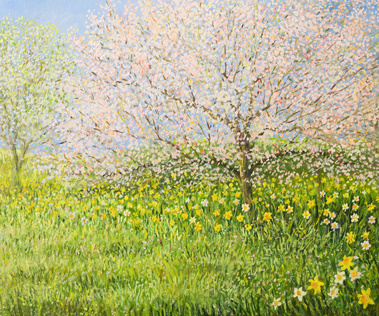 When it comes to fine art, no one would turn down the chance to have a Monet or a Picasso as the centre-piece to their home or office. The closest most get to this is a Poster of a Famous Piece of Art and eBay is home to one of the most extensive collections anywhere.
The following buying guide explains what makes a famous piece of art, the styles available and how to buy one safely and securely using eBay. Hopefully after reading through these tips and tricks, the reader should be in the perfect position to purchase famous pieces of artwork in the poster variety.
What Are Posters of Famous Pieces of Art?
There is no clear dictionary definition of a Famous Piece of Art and it's down to the interpretation of 'Famous' by the Buyer and Seller.
Famous is a tag that is attributed to work that has been painted by an artist that is considered by most to be well known.
The decision whether to dub it Famous will still rest with the seller when it comes to a listing. There are a number of other ways to categorise famous works of art and the following sections outline them.
Artwork Era
Like all other works of art for sale, Posters of Famous Pieces of Art are categorised according to when they were painted. The three most common eras are listed below with the dates to which they correspond immediately alongside them:
| Era | Years |
| --- | --- |
| | Pre-1900 |
| | 1900-79 |
| | 1980-Now |
Art Style
Buying any work of art will mean coming across words and phrases relating to the style of the painting. This is the case with Posters of Famous Pieces of Art as much as it is with any other work. The table below lists the art styles with a description alongside each one.
Art Style

Description

Abstract

Doesn't depict a person, object, or place in the natural world.

Work is based on what you see and relates to everything from brushstrokes and size to scale and, in some works, the process.

Mainly seen in 20th Century art.

Art Deco

A movement that came to prominence in the 1920s before being revived in the 1960s.

Recognisable by its geometric shapes, symmetrical designs, bold colours, and use of plastic and glass.

Cartoon

Visual art that originated in Italy.

Used in the production of Frescoes, which were mural paintings on plaster.

Cartoons linked the pieces together and there are many examples by prominent painters such as Leonardo Da Vinci.

Impressionist

First seen in France during the 1870s.

Aims to give an experience by a system of different impressions.

Uses a series of unmixed primary colours and small strokes to stimulate natural light.

Outsider Art

Produced by artists that don't recognise themselves as artists as they are untrained.

Pop Art

Uses scenes and objects from everyday life.

lmitates other media such as advertising, science fiction and comic strips to make pieces of modern art.

Realism

Definition is given as the general attempt to depict subjects in accordance with secular and empirical rules.

Movement began in 1850s France.

Designed to look as "true-to-life" as is possible.

Surrealism

Founded in 1920s France.

Movement tries to take the stuff of dreams and translate it into art.

Vintage

Artwork created from the 19th century through to the middle of the 20th century.

Reflects the artist's thoughts on a certain era.
Art Research
Before starting to search for Posters of Famous Pieces of Art, research is a good idea. It's worth trying to find other examples of the same work online to check that it is in fact famous and not a fake of the real thing.
Researching the artist that created the painting is another avenue to explore and any information that is gleaned will better inform the buyer during their purchase.
Sizes
One of the best things about buying Posters of Famous Pieces of Art are that they will come in a huge variety of sizes and there's seemingly no limit to the amount of sizes that can be produced.
Knowing this to be case means that buyers should be careful when purchasing Posters of Famous Pieces of Art to check they are the correct size for where they will be displayed.
Measurements will be given in either inches or centimetres and measuring the wall beforehand will help to work out whether the poster will fit.
Used Posters
Some Posters of Famous Pieces of Art that are listed online will be Used. The bullet points below set out some things to watch out for when looking for Used Posters of Famous Pieces of Art:
Condition – When a Poster is described as Used it could mean a number of different things and it's worth checking with the seller how used the item is. Details may be in the item description. If they aren't, be sure to Ask the Seller for more information.
Age – If the age of the poster is very old then be sure to confirm where it has been kept. An unframed poster may have sustained significant wear and tear.
Owners – Try to find out how many owners the poster had before the current one. It's not the most important thing to find out when it comes to posters, although anything extra will make the buying process a more fruitful one.
How to Buy Posters of Famous Pieces of Art on eBay
eBay is home to thousands of works of art and Posters of Famous Pieces of Art are a small part of a huge marketplace. It gives eBay a stable of extremely experienced sellers that are well versed in the art industry and the competitive pricing makes it one of the best places to source all types of art.
To search for Posters of Famous Pieces of Art on eBay first go to the Art category. Under that scroll down to the Posters section and click on it.
From there, it's a case of narrowing down the era the painting was created by the artist. As we mentioned earlier in the guide, the main subcategories available on eBay are Contemporary (1980-Now), Modern (1900-1979), and Antique (Pre-1900).
By clicking on one of those sub-categories it will give buyers a number of other options that will come up on the left hand side of the page. These include choosing to search by Condition, Buying Formats, Location, and the rating of the Seller.
For Posters of Famous Pieces of Art it is often more appropriate to search for the item by name. This can be done by typing search terms into the text box present at the head of every eBay page.
If at any time you're unsure about item details, don't hesitate to Ask the Seller a question to find out more. There is even a Buying Tips section that will provide even more help if required.
When the buyer is happy with the item in question they can Buy using one of three methods by either placing a Bid, lodging their best offer or clicking the Buy it Now button.
Safety Considerations When Buying
Any work of art being bought on eBay requires a great deal of care on the part of the buyer and Posters of Famous Pieces of Art are no different. It makes the item description extremely important and anything else that isn't listed should be put to the seller in the form of an Ask the Seller submission.
When looking at items on eBay remember to check the seller's transaction history carefully and scrutinise any negative feedback that has been left. If at any time you become unsure of the seller involved ask them any questions that you feel are necessary.
Every eBay seller has feedback and if there isn't any available then it should prompt the buyer to inspect the item details even further.
Before placing a final bid go through the conditions of sale a few times and check that everything is in order.
Conclusion
Posters of Famous Pieces of Art are an extremely affordable alternative to owning the work itself or even a Limited Edition Print. Posters give everyone the chance to own something that can make a bare room come to life.
When purchasing a Poster of a Famous Piece of Art there are a few points to make sure of. These are:
Make sure the work of art is famous and the price is justified.
Does the art come from a period that you want to buy art from?
Check that anything used is still in a condition you're happy with.
Ensure the size is one that will be suitable for the location the poster needs to fit.
Once all of these have been taken into consideration and you're happy with the item in your basket then proceed with the sale and be sure to use PayPal to complete the transaction safely and securely.
Hopefully this guide has provided you with the inspiration to purchase posters of famous pieces of art from eBay.