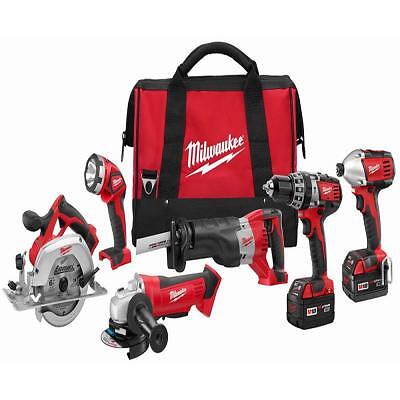 Power tools are essential elements for home repairs and professional contracting alike. Whether driven by motor, electrical current, compressed air, battery, or internal combustion engine, these devices deliver power and performance for demanding jobs. They make it possible to work with tough materials, and also allow the user maximum precision for delicate, detailed work. Power tool kits conveniently combine multiple high-use tools, usually hand-held, in a single set, and are an economical way to expand one's tool collection.
Combo kits come in different configurations, so buyers need to decide in advance which tools are important for their work. They should also pay close attention to product specifications and user reviews to make sure the tools are durable and easy-to-handle. eBay has a broad selection of power tool combo kits; in just a few simple steps, buyers can find a quality kit that is sure to get a lot of use.
Decide Which Power Tools are Needed
Prior to shopping for a power tool combo kit on eBay, buyers should consider their needs. There are many combinations from which to choose, so this step helps in deciding which kinds of tools to look for.
Consumers should ask themselves the following questions to narrow things down:
What types of tasks do they expect to perform with the tools?
What types of tools are needed for those tasks?
How intensive do they expect the use to be?
Are certain tools more essential than others?
Thinking through project needs and deciding on which tools are a priority helps consumers select the right kit for them. Whilst all of the tools in a kit should be high quality and reliable, buyers can focus particularly on the specifications for the tools that are most important to them.
Common Combo Kit Power Tools
With so many tools available, it can be a daunting process to choose the right ones for the job. The following are some of the most common power tools that appear in combo kits, along with the vital specifications associated with them.
Power Drills and Screwdrivers
Designed to pierce holes in materials and join work-pieces together, power drills are a staple for any woodworking or metalworking operation. There are several types of power drills. A cordless drill is a lightweight and convenient tool for inserting and removing fasteners. Percussion drills are perfect for screwdriving into metal or wood. When more power is needed to drive through cement, stone, or brick, a hammer drill is necessary. The chuck of a hammer drill actually hammers, making it possible to penetrate these tough materials. Combi drills are cordless hammer drills, combining heavy-duty power with the flexibility of a cordless tool. SDS (special direct system) drills are the most powerful for the toughest of jobs.
Powered screwdrivers are extremely handy to have around the house, making driving in and removing screws a breeze. Models with a spindle lock let the user work manually, in case a few extra screws are required.
Drill Specifications
The following chart briefly explains the specifications connected to power drills of different types.
| Specification | Explanation |
| --- | --- |
| Power Rating | In volts for cordless and watts for corded; the higher the power rating, the more heavy-duty; more powerful drills get a job done faster, though those with heavy batteries may be more unwieldy |
| Speed | Expressed in rotations per minute (rpm); multiple speeds mean more versatility; "fast stop" indicates drill stops once the trigger is released |
| Torque | Twisting force; can be adjusted to material type |
| Charging Time | For cordless drills, indicates how long the battery needs to fully charge |
| Chuck Type and Size | Chuck is the part where drill bit attaches; keyless chucks make bit changes easy; keyed require tightening with key to prevent slippage; SDS specially designed for high-specification drills to prevent slippage and withstand heavy force; chuck capacity determines maximum bit size |
| BPM | Blows per minute; for SDS drills, indicates frequency of hammer action; usually over 10,000 bpm |
These specifications help when comparing different models and finding one that is efficient and right for the job.
Power Saws
Saws are used for cutting various materials. The type of power saw needed depends on the kind of cutting one expects to do. Jigsaws can cut in curves, making them perfect for stenciled designs or other shapes. The round blade of a circular saw can be used for crosscuts, ripping, bevel cuts, mitre cuts, plunge cuts and more. Reciprocating saws create rough cuts through all kinds of materials, including wood, metal, fibreglass, and plaster, and can be used vertically and in tight spaces.
A reciprocating saw and circular saw are commonly bundled together with a power drill as a power tool combo set.
Power Saw Specifications
When choosing a power saw, it helps to have an understanding of the most important specifications. These are outlined in the chart below.
| Specification | Explanation |
| --- | --- |
| Power Rating | The higher the power rating, the more powerful the saw |
| Speed | Single or variable, measured in rotations per minute (rpm); single speed adequate for basic use, while multiple speeds enhances control |
| Blade | Fine, medium, or coarse blade with varying teeth per inch (tpi); should be selected to fit the job; replacement blades should be those indicated for saw |
| Cut Depth | Measured in millimetres; expresses the maximum depth a saw can incise |
| Action | Standard direction or pendulum action; with pendulum action, blade moves away from material during downward stroke and back towards it in upward stroke; this improves speed, and reduces jamming and wear on the blade |
| Laser/Red Eye Generator | On higher-end models, saw projects a laser beam onto the material, for improved precision |
Buyers should weigh their own cutting needs and budget to help them find a saw whose specifications meet their criteria.
Sanders
Sanders prepare surfaces with an abrasive action, smoothing them and removing layers of paint, varnish, and rust. Belt sanders are usually used in the early stage of a job and are good for large surfaces, while detail sanders help in smaller, tighter spaces. Orbital sanders are used in the latter stages of a job for a smooth, consistent finish.
Sander Specifications
There are a few specifications to pay attention to when selecting a sander. Speed is measured in rotations per minute (rpm), and power is expressed in wattage. The sheet size, usually in millimetres, indicates how large the sanding sheet is. Dust-extractor systems work to remove dust during sanding; otherwise, the user may need to add their own.
Grinders
Grinders can be used for smoothing, polishing, or finishing a working surface. They accomplish this with a rapidly-spinning wheel that passes over the surface, removing rough or uneven patches. Angle grinders are usually used to cut, grind, or polish metal work, while mini grinders are perfect for more delicate areas. Mini grinders can be quite versatile, used for everything from sculpting to rougher work.
Grinder Specifications
A grinder has very similar specifications to those of a sander. Speed (rpm) and power (watts) give the buyer a sense of how powerful they are. Disc size indicates the diameter of the cutting blade, and is usually measured in inches (in). For work with masonry or paving slabs, a larger 9-inch diameter with a higher wattage is desirable. Metal work is better suited by a smaller disc of 4.5 in.
Routers
Routers are versatile tools that can be used for cutting, hollowing, and shaping wood, depending on the bit or attachment. They are particularly common for making staircases, patterns, and cabinetry.
Planers
Planers help remove layers from a surface; each pass takes away a thin layer. They perform other functions, as well, like levelling, smoothing, tapering, and shaping. They may be bench-top or hand-held.
What to Look for in a Power Tool
Some power tool combo kits are a great way to save money on high-performance tools, while others cut corners in terms of quality. Buyers should look for well-made, powerful products.
Hard-working power tools should be able to withstand heavy-duty tasks, and also facilitate use through ergonomic design. These tools should have sturdy, durable parts that adjust easily. How a tool feels and handles is very important. For optimal control and fatigue prevention, it should be comfortable to hold, grip well, and feel balanced. Shopping online presents buyers with the challenge of not being able to assess an item in person. However, buyers can compensate for this by reading customer and professional reviews online or in industry publications. If there is a particular brand they have favoured in the past, buyers may want to look for combo kits from that manufacturer.
Cordless or Corded Power Tool Kits?
In some cases, such as with drills or saws, buyers have the option of opting for cordless or corded power tools. For light jobs, cordless versions offer the convenience of portability and easy handling. Tougher and longer jobs call for more energy and stamina from a tool. There are many powerful cordless models, but buyers need to factor in the size of the battery pack, battery life, and charge time. Having an extra set of batteries lets users switch out the old ones and, whilst they charge, continue working with the new ones.
Corded power tools, as rule, give more power and enhanced performance; therefore, they are recommendable for heavy-duty jobs and regular use.
Searching for Power Tool Combo Kits on eBay
To get started looking for your power tool combo kit, go to the eBay home page and type keywords into the search bar. You can type specific tools you are looking for, such as "saw drill kit", or, to browse more general listings, your keywords can be simply "power tool combo kit". Once you have your search results, you can further refine them by setting a price range, choosing a manufacturer, and more.
Read Product Information
Be sure to read the item description for a listing that interests you, noting product specifications, quantity of included items, whether batteries are included (where applicable), and item condition (new or used). If it is a used item, the seller should post how long and in what capacity the tools were used, and the reason for selling. Pictures should be of the tools for sale, rather than stock photos.
Also look at the postage and payment information. If you have any questions, you can contact the seller via eBay.
Get to Know the Seller
Look at the seller's feedback score and read comments left by previous customers who also bought power tools or similar items from them. This helps you gauge how reliable and responsive they are. Top-rated sellers consistently deliver excellent customer service over a large volume of sales.
Conclusion
Power tools are a necessity for do-it-yourselfers and professionals alike. Manufacturers bundle together different power tools in combo kits, which can be a convenient way to save money whilst expanding one's collection. eBay has a wide selection of new and used power tool combo kits at competitive prices.
In order to get the most out of a combo kit, buyers should assess what jobs they expect to do the most, and which tools they require. The most common power tools in combo kits are drills, saws, sanders, grinders, planers, and routers. Focussing on the most important tools, buyers can compare specifications to make sure they are getting a tool that is suited for the amount of power and precision they need, and whether to choose corded and cordless tools.
Once they have found a combo kit they like, buyers should read item and seller information before completing their transaction. Following these steps, it is easy to find a quality, affordable power tool combo kit on eBay.