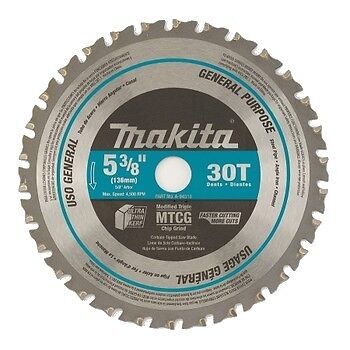 Since man first harnessed the power of electricity, power tools have driven much of the commercial and private building projects in the world. Every construction or site professional has a set of power tools, and countless DIYers in a home setting also maintain a collection of these powerful devices. One of the most popular types of power tools is the power saw. Central to a power saw's performance is its saw blade. The materials used in a blade along with its design directly affect its performance and usefulness for a specific repair or build.
Consumers who are looking to replace a power tool saw blade on eBay may have many questions about which blade works best for their needs. Learning something about the types of power tool saw blades available and their features helps clarify this process and gives buyers a much better idea of the type and style of power tool saw blade they need to accomplish a project successfully.
Buying a Saw Blade for a Power Tool on eBay
The easiest first step to take in the purchasing process on eBay is to run a search with a keyword term. You can do this by using the search box on the site. You can also use eBay's Advanced Search interface to run a detailed search. Either option pulls up all the listings on the site that relate to your keyword. Before running a search, however, you may want to review the features and types of saw blades available to make sure that you find the best saw blade for your particular application.
Types of Power Tool Saw Blades on eBay
There are three main types of saw blades for power tools on eBay: circular saw blades, reciprocating saw blades, and jigsaw blades. Each of these saw blades has its own cutting technique and virtues. Also, different materials, teeth designs, and features affect the performance of each saw blade.
Circular Saw Blades
Circular saw blades are used with circular saws. Circular saws include, but are not limited to, mitre saws, table saws, swing saws, and joiners. When choosing a circular saw blade on eBay, it is crucial for consumers to consider both the materials used in its construction and its tooth design.
Choosing the Right Materials for a Circular Saw Blade
The materials used in a circular saw blade affect both the life and performance of the blade. The following table illustrates the different types of materials used in circular saws along with their features.
Consumers should consider the nature of their projects and the types of wood they will be working with when using a circular saw blade. An abrasive saw blade would not be applicable to carpentry, for example, while a steel blade may not stand up to a hard wood project. In this scenario, a carbide or high-speed steel blade would make a better option.
Circular Saw Material

Features

Affordable

Cuts soft woods well

Blunts quickly on hard woods

High-Speed Steel

Harder than regular steel

Stays sharp longer

Carbide

Carbide tips increase usage life

More expensive than steel options

Diamond

Cuts through hard materials, such as tile and concrete

Abrasive

Designed for use on cinder block, concrete, and other masonry materials
Tooth Designs in Circular Saw Blades
Another factor to consider when selecting a circular saw is the design of the saw's teeth. Within the worlds of carpentry and woodworking, the tooth design of a blade can affect its applicability to certain tasks.
Reviewing these features can help a consumer choose the right circular saw blade. When shopping on eBay, consumers can also communicate proactively with vendors to confirm the viability of a particular blade for a project.
Circular Saw Tooth Type

Features

Ripping Saw Blade

Ideal for cutting with the wood grain

Makes chip removal easier

Crosscutting

Ideal for cutting across the wood grain

Small gullet and multiple teeth make for a smooth cut

Combination

Good for cutting with or across the grain

Plywood

Ideal for cutting plywood

Usually made from HSS with 100+ small teeth

Hollow Ground

Ideal for smooth cuts across the grain

Thinner ground in the body prevents binding

Dado

Ideal for cutting grooves and dados

Thin Kerf

Ideal for dimensional or engineered lumber

Thin profiles waste less material
Jigsaw Blades
Jigsaw blades are straight, thin blades with teeth on one side. The jigsaw ratchets this blade up and down rapidly creating the cutting force. Jigsaw blades are often sold in packs with a variety of teeth designs so that users can switch between different cutting applications easily.
When selecting a jigsaw blade, consumers should first consider the types of materials they want to cut. For a soft material, they may only need a blade with an edge and no teeth. In flush cutting applications, a cranked blade may be a better option. Thinner blades are a good idea for detail work. Specialty blades such as push stroke blades work to cut without incurring damage to the surface of a piece of wood. These options are difficult to use and take a skilled hand.
Reciprocating Saw Blades
Reciprocating saws are a larger, general category of saws that includes jigsaws, scroll saws, sabre saws, and rotary reciprocating saws. When ported with different blades, reciprocating saws can cut through anything from soft wood to fibreglass to drywall, making them applicable outside the limits of woodworking and carpentry. Before selecting a type of reciprocating blade on eBay, consumers should consider what they plan on cutting and the nature of their projects.
Tooth Designs on Reciprocating Blades
The number of teeth on a reciprocating saw blade affects what kind of cut it delivers. Generally speaking, blades with less teeth per millimetre deliver faster, rougher cuts with rougher edges. A blade with more teeth gives a smoother cut and, due to its slower performance, is often a better fit in metalwork rather than woodwork. Some blades are variable-pitch blades, meaning that they have more or fewer teeth at different points along the blade. This allows a user to use one blade for multiple applications.
Gullet size is another important consideration with reciprocating saw blades. Consumers should also consider the width and depth of the space between the teeth and the tilt pattern of the teeth. Large gullets on reciprocating blades allow one to remove more material, but the blades wear out faster. Raker-set teeth offer a general, all-purpose cut that can work in most woodworking applications or sawing scenarios. Wavy-set teeth are much stronger but give one a very rough cut.
Length, Width, and Thickness in Reciprocating Saw Blades
Reciprocating saw blades range in length from 76 mm to 305 mm. When choosing the length of one of these blades, consumers should consider the depth of the material they are cutting. The wideness and thickness of a blade also determines how well it stands up to different materials. Thick and wide blades, such as ones that measure 22 mm wide and 1.5 mm thick, can cut through very substantial materials. In general, 0.89 mm thickness suffices for most average jobs. Anything over 1.28 mm in thickness can be used in more heavy-duty applications.
Materials Used in Reciprocating Saw Blades
Reciprocating blades typically come in carbon steel, high-speed steel, and bi-metal. The following table illustrates the features of each of these material types.
Reciprocating Saw Material

Features

Carbon Steel

Flexible and can bend without breaking

Inexpensive

Dulls quickly

Good for light work and wood

High-Speed Steel

Does not wear out quickly

Little flexibility

Can break more easily

Bi-Metal

High-speed teeth

Long-lasting

Carbon-steel body delivers flexibility
Again, consumers should consider what they need a reciprocating blade for when selecting its material type. They should also consider the frequency with which they are going to use a blade as well as their budgetary restrictions.
The Purchasing Process on eBay
Now that you have a more thorough understanding of the nature of the different saw blades for power tools on eBay, you can continue and complete the purchasing process on the site. As you look through the listings that result from your search, look for key bits of information that may reveal whether or not that item is right for you. These can include product descriptions, shipping information, and even the payment method accepted by a vendor. When reviewing the product description, make sure that there is sufficient information about the blade. If not, consider reaching out to the seller for clarification.
Vetting the Sellers on eBay
When you communicate with a seller, you can also use it as an opportunity to evaluate the seller. Is the seller responsive and helpful? Assess the seller's level of engagement and also review a seller's own page for information on their practices. Look at a seller's past listings and read through customer feedback submitted by others. All of this information helps you assess whether a seller can get you the saw blade you want.
Conclusion
Power tools have transformed the way one works on repair, construction, and woodworking projects. Items like power saws can turn a project that once might have taken days into a project that only takes a few hours' work. There is a wide variety of power saws on the market that allow consumers to do anything from cut through the largest cinder blocks to execute fine detail in woodworking.
When shopping on the online retailer eBay, consumers can find a large catalogue of saw blades to use in tandem with their power tools. From circular blades to jigsaw blades to reciprocating saw blades, eBay has almost any type of power tool saw blade a consumer might need. By leveraging adequate knowledge of the construction and design details involved in each type of saw, consumers can use the site to find the right blade for any application. By taking the extra time to vet listings and sellers, as well, customers in the market for these blades can quickly, easily, and securely complete the purchasing process on the site.