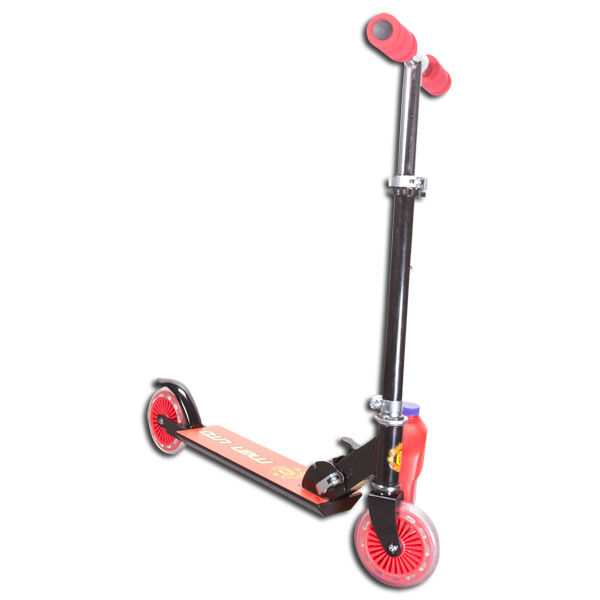 "A child's toy consisting of a footboard mounted on two wheels and a long steering handle, propelled by resting one foot on the footboard and pushing the other against the ground."
Thus the Oxford Dictionary of English definition of a scooter succinctly describes the reason for the "push" in the new term "push scooter&", which is also often called a 'kick scooter', to reflect the energy that can go into the foot action.
Push or kick scooters are no longer just for children, nor are they just toys. The change in concept and perception came around the year 2000. Until that time a scooter was something that children used in order to get around faster than walking before they graduated to trikes, bikes or skateboards. Then young, trendy Japanese visitors started to be seen scooting skilfully along London streets on neat, aluminium machines with small wheels and handles that could be folded to enable the whole thing to be tucked into a backpack.
As well as being fun, push scooters are also a rational and environmentally positive form of transport; witness around one third of students arriving at British schools by scooter, and even New York commuters unfolding push scooters as they emerge from the subway.
What the Scooter Revolution Means for Parts
The origin of the new generation of push scooters goes back to 1996 when Wim Ouboter of Micro Mobility Systems in Switzerland saw the need for a kind of scooter that could help his sister. One of her legs was shorter than the other. She was unable to ride a bicycle, but he thought she could get along with a scooter. He devised a compact but sturdy push scooter with inline skate wheels. Micro Mobility still produces scooters to this day.
There is a similar story about the next development which started at around the same time. Gino Tsai, the president of the J.D. Corporation in Taiwan, relates that his legs were too short which slowed his progress walking around his bicycle factory. It took him five years to transform the old-fashioned scooter into the revolutionary Razor push scooter.
It was made with aircraft grade aluminium tested to support 1100 lb weight without bending, urethane wheels on silent bearings and a brake system operated by placing the heel against the rear mudguard. In the year of its launch it sold half a million units.
Due to its light weight, the Razor gave birth to a new sport for the street and the skate park; Freestyle scootering. Sophisticated stunt and pro models began to appear around the middle of the first decade of the century from Razor and a growing number of competing manufacturers. As with its sister craze of skateboarding, parts and accessories for push scooters quickly proliferated in refinement and performance. The choice can be bewildering.
This guide will help to make selection simple.
Overview of push scooter parts
A push scooter is basically composed of a deck to stand on and push from; handlebar and grips, steering tube or stem, quick release for the steering tube, front fork, headset between the bars and the front fork containing the compression suspension system and secured with a collar clamp, wheels and a rear brake.
Folding scooters have a joint mechanism which allows the front forks and handlebar to be folded against the deck. Freestyle scooters are rigid with no folding mechanism, because the joint could collapse whilst performing stunts. Generally speaking folding scooters such as JD Bug Pro are for younger beginners. Rigid scooters such as the Madd Gear Pro are for more experienced riders and now account for the majority of push scooter brands on the market.
Razor remains the largest push scooter manufacturer in the world and produces all the categories of parts listed below. The other brands mentioned are examples, not recommendations, and there are many more available via eBay which buyers should explore by category.
Decks
The push scooter deck is not just a rest for the non-pushing foot; it is the backbone of the machine. Aluminium with an anodised finish is still the material of choice because of its resilience. Freestyle push scooter decks are either one-piece or two-pieces.
One-piece styles have the deck and the headset welded together, as with the Madd Gear banana shaped down-tube welded to the deck.
The two-piece design has the head tube bolted to the deck, for example the Lucky Evo 2 deck. Both are equally strong.
Madd Gear decks are noted for their durability and the Razor Ultra Pro deck is something of a benchmark. The latest decks from District amongst others have an integrated head tube enabling bearings and caps to slide in for simplicity.
Bars
The original Razor A type folding scooter and JD Bug scooters have adjustable handlebars to suit riders of different statures.
The Swiss made Micro adult foldable scooters have handlebars that are both adjustable and collapsible. The standard design is "T" shaped.
Most handlebars are made from 4130 chromoloy or 6160 aluminium for strength.
Handlebars for rigid freestyle push scooters are generally speaking between 18 to 24 inches in height and 14" to 24" wide and can be custom cut.
Grips are available to fit separately in a wide range of colours.
Forks
The fork takes the impact in scootering so strength is the major attribute.
That is why forks tend to be made of steel. Strength is often correlated with weight, something to remember when looking at specifications.
There are two main types of push scooter fork, the first being threaded. Up until recently, this was the industry standard, offering a simple method to connect forks with handlebars.
There are a growing number of threadless forks. These were created because threads compromise the strength of the fork tube. They offer greater security and feel between forks and handlebars. Fitting threadless forks will require a compression system to hold the bars to the forks and a threadless headset.
Brakes
Brakes often come ready-fitted to decks. These are usually made up of the brake itself, a bolt that runs horizontally through the bottom of it and a spring to stop it rattling.
Nevertheless they often do rattle. This led to the invention of the flex brake. This is a curved or straight piece of metal which is depressed by the heel to rub on the rear wheel and slow it down. These are made by Blunt, Phoenix, Razor and others and can be bought and fitted as a separate item.
Wheels
Early push scooter wheels were composed of a plastic centre and a urethane outer. The tendency of these to snap led to the development of metal core wheels that are generally used by today's riders. Newer metal core wheels consist of a machined aluminium core and durable urethane outer.
Almost every push scooter company makes wheels in a range of colour to coordinate with the deck and handlebar grip colours. Wheel bearings tend to wear out. They are interchangeable with skateboard bearings, being of the same size, and come in packs of four.
Headsets
Headsets on freestyle push scooters are the same as on BMX bikes.
A threaded headset is used for a stock threaded fork only. Threadless headsets are used with a compression system on threadless forks such as SCS (standard compression system) which resembles an oversized clamp but internally works much like a bicycle stem.
Variants are the (ICS) inverted compression system and the HIC (hidden compression system). Each requires a specific number of nuts on clamp – from two to four.
When buying a clamp look for the reference for the appropriate type of compression.
Clamps themselves often bear the branding of the push scooter, and are therefore a key source of visual distinction for trend-conscious riders.
Buying Push Scooter Parts on eBay
Now that you've worked out which push scooter parts you want, find them quickly on eBay. While you shop, don't forget Scooters. To start shopping, go to the Sports and Leisure category. Click the Sporting Goods portal aand click Scooters.
Categories: The Categories list on the left side of each page will help you narrow down your listings by item type. You'll find links for Electric Scooters, Petrol Scooters, Pocket Bikes, Push Scooters and Other Scooters. As you refine your search you'll be able to narrow down your choice by subcategory.
Product Finder: Use the Push Scooter Parts Finder to quickly narrow down item listings by type of club, brand, model, condition (new or used), and shaft material.
Keyword search: Search eBay listing titles for specific words. For example, if you want to find new push scooter parts, type the keywords "push scooter parts new" (without quotation marks) into the Search box. Click "Search title and description" to expand your results. Visit eBay's Search Tips page for more tips on searching with keywords.
If you can't find exactly what you want, try browsing eBay Stores or tell the eBay Community what you're looking for by creating a post on Want It Now,, or save a search oon My eBay and eBay will email you when a matching item becomes available.
Buy Push Scooter Parts with Confidence
Make sure that you know exactly what you're buying and understand how eBay and PayPal protect you.
Know your item
Read the details in the item listing carefully.
Remember to add delivery costs to your final price. If you're buying a high value item, check that the seller will insure it until it is delivered to you.
If you want more information, click the "Ask seller a question" button on the seller's profile or the "Ask a question" link at the bottom of the item listing page.
Always complete your transaction on eBay (with a bid, Buy it Now or Best Offer) otherwise you will not be covered by eBay Buyer Protection.
Never pay for your eBay item using an instant cash wire transfer service like Western Union or MoneyGram. These are not safe ways of paying someone you do not know.
Know your seller
Research your seller so that you feel safe and positive about every transaction.
What is the seller's Feedback rating?
How many transactions have they completed?
How many positive responses do they have?
What do buyers say in their Feedback?
Are they positive about the seller?
Most top eBay sellers operate like retail shops and have a returns policy.
Do they offer a money-back guarantee?
What are their terms and conditions?
Buyer protection
In the very unlikely event that you do not receive your item or it is not as described, eBay Buyer Protection your purchase price plus original delivery cost.
Conclusion
There a number of reasons to buy push scooter parts, beginning with the straightforward like-for-like replacement for parts that fail. By choosing parts of superior performance or fashionable colour, it is possible to upgrade a push scooter. The easiest way is to use parts from the push scooter's original manufacturer. If choosing from other makes, make sure the part is compatible before purchasing. Knowledgeable enthusiasts can custom build a push scooter from scratch to their own tastes by judicious selection.