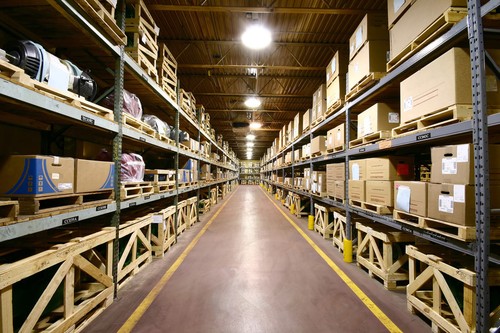 Racking is useful for those who own stores as well as for storing items in warehouses. When purchasing racking, buyers need to know what types of racking systems are available. Many different varieties are actually available, including selective racks, push back racks, and flow racks. It may also be a good idea for a buyer to know some of the different parts that make up a rack, including upright frames, wall ties, and column protectors.
It is necessary to keep some factors in mind when shopping for racking. These factors include the width and height of the racking system as well as the capacity and how the racks are actually put together. The buyer should also keep some safety concerns in mind whenever racking is being used. Choosing the correct type of racking for the buyer's purpose can help ensure that the environment stays safe, and the workplace is productive. eBay offers many of the different types of racking systems.
Types of Racking Systems
A buyer should have a basic idea of the different kinds of racking systems on the market so that he or she can find ones that satisfy his or her needs. Some of the various styles available include selective racks, drive in and drive through racks, flow racks, and push back racking systems. A buyer should understand these are just some of the different types of racks that are available on the market.
Selective Racks
Selective racks are the most commonly used type of rack in a warehouse. This kind of racking system is designed so that forklifts can access each pallet in the warehouse. This also means that some pallets can be accessed without having to remove any of the other pallets first. One variation on this basic racking system is double deep racking. This type is basically identical to single racking, but two racks are put together, so it is not as easy to access the racks.
Drive In and Drive Through Racks
Drive in and drive through racks are meant for products that happen to move quickly in and out of the warehouse. The shelves are designed in a way that allows the forklift to drive directly into these racks. Drive in racks have a common entry and exit. Drive through systems, on the other hand, have entry points on both sides of the racks. With drive in racking, each rack is connected with load rails that run the length of each product's storage bay, creating a space for each product.
Push Back Racks
Push back racks come in a roll or structural form. They are a great option for bulk storage because they can be stacked as high as necessary. These kind of racks are slightly angled, so after one pallet is removed, the next one slides into place. Not only can these pallets be stacked as high as possible, but they are also custom designed based on how deep the pallets need to be.
Flow Racks
Flow racks are also known as gravity flow racks and are useful for high density loads. With this kind of system, the traditional racks are replaced with angled tracks. With this kind of system, the pallets are loaded on one side and then flow down the other side. This kind of racking system usually has about five different levels, and each level can hold about twenty pallets each. These pallets are very sturdy and can hold about 4,000 pounds each.
Common Parts of Racking
It can also help a buyer to know what basic parts are used to make racking. Some of the common parts used in racking are upright frames, pallet supports, column protectors, and wall ties. Knowing the parts can help one notice if the racking has any problems.
| Part | Description |
| --- | --- |
| | Come in a variety of sizes and shapes |
| | Located between the load beams to provide extra support |
| Wall Ties | Useful when racks are pushed against the wall |
| | Used to protect the rack from damage by the forklift |
These are just a handful of the parts a buyer can find for racking, but it is always important for a buyer to read the instruction manual to learn how the racks are put together. With a little effort, a buyer can find plenty of information on how the different types of racks are designed.
Factors to Consider When Selecting Racking
If a buyer knows what factors to look at when shopping for racking, it can make it much easier to choose the right kind of racking. Some of the things to consider when making a selection include the capacity of the racking system, the width and height of a racking system, and the assembly method that is used.
Capacity
A buyer needs to consider the capacity of racking when making a purchase in order to properly store his or her merchandise. A buyer should not merely guess about the capacity of a racking system because it may result in a problem when the racking cannot handle a load that is far too heavy. The buyer should realise that footnotes are usually marked with the recommended capacity, and this provides a benchmark to go by. It is a good idea to select footplates that have a capacity of 20,000 pounds.
Width
The buyer should measure the width of the pallets before making a purchase. When the pallets are fully loaded, there is very little space between them, so it is important to consider what is put on them. Buyers can estimate how long the pallets need to be by adding a few inches onto the measurements.
Height
In addition to determining the width for racks, it is a good idea for the buyer to know how high the racks need to be. It is important to keep in mind two key factors for height, including the height of the average loaded pallet in the warehouse in addition to the number of pallets that will be loaded on top of each other.
Assembly Method
The buyer should also consider the assembly method of a racking system. Racks can be assembled in a number of different ways. For instance, some can be quickly snapped together. Other racks that use bolts need a bit longer to put together. Snap racks tend to be less expensive and easier to put together, but racks with bolts are a lot sturdier. This becomes even more important if a buyer is purchasing used pallets because they endure a lot of wear and tear over time.
Safety Concerns When Using Racking
Safety is important when using pallets because of the size and weight of these systems. Users should pay attention to any loose parts in the racking system. Any damage to the frame should be reported immediately because it could cause the pallets to fall. Whenever racking is used in retail environments, it is important to post prominent warnings to notify customers of the dangers of being around these racking systems. Those using racks also need to make sure that the proper motorised equipment is used for the kind of work that is being done. Racking systems should never be overloaded because of the risks of breaking the system.
Finding Racking on eBay
If you are looking for racking on eBay, you can take advantage of many different tools the site offers to ensure you have a wonderful shopping experience. One good place to start is with the keyword search. This is an easy to use tool. You can start by typing keywords, such as 'pallet racking', into the search box. There may be a lot of listings to browse through, but this can be narrowed down by making use of the category options to narrow down how many listings you need to look through at once.
You should also know how to contact the seller in case you may want to ask questions about a listing. This tool is listed on the listing page, and it lets you send a message to the seller so you can ask him or her any questions you may have. This is an excellent way to clear up any concerns you may have about a product.
Conclusion
Racking is an important element in any warehouse and in some other retail environments. A buyer needs to consider his or her needs when selecting from the many different kinds of racking systems. Some of these systems include flow racking, selective racks, and drive in or drive through racks. One should keep in mind some of the basic parts of a racking system, as well, including column protectors and wall ties.
Taking some basic factors, including the size of the racks and the method of assembly, into consideration helps make sure that the racking is perfect for a buyer's needs. Safety is always important when it comes to using a racking system, so a buyer needs to follow safety measures, such as checking a rack for any damage and being aware of the environment where it is used. Taking these various concerns into account helps a buyer find an excellent racking system on eBay.